A larger version of Amazon's popular Kindle Fire tablet is being readied for release, an anonymous source tells BGR. The company is also planning to revise the original with an improved metal body and upgraded specs.
The Kindle Fire is far and away the single most popular Android-based tablet, though Amazon replaced most of the user-facing part of Google's OS with its own interface and apps. Although the company's policy is not to state sales numbers, it's clear that millions have been sold, and the gamble of competing with Apple's iPad — by offering a smaller, cheaper tablet — paid off.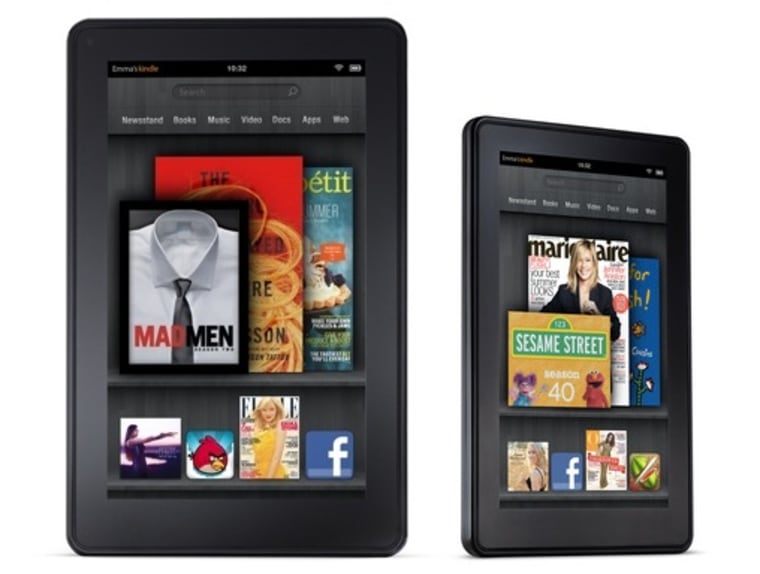 But there is clearly demand for larger tablets as well, and rumors have persisted that Amazon was working on a 10-inch tablet the entire time, but deemed it too risky to launch both. Now that the Fire has proven successful, it's less risky to put a more expensive option out there, and BGR's source claims this is just what they are doing.
The 10-inch device is said to be equipped with a quad-core processor, which would make it a more powerful media playback machine than the current Fire, which some now regard as slightly underpowered. It would also have a front-facing camera, presumably for video chat purposes.
Both the larger and the smaller devices will have high-quality metal builds, an improvement on the Fire's slightly plasticky feel. Both will also have HDMI-out ports for plugging the device into your TV or monitor, and neither one will have any buttons on the front.
No timing or pricing data was suggested by the anonymous source, but it would be reasonable to assume that the smaller one will remain around $200, if not a little less, and the larger one will go for $100 to $150 more, carefully avoiding competing directly with the year-old iPad 2, which still sells in an 8GB version at $399. Expect a large announcement sometime fairly soon, though, at which time we may also expect the glowing Kindle leaked out in April.
Devin Coldewey is a contributing writer for msnbc.com. His personal website is coldewey.cc.