Sony has announced a whole flock of new products at the IFA tech trade show in Berlin. Practically every line of consumer electronics was refreshed during the hour-long press conference, from mobile phones and tablets to cameras and TVs. Here's the short version: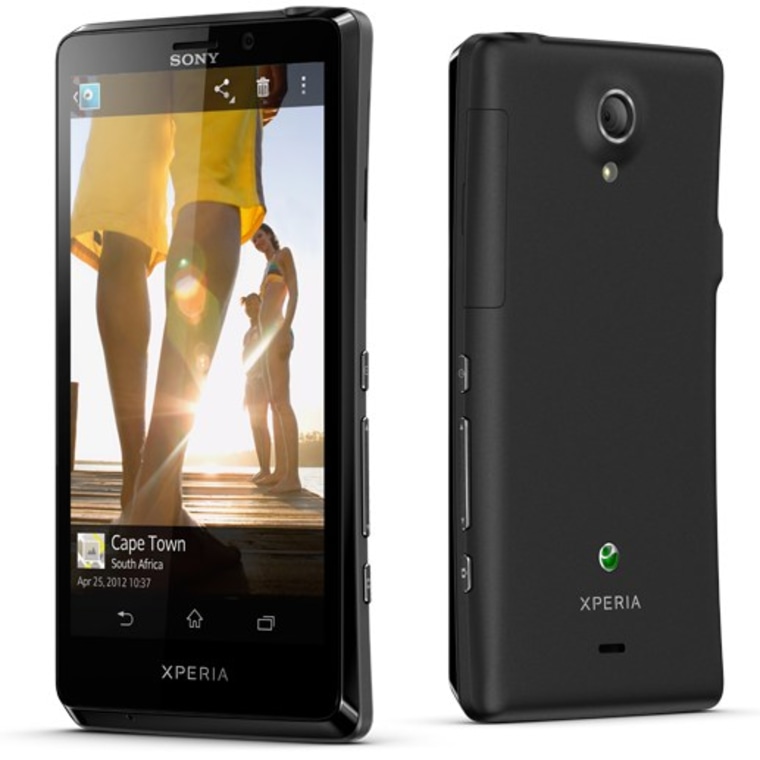 The biggest announcement, at least physically, would be an enormous, new super-high-definition TV. The XBR-84X9005 is an expansive 84 inches diagonally, with a resolution of 3,840-by-2,160 — twice as many pixels in both directions as a 1080p set. Of course it supports 3-D and has all the usual smart-TV features. It should be available this year, and while pricing wasn't discussed, it will probably be extremely expensive.
Four new smartphones were also shown off: The Xperia TX, T, V, and J are Sony's latest Android offerings, coming in three distinct sizes and specs. The TX is the flagship model, with a 4.6-inch 720p display, 13-megapixel camera, and lots of built-in media functions; it has a sort of twin, the Xperia T, described as being used by James Bond, that doesn't differ much in specs but has a slightly different design. The V has a smaller 4.3-inch screen (also 720p) and is water-resistant, while the J is smaller still at 4 inches and looks to be the budget device. All the phones share an understated design and slightly curved back.

There's a trio of tablets (or tablet-like devices) as well, also very distinct from one another.
The Tablet S is the newest version of Sony's regular consumer tablet, with the same slightly wedge-like form factor but lighter, faster, and now also "splash-proof." It'll recognize wet fingers, so you can bring it poolside with no worries. It has a sleek keyboard dock, but the flat, touch-sensitive keys don't look conducive to quick or extended typing.
The Vaio Duo 11, a combination tablet and laptop made for Windows 8, was leaked earlier this week but is now official. It can be used as a tablet, but the screen folds up to reveal a hidden keyboard. It's really more of a compact full-on PC than a tablet, with USB, HDMI, SD and even VGA ports. People seeking productivity will find lots to like, but consumers may want something simpler.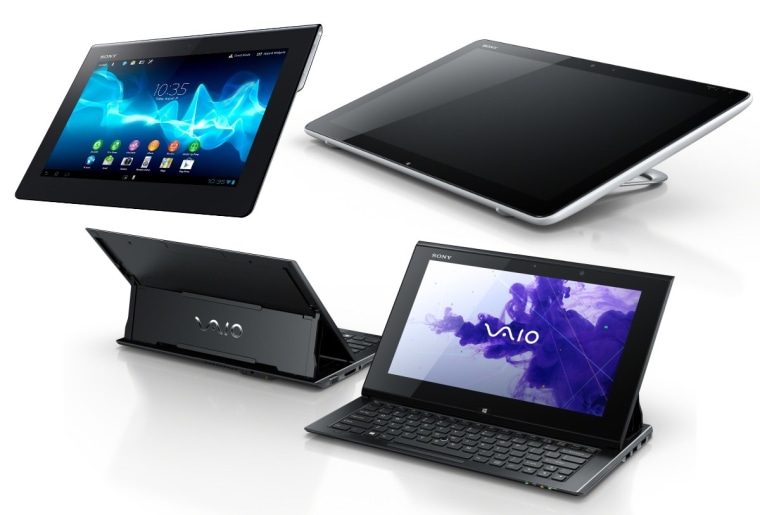 Sony is attempting to break into a whole new class of device with the Tap20, a 20-inch, all-in-one "tabletop PC" that lays flat like a tablet. It sounds a bit strange at first, but as a household device for watching movies, editing photos and playing games, it could actually be a good compromise: the cordless portability of a tablet combined with the size and power of a desktop.
Lastly, there's a pair of cameras. The NEX-5R is an update to its mirrorless interchangeable lens line that adds better autofocus and some handling improvements. You can also run optional "apps" downloadable from a Sony app store. Then there's the Action Cam, a small 1080p camera like those from GoPro and Contour that clips onto helmets and surfboards and the like, capturing wide-angle footage that you can review through a smartphone app.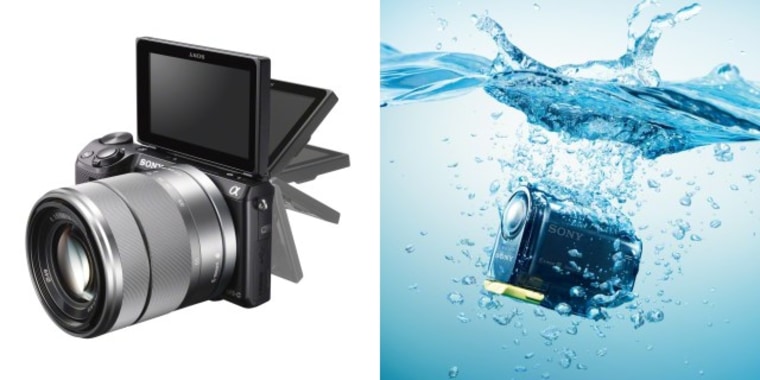 Most of the devices should be available in the next few months, but as IFA is a European show, differences in each country's pricing and schedule prevent Sony getting too specific. A U.S. release of these devices is likely not far behind, and pricing will be announced closer to that time.
Several more devices and accessories were announced as well and are on display at the show; you can read about them at the Sony Europe press center.
Devin Coldewey is a contributing writer for NBC News Digital. His personal website is coldewey.cc.