With so much buzz over tech companies, it's easy to forget that many industries still rely on pens and paper.
Well, good news, lawyers, teachers and government workers: Sony has launched Digital Paper.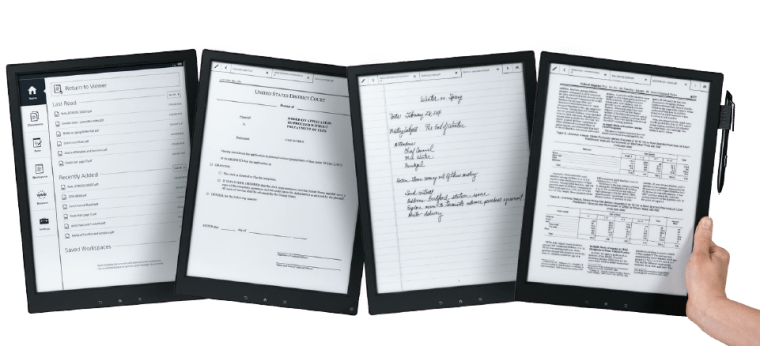 What is it? Digital Paper is kind of like a tablet and e-reader, packaged with a stylus. It's light (12.6 ounces), sports a pretty big E Ink touchscreen (13.3 inches across) and is meant mainly for viewing entire 8.5-inch by 11-inch PDF documents without the nuisance of scrolling.
The idea is that a lawyer could annotate contracts and share them with clients, or that a government worker could update a file, save it to the cloud, and then have their co-workers take a look and make changes.
A few other features: built-in Wi-Fi, 4GB of internal storage, and AC or USB charging that supposedly provides three weeks of battery life. It also comes with the capability to convert Microsoft Word, Excel and PowerPoint files into PDFs.
It all seems pretty handy, but the question is whether businesses and government agencies will shell out $1,100 for the device.
This week, Sony is targeting the paper-plagued legal profession with a presentation at the American Bar Association Tech Show.
Despite its obvious usefulness, it might be too expensive for average consumers, especially considering that they could either buy Digital Paper or both an iPad Air and Kindle e-reader and still have more than $500 left.