Surface RT, Microsoft's first foray into personal computing, is a hardware success, and the company should be proud. Windows RT, the operating system that runs on it, is less of a reason for self-back-patting, however. While it doesn't completely tarnish the Surface experience, it often comes darn near, and it certainly keeps this from being a home run for Microsoft.
The promise of Surface is simple: You get a tablet when you want a tablet, and you get a laptop when you want a laptop. For the most part this is true. You can lounge with your Netflix videos and Kindle books, you can listen to all-you-can-eat music or stream rented movies with integrated Xbox services, using the "Modern" style of navigation that's easy to flip through with a finger.
You also get an Office suite that includes Word, Excel and PowerPoint, along with a surprisingly useful pair of keyboard-and-trackpad options — the Touch Cover and the Type Cover — which are sold separately but should be a required purchase for anyone going the Surface route.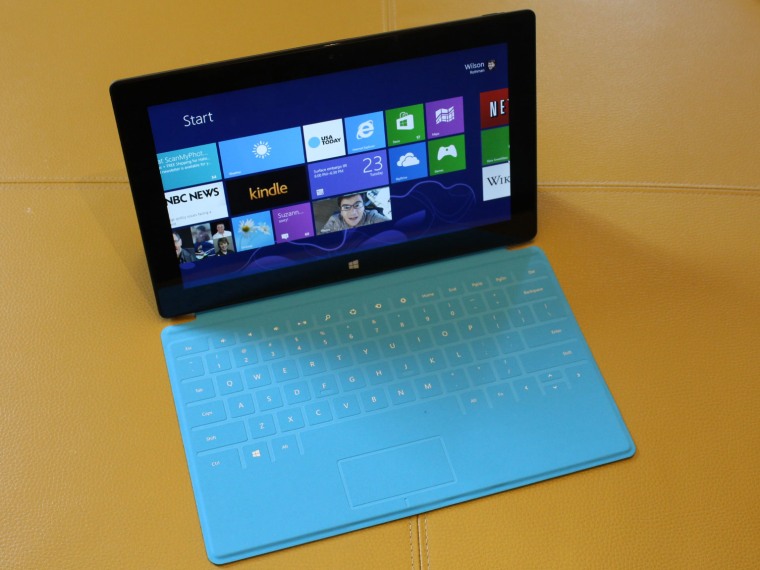 Having used the tablet for the better part of a week, for both work and play, on land and in the air, I can say that these two modes can both be satisfactory. In fact, on an airplane, the size of the 10.6-inch-screen tablet is perfect for a tray table, the built-in kickstand makes the whole thing extra stable when watching a movie, and the Touch Cover stays out of sight (adding to stability) when not needed, and flips out easily when you're ready for typing. 
I keep falling in love with the thing, only to be yanked out of infatuation by the recurring appearance of "classic" Windows. It's not just when I launch Office apps, which are not touch friendly and require a mouse/keyboard interaction; it even happens when interacting with the tablet in ways that really don't necessitate the old interface. For instance:
Why do I have to go deep into classic Windows to add music to the finger-friendly Xbox Music app?

Why are there two control panels, a Windows 8 version and a classic version, with overlapping settings and controls?

And if I am forced to interact with Windows of olde, then why can't I install my own apps, such as the Chrome browser, or migrate files from an old Windows PC to this supposedly Windows-endowed machine?

The truth is, I really wish I could be blissfully ignorant of the inner workings of this operating system. The only benefit I see to the classic Windows environment is the ability to enjoy Microsoft's bread-and-butter productivity apps, so why not just launch them separately, instead of inside faux Windows 7? I am having a hard time seeing why these things must go hand in hand, especially when no other maker of Windows software will be inclined to release its software in this way. (That is, they will either build new apps in the Modern UI, or they will continue to support full Intel-chip laptops and tablets with classic Windows apps.)
OK, I've made the point, and it's not the most original of points. A lot of people are trying to understand Microsoft's keeping-old-Windows-while-fundamentally-reinventing-Windows approach that is Windows 8. It's especially perplexing in Windows RT, where you seriously get zero benefit of classic Windows, but now that I've made that clear, it's time to get back to the tablet itself, and why it really can be so charming.
Let's start with battery life.
Having never met a Windows laptop that didn't die a quiet, lonesome death every time I left it unplugged overnight, I was stunned to see how exceptionally well the Surface RT manages power. Even under heavy use, the battery will carry you at least eight hours, but even more impressive is the fact that if you leave it sitting for hours or even days on end, the battery will show little if any signs of expenditure. Even if you have your Exchange email, messaging and all kinds of social feeds on, you can expect very little draw when your screen is off. Better still, the battery charges quickly, and can be completely topped off in two hours.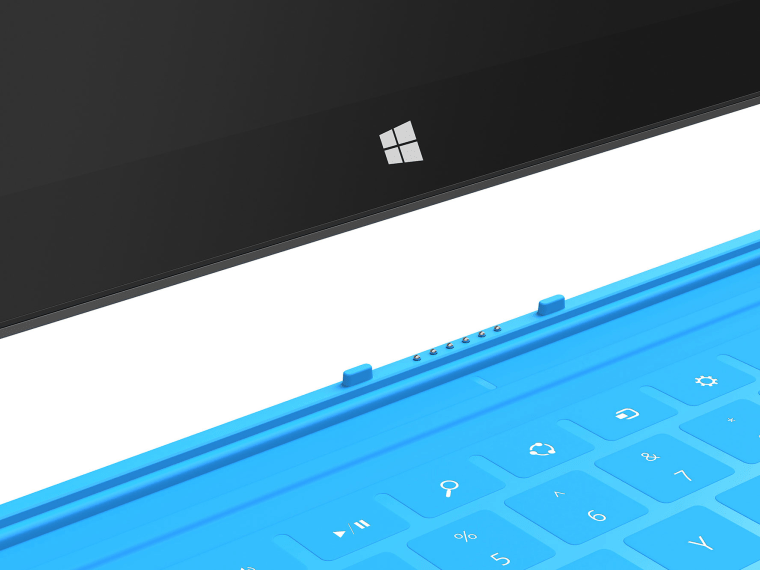 When it comes to Surface engineering marvels, another is the ultra-suave $119 Touch Cover and its chiclet-key-endowed sibling, the $129 Type Cover. Microsoft has long been a major designer of mice and keyboards, and Panos Panay, the hardware guy in charge of Surface development, came from keyboards, but that still doesn't prepare you for how elegant a job the company did on this. I hate to say that it's Apple-like in its simple yet high functionality, but there's really no other company that could integrate such an accessory with such grace.
So what is it? A pressure sensitive pad that you type on? What's the big deal? I promise you, get to a Microsoft store on Oct. 26, if only to try this out. The thing is so smart, it knows when you're just resting your fingers on the keys and when you really are trying to get words out. And the popping sounds you hear when you type, while seeming corny at first, actually give you the feedback you need to touch type without looking, enough to make you forget that all you're really doing is slamming your fingers down on a fake-suede placemat.
In the end, I think I prefer the mechanical keyboard that is integrated into the Type Cover, but in terms of pure, original engineering, the Touch Cover is the greater accomplishment.
When Microsoft hosted reporters at its campus in order to introduce the Surface tablet, the company gave a great deal of attention to the screen. The gist of the discussion, led by all-around Microsoft Research genius Steven Bathiche, focused on why screen resolution — in the form of the "retina" displays found on the iPad and other Apple products — are just one part of a discussion that should involve other factors including screen construction, contrast and graphics processing. 
Bathiche's bottom line: The way we perceive images on an LCD screen can't be boiled down to just one number. He's right that in most cases, the Surface's screen looks as good or better than an iPad's. Still, when you're looking at straight text, it falls short of the iPad in resolution. If you just want to sit around and read books on a tablet, the full-sized iPad is still the champ (even though Apple has to pay for that bonus screen resolution with extra battery juice).

I only have two actual hardware gripes about the Surface RT. They are minor, but worth mentioning.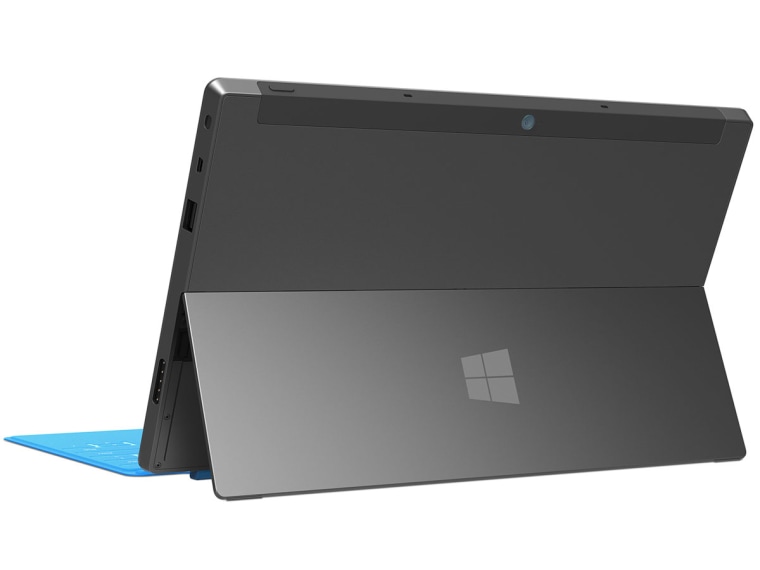 The magnetic power connector never locks in without some fiddling, and the wear and tear is already starting to show after just a week. This comes as a shock given that a) the magnetic Type Cover and Touch Cover lock into the Surface so smoothly with so little coaxing b) the power connector is essentially a ripoff of Apple's MagSafe charging cable, which locks in easily, and c) I haven't had to charge the thing very much!
The other surprising failure is the speaker system. They're not just tinny, as most mobile device's speakers are — they distort sound when any volume is applied. It was as if, in the midst of all this thought going to every other aspect of the design, the speakers were simply forgotten.
As you use Surface RT, what you see is the robustness and power of something that isn't just an overgrown phone. The way you can view two apps at once — Twitter and a movie, or a movie and mail, or mail and a photo album — lends more credence to the idea of not just consuming content but creating it. (And why not do both at the same time?)
If you're a wired person with networked hard drives, Bluetooth speaker systems and DLNA media receivers, you will find that the Surface is built to support all of them, straight out of the box — though not always without trouble.
The USB port on the side will take your disks and peripherals like OMG a real computer! You can add an HDMI or VGA connection with $40 adapters. And if you value cheap storage like I do, you will be glad to know that you can add a fast 64GB Micro SD card for just $43, so you don't have to regret not splurging on the high-end 64GB model.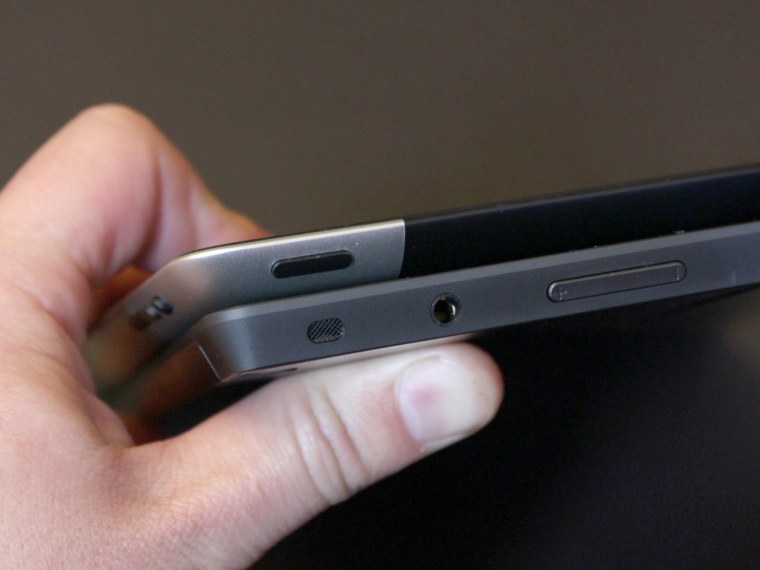 And lest you think you caught me in a contradiction, I will state plainly that none of the power features I have mentioned require classic Windows to exist — some are even found in Android devices.
The next stage for Microsoft isn't actually convincing you to buy this thing. If you have some money and a real fondness for the ways of Windows, you could jump right in and have a good time, and if you're shopping for gifts for your grandma, well, any of the iPads would be a way better bet.
No, the next stage for Microsoft is to drum up so much third-party app support for this thing that everybody's like wow, you can do all that? Because right now, there's a gap between what you can imagine doing on this thing and what developers actually let you do with it.
Ah developers ... You can practically hear an echo in the Windows 8 app store right now. There's a serious lack of games and, aside from Netflix and Kindle Reader, not much major video, music and book apps.
I am glad to say that NBC News is in there, too, yet while it looks good, most or all of the apps I tried out on the Surface ran jerkily, without the grace you'd expect given this machine's hardware specs. The conclusion is that nothing has been optimized for Surface RT, and that even developers who have taken the plunge have much work to do before their customers will be happy. It may be a long while before anything great turns up. 
Surface RT, available starting at $499 for a Wi-Fi model with 32GB of storage, should in no way be written off. It may have a hard time catching up to the iPad — especially now that its entry price is $329 — but when it comes to replacing PCs, it's the only other tablet that matters. And if Microsoft can get developers fired up — and hopefully sort out the schizophrenia of the classic Windows/Modern UI experiences — then it will be following Apple in a way that should be a victory for all of us. It will be a true shame if this thing ends up on the pile of nifty ideas that went nowhere (Zune HD, anyone?), but if it does, we'll know why.

To get a better sense of the Surface RT experience, please watch my video, embedded at the top and bottom of this review.
Wilson Rothman is the Technology & Science editor at NBC News Digital. Catch up with him on Twitter at @wjrothman, and join our conversation on Facebook.