Firefox for Android tablets is on its way, with enhancements that will probably appeal to fans of the popular browser and its on-the-go version.
As described on Ian Barlow's blog, the Mozilla Mobile Team has already made some design decisions about Firefox for tablets, particularly for Android's Honeycomb-based devices.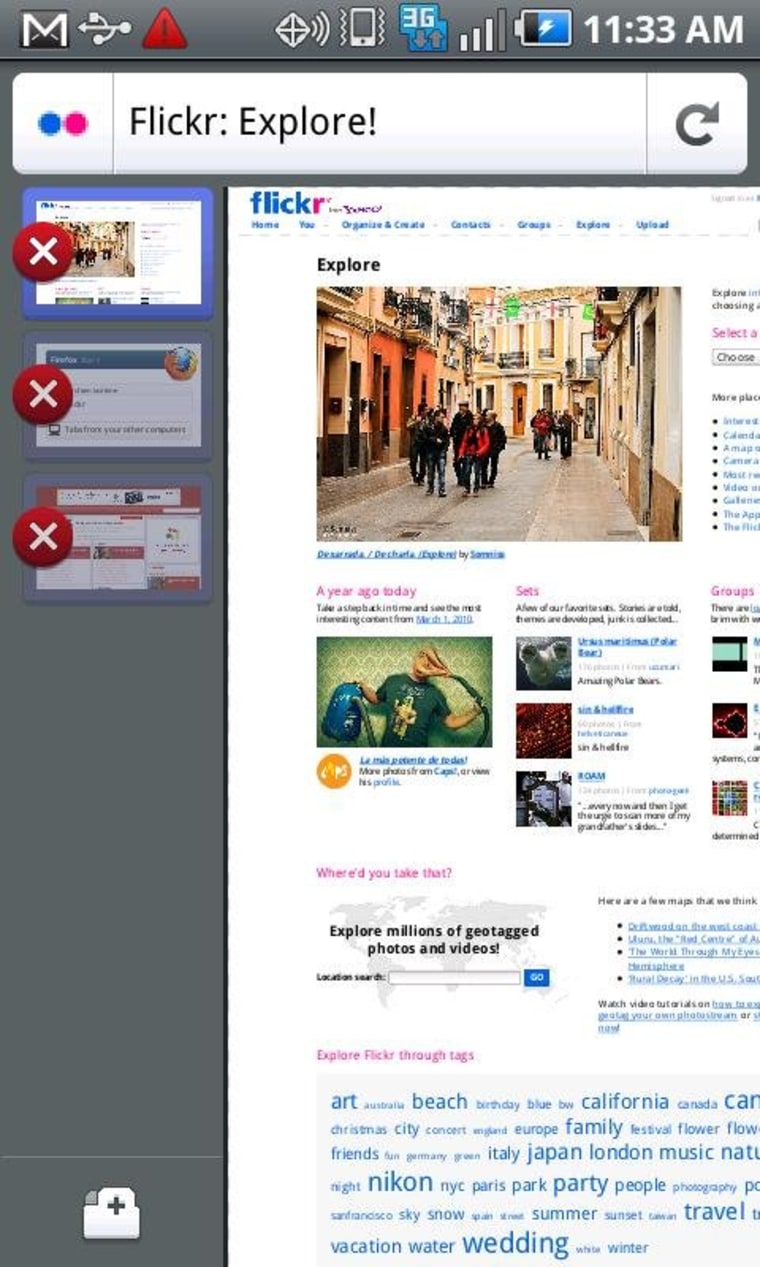 Calling it "an evolution of its phone based predecessor," Barlow (a mobile UI designer at Mozilla) posts about how the tablets' bigger screen has allowed the team to go way beyond the limitations of phone screens — however ginormous, they're not tablet-size — and take advantage of Firefox's signature tab shape and big "Back" button. (They love that big arrow!)
Barlow writes that the browser seems a natural fit for Honeycomb: "Firefox looks right at home on Android 3.0, drawing its overall theme from Honeycomb's minimalist design language." 
And since this is Firefox, it's all about the tabs. And on tablets, the marriage is even stronger.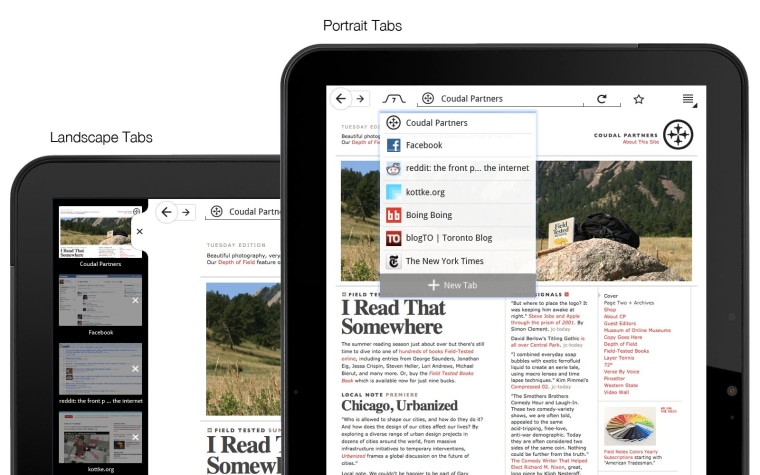 As you can see from the image above, and as Barlow explains:
On Firefox for phones, we meticulously tucked away all of our UI elements to free up the screen for unrestricted browsing. On a tablet, the bigger screen let us to bring some of those helpful elements back onto the screen, like tabs, for example. In landscape mode, tabs exist in a persistent left bar, allowing for quicker browsing. You can switch through tabs with your left thumb, and scroll through web content with your right. In portrait mode, this tab bar gets rolled up into a menu item at the top of the screen, to free up browsing space below. So whether you like keeping lots of tabs open and quickly switching back and forth between them, or if you prefer to just open a page and see nothing else on the screen, Firefox has you covered.
Another element of Firefox for Android tablets is the modestly named "Awesomebar" looks like it will make the migration to Honeycomb, with the tabs displaying bookmarks and history moving to the left, "which makes them easier to reach and increases the number of results that can be displayed above the keyboard." It'll also sync up with users' desktop activity.
The team has nightly builds going out to developers to test the browser on different tablets, including those powered by Linux, Windows, iOS, Windows and Maemo, and most recently, Android. While an early stage in the development of the mobile browser (for tablets), it does signal the light at the end of the tunnel.
The Nightly channel exists as a very early testing stage for awesome new features. Once  these features are approved, they get moved into the Aurora Channel for stabilization, and then to Beta, and then finally emerge in a general release. So this means that a general release for Firefox on tablets is still a few months away, but if you want to watch it grow and improve right before your eyes, you can download a build here and follow along.
If you need to drool over some of the developments, the ongoing mockups can be seen on Flickr.
Given the popularity of the desktop browser — which had first day downloads of 7.1 million when version 4 debuted in March — as well as the mobile browser on Android, with downloads in the million-plus vicinity, and the spread of Android into the tablet space (especially at much lower prices than the dominant iPad and iPad 2), there's potential for it to come in and dominate that coveted space.
More stories:
Check out Technolog on Facebook, and on Twitter, follow Athima Chansanchai, who is also trying to keep her head above water in the Google+ stream.