One day, kids who stream music might talk about digital downloads the same way that we talk about eight-track tapes, cassettes, and perhaps soon enough even CDs. But they could still be collecting records.
If you haven't heard, vinyl is hot. LP sales shot up 32 percent from 2012 to 2013, even as overall sales of albums dropped. It was the format's seventh straight year of growth. Digital album sales, meanwhile, dropped in 2013, the first time that has happened since Billboard started stracking them in 2001. CD sales declined last year by 14.5 percent, according to Nielsen SoundScan, although they still make up the vast majority of album sales.
When it comes to recent growth, only one format comes to close to vinyl: streaming, which increased in volume by 24 percent in 2013, according to Nielsen Soundscan.
Take musician David James Mueller. In the first grade, he walked into Roses discount store in Raleigh, North Carolina, and bought his first two records: Michael Jackson's "Thriller" and "Kilroy Was Here" by Styx.
If he was growing up today, his first memory of music might have been of hitting "play" on Spotify, or opening a file downloaded from BitTorrent.
"Who is going to remember that?" Mueller, 38, the bass player for Raleigh-based Birds of Avalon, told NBC News. "I can't remember the first song I listened to. But I can remember going to that department store, buying those records, opening them up and looking at the jackets, probably even more than I can remember what they sounded like."
Not that Mueller isn't a fan of technology. He uses Spotify Premium on a daily basis and records completely digitally produced songs with his DJ project TZYVYX. But he is one of many who have enthusiastcally embraced both vinyl and streaming at the same time.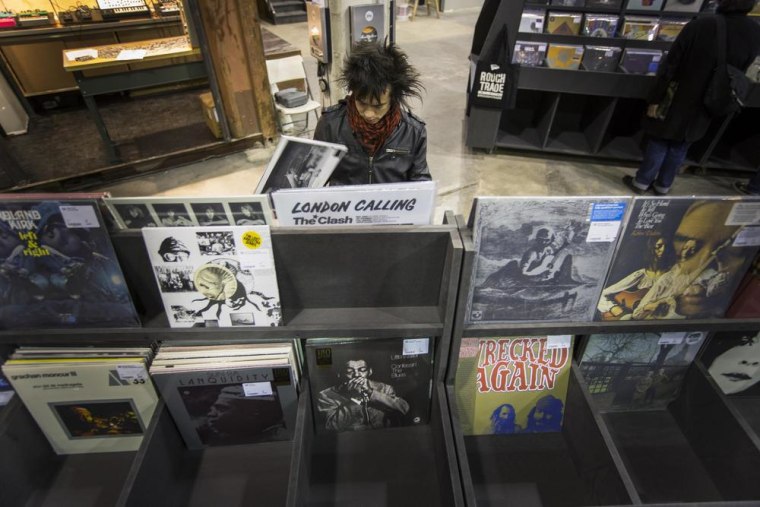 "Consumers love the all-access model," David Bakula, senior vice president of analytics for Nielsen Entertainment, told NBC News, noting the rise of YouTube, Netflix and other streaming services. As the smartphone becomes the de facto music player for many people, and as operating systems like Android and iOS move into more and more devices, even in cars, the demand for services like Spotify are only expected to rise.
At the same time, the sustained growth of vinyl has exceeded even his expectations.
"It's a sound quality thing, it's a packaging thing, it's a nostalgia thing," Bakula said. Vinyl's rise has as much to do with urban hipsters buying records as it does with older fans suddenly seeing turntables on sale everywhere from Target to Whole Foods.
Need proof? Walk into any Urban Outfitters in the country and you will see a Crosley turntable, neatly packaged in a faux-vintage briefcase, as if plucked from a Wes Anderson movie. It comes equipped with a USB port, so that hip millernnials can transfer everything from their old Kinks albums to the latest Justin Timberlake release to their MacBooks.
"We have been a business for 30 years, and we have seen growth for 28 of those years," Liz Braun, vice president of sales and marketing at Crosley Radio in Louisville, Ky., told NBC News. "Whenever people talk about this resurgence of vinyl, we say, 'Well, this isn't new for us.'"
A CD kind of seems like a piece of plastic garbage, but vinyl has an aura to it.
Now, Crosley Radio and other companies have created modern audio equipment compatible with the smartphone in your pocket, made to look like everything mint-green tuners from the 1950s to boomboxes from the 1980s to amps straight out of CBGB's from the 1970s. Over the next year, Crosley is planning on unveiling three new Bluetooth, vintage-style speakers, along with an old-school television set.
The company's biggest seller by far, however, is turntables.That is good news for people like Stephen Godfroy, co-president of Rough Trade records, which opened a new 15,000-square foot store in Williamsburg, Brooklyn in November. In an age where big chains like Tower Records have gone the way of the dodo, Rough Trade, which has two other locations in London, is a sign that the vinyl might be able to co-exist with digital music in the future.
The fact that streaming and downloading music is now the norm "is unquestionably driving the demand in vinyl," he wrote to NBC News from London, adding that streaming "puts into sharp, favourable relief the value for owning music, and vinyl offers the most reward and value as the definitive music recording artifact."
The resurgence of vinyl has also resurrected that sacred old rite of music nerds: digging through crates of records.
"I grew up as a teenager in the 90's, when discovering music was distinctly 'manual,' requiring a lot of dedication and fanaticism to discover music that lay off the beaten track," Godfroy wrote. "Finding a much sought after record was an occasion, unlike clicking a link in a web search."
People of all generations, it seems, are increasingly replacing iTunes downloads with streaming, and CDs with records.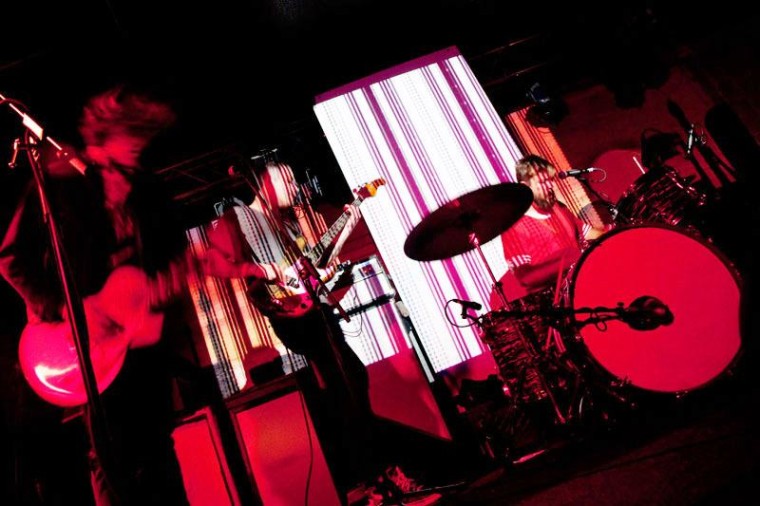 "A CD kind of seems like a piece of plastic garbage, but vinyl has an aura to it," Mueller, the musician, said. "It has reclaimed a space that, culturally, has been left open."
This isn't just the opinion of indie rock musicians and music nerds. In Oct. 2010, Taylor Swift — who, by the way, was born in 1989 — told Entertainment Weekly that "vinyl is really important to me" because "I'm so in love with the concept of an album." On YouTube, there are plenty of videos of giddy fans "unboxing" her records, despite not being old enough to remember a time before CDs. ("That is SO amazing," said one excited fan. "I don't even have a vinyl player, but I asked for one.")
In the end, everyone interviwed said there is probably room for both formats in the future.
"I have been collecting and listening to vinyl for about seven or so years," Ashley Kuhn, a 22-year-old music industry major at Drexel University, told NBC News via Facebook. "For me, the Internet is for discovering music and vinyl is for listening to music I already love."
Right now, the future of streaming looks bright, said Bakula, but then again, so did digital downloads when iTunes was launched in 2001. Hip collectors might also switch from vinyl to something else. It's doubtful, however, that they will ever go totally digital.
"Physical consumers are going to continue to want something tangible to hold," he said. "You aren't going to get people completely abandoning physical albums. I mean, there are still people out there who buy cassettes."