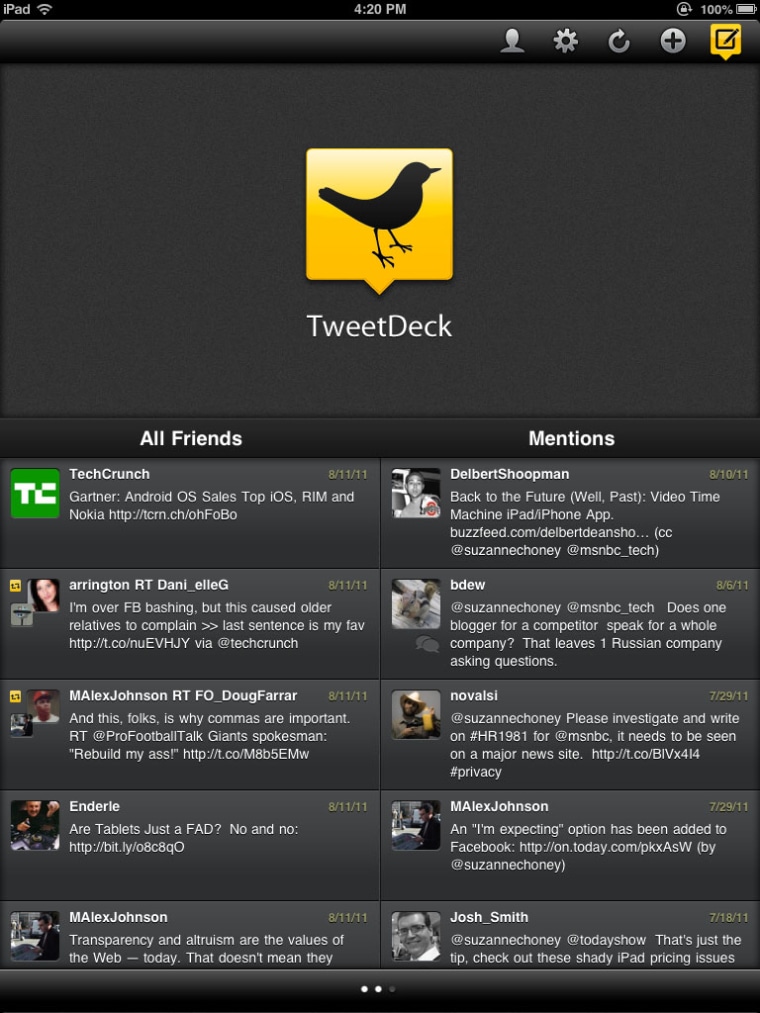 At one time, TweetDeck was one of the most popular clients for Twitter users, so popular Twitter bought it in 2011 — and now has essentially killed it for mobile phones and the computer desktop.
"We're going to focus our development efforts on our modern, Web-based versions of TweetDeck," wrote the TweetDeck team on its blog Monday.
"To that end, we are discontinuing support for our older apps: TweetDeck AIR, TweetDeck for Android and TweetDeck for iPhone. They will be removed from their respective app stores in early May and will stop functioning shortly thereafter. We'll also discontinue support for our Facebook integration."
The TweetDeck team said in the post that for the past 18 months it has been focused on "building a fast and feature-rich Web application for modern browsers, and a Chrome app, which offers some unique features like notifications."
We've recently introduced many enhancements to these apps — a new look and feel, tools like search term autocomplete and search filters to help you find what you're looking for more quickly, and automatically-updating Tweet streams so you immediately see the most recent Tweets.
In many ways, the developer say, "discontinuing our app support is a reflection of where our TweetDeck power-users are going. Over the past few years, we've seen a steady trend towards people using TweetDeck on their computers and Twitter on their mobile devices. This trend coincides with an increased investment in Twitter for iPhone and Twitter for Android — adding photo filters and other editing capabilities, revamping user profiles and enhancing search. That said, we know this applies to most of our users — not all of them. And for those of you who are inconvenienced by this shift, our sincere apologies."

TweetDeck is also apologizing in advance for some of the rough bumps in the next few months, when TweetDeck "may experience some outages," as Twitter's platform team does "occasional tests."
Check out Technology, GadgetBox, TODAY Tech and In-Game on Facebook, and on Twitter, follow Suzanne Choney.