There's a lot of competition in the enthusiast camera sector, with dozens of great cameras competing for attention in the $500-$1000 range. Sony's latest interchangeable-lens cameras, the compact NEX-F3 and SLR-style A37, even compete against each other with an array of useful features, some inherited from Sony's more expensive models. They're both solid picks, but which would be better for you?
The 16-megapixel NEX-F3 is an upgrade to the least expensive NEX series camera, the NEX-3. It adds a better sensor and image processor, a built-in flash, and a handy flipping screen for self-shots. It does 1080p video, and now shares the "Clear Image Zoom" enhanced digital zoom and automatic portrait framing found on the A57.
I got a chance to take the NEX-F3 for a spin on a sunny day, and found it to be an eminently usable camera. The flipping LCD thoughtfully mirrors the image for easy composition of self-shots. The body is larger and better-designed than its predecessor and feels more like a real camera than before. Adjusting settings manually wasn't a simple task, however, so whoever's shooting should be comfortable with letting the camera's intelligent auto modes do their thing, be it multiple exposures or bumping the ISO instead of lowering the shutter speed.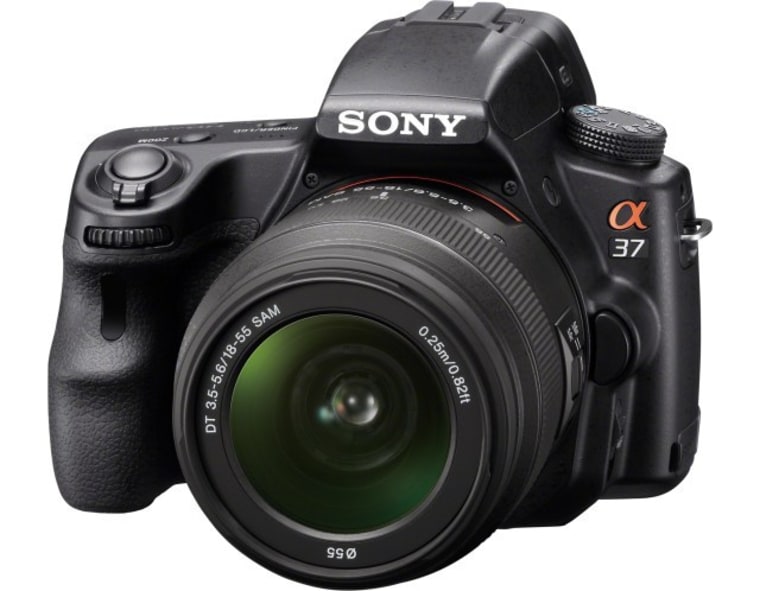 The A37, also 16 megapixels, looks like an SLR — but unlike that type of camera, the mirror element inside doesn't flip up during exposure, it's merely translucent, allowing light to pass through onto the sensor and to bounce up to the eyepiece for you to see. One of the benefits is highly improved autofocus performance, especially when shooting video: keeping subjects in focus during videos is critical, of course, especially in action shots, and the Alpha series excels at it.
The camera itself is a mix of upgrades and downgrades from the earlier A33 model. The A37's screen isn't as nice, and now it can't shoot 60p, but it gains a better electronic viewfinder, some new shooting modes, a better body, and stereo mics. It also sells for $150 less, making it more of a budget option than it was before.
Both the NEX-F3 and A37 will be available in June with an 18-55mm kit zoom for "about $600." Is one the better buy? The NEX-F3 is  more compact, but with a zoom lens on there you really don't end up saving that much space. The A37 is a bit more capable and is quite compact for a DSLR-style camera. If you don't really need that rotating LCD, or you plan on doing much video, you'll probably get more for your money with the A37.
Devin Coldewey is a contributing writer for msnbc.com. His personal website is coldewey.cc.