Do you hear that eerie silence? It's the sound of digital artists around the world quietly drooling as they read about the Cintiq 24HD — the latest offering from Wacom, one of the largest makers of graphics tablets. 
And who could blame all those drooling doodlers? This new graphics tablet is not only a beautifully designed piece of hardware, but also one of the most powerful digital tools anyone with artistic inclinations — professional and amateur alike — could possibly wield.
For those unfamiliar with graphics tablets like this: They're basically interactive displays which you traditionally use in addition to a regular monitor. Wacom's Cintiq product line is one of the most popular when it comes to such hardware and its previous offerings include the 21.3-inch Cintiq 21UX and the 12.1-inch Cintiq 12WX.
The Cintiq 24HD naturally has the same key strength as its predecessors — Wacom's proprietary digital pen technology. Because of this technology, the included stylus offers 2048 levels of pressure sensitivity — which means that the tablet will be able to detect even the slightest changes in pen angle and pressure as you scribble your way across the 24-inch screen.
Yes, that's right — the 24HD offers 24-inches of digital drawing display space with a native resolution of 1920 x 1200. (For those keeping track: This is a pleasant upgrade from the 21UX's 21.3-inch display and its 1600 x 1200 resolution.)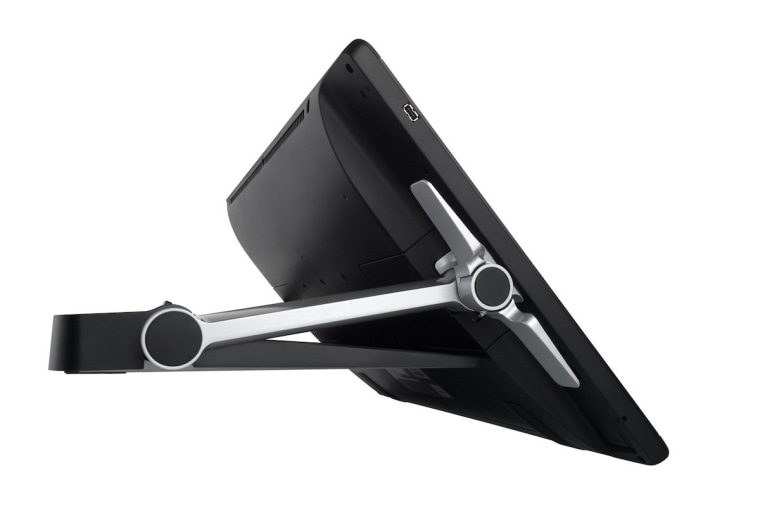 If you're wondering how anyone could handle such a beast of a tablet without awkwardly hunching over his or her desk, the answer's simple: Ergonomic design.
Wacom proclaims that the 24HD offers "breakthrough ergonomics" which bring "control, productivity, and comfort to a whole new level."
The Cintiq 24HD has a counter-weighted stand which allows you to adjust the device to your liking — in an instant:
For example, users wanting to feel connected to their work can securely extend the display surface over the edge of the desk so that it rests comfortably just above their lap, providing an optimal position for many types of work. When employing the Cintiq for more conventional display uses such as email, the display can quickly be repositioned to a nearly vertical position. The Cintiq can also be raised slightly above the desk to accommodate a keyboard underneath to help reduce desk clutter. 
Now, you're probably reading along and wondering what the catch is — the Cintiq 24HD sounds like a dream come true after all. It gives you a 24-inch high-definition widescreen display on which you can draw, has an incredibly ergonomic design, and it isn't too rough on the eyes either.
So what's wrong with it?
The price. The Cintiq 24HD will set you back $2,499 — that's $500 more than the Cintiq 21UX. 
Many professionals who have relied on Wacom technology for years won't flinch much at this price and will eagerly wait for the gadget to start shipping in October of this year, but what about the rest of us? What about the amateur scribblers, doodlers, and sketchers with gadget obsessions?
We'll probably simply cringe and spend quite some time wondering whether this professional tool is worth the monetary damage. And in the end we'll probably justify it to ourselves as a really pricey second monitor.
Related stories:
Rosa Golijan writes about tech here and there. She's obsessed with Twitter and loves to be liked on Facebook. Oh, and she can be found on Google+, too.