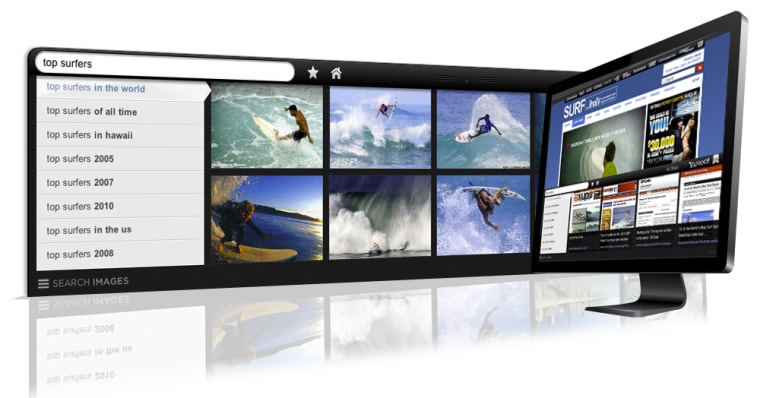 Here's some news you probably didn't expect to read: Yahoo just released its own Web browser. Well, sorta.
The new software, dubbed Yahoo Axis, is being called a "search browser." Its main trick is the ability to bypass the standard list of links and instead send users directly to websites and pages via thumbnails.
Axis is already available as an iPad and iPhone app. Rather than releasing its own desktop browser, however, Yahoo is offering Axis plugins for Internet Explorer, Firefox, Safari and Chrome. Once installed, the plugin appears as a search box at the bottom of the browser, expanding when a user enters a query.
CNET News reporter Rafe Needleman has been testing Axis and says it is actually good. He calls it "an aggressive product for the struggling Yahoo to launch out of its search group."
I've been less impressed in my brief usage of the iPhone app. The user interface is difficult to maneuver and not very intuitive for someone coming to it cold. It tries to squeeze a ton of stuff into that little screen.
The desktop plugin, which comes in the form of a search bar at the bottom of the browser, is a better experience so far, but far from perfect. Using the Axis plugin for Chrome on a Mac, the search bar has been unresponsive at times when I've tried to enter a query.
Yahoo's search results have been provided by Microsoft Bing since the companies agreed to collaborate on search technology and advertising. There's no mention of the results being powered by Bing in the Axis app, at least not that I've been able to find. (Msnbc is a joint venture of Microsoft and NBC Universal).
The news was apparently being held until later Wednesday night, but it leaked out thanks to an email sent by someone from Yahoo and republished by the tech site Launch.
Yahoo has been through a tumultuous couple of years, with CEO Scott Thompson recently leaving the company after a scandal over his resume.
More from GeekWire: