If you're a Facebook user with a tendency to make typos or regrettable comments, I've got good news: The social network is now allowing us to edit our Facebook comments as much as we want.
According to a Facebook spokesperson, "you'll now be able to edit your comments anytime after you post them." She adds that this is "particularly useful if you've made a typo and already have some likes and don't want to delete your comment entirely."
In the past, Facebook allowed folks to edit their comments for a couple of seconds after they're posted — and only if no one has replied to them. This meant that you had to either catch your mistakes really quickly or just plain completely delete your comment.
But with the new editing feature, you can click the "x" button on a comment at any time and have the option to edit it.


Once you've edited your comment, it will have a little "Edited" button next to the timestamp, to alert other folks of the change.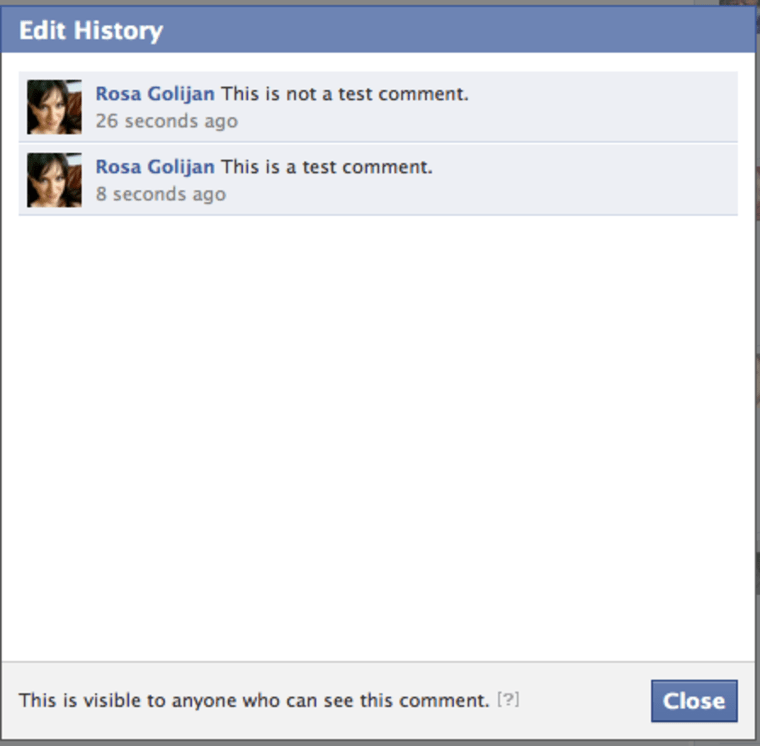 And that's not all other folks will see. Clicking on that new button will allow you — and other users — to view the edited comments history. This means that your shame won't be hidden entirely. But it also prevents you from making sneaky changes in an attempt to make people look bad, like changing "I like ice cream" to "I kick kittens" after 100 people have liked your comment.
Ah, well. It's still a decent trade-off for the ability to edit out typos at any time.
Like any new Facebook feature, the new comment editing ability seems to be rolling out gradually, so don't fret if you're not seeing it yet. You soon will.

Want more tech news, silly puns, or amusing links? You'll get plenty of all three if you keep up with Rosa Golijan, the writer of this post, by following her on Twitter, subscribing to her Facebook posts, or circling her on Google+.