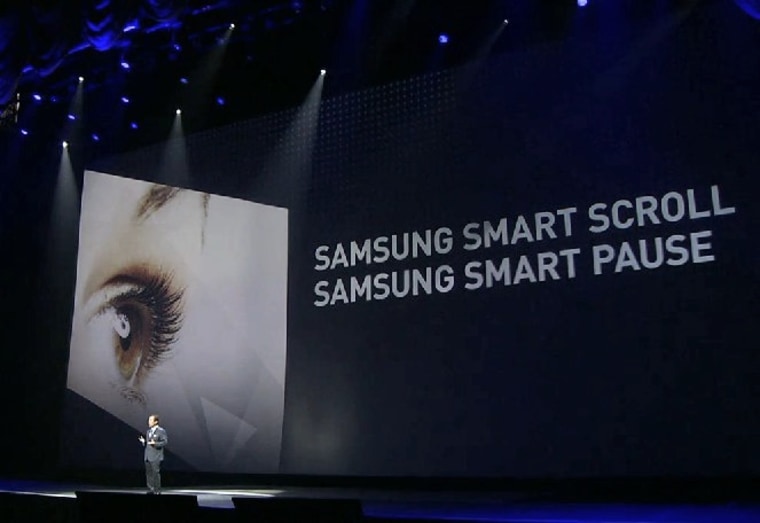 One of the most impressive features of Samsung's new Galaxy S 4 smartphone, unveiled Thursday in New York, is the ways it can work without a single touch. Its eye-tracking and hover-sensing are not only the stuff of sci-fi, but may be genuinely useful as well.
In recent weeks, it was suggested the S 4 would have eye-tracking capability, and while it's not quite at the level of dedicated devices like Tobii's, it could still be useful. "Smart Pause" tracks your face and stops any video you're watching if you look away. And "Smart Scroll" lets you scroll up or down by tilting the phone a bit — but the phone checks to make sure you're looking at it, so you don't do it by accident.
If it all sounds a little creepy, don't worry, you can turn it off in the phone's settings. Some people may just want the upgraded specs and screen, not the HAL-like all-seeing eye.
Perhaps a more practical new feature is Air View, which allows you to hover your finger over certain items on the phone to get a preview. No pen, no touch, no nothing. Just hold your finger over that picture in your gallery and watch a larger version pop up, or hover over an SMS and see other messages in the conversation. You can also answer the phone or skip a track just by waving your hand over the screen.
Samsung didn't explain the hard tech behind these interesting new features, but we'll likely be learning more. You can read about the rest of the phone's specs and features here.
Devin Coldewey is a contributing writer for NBC News Digital. His personal website is coldewey.cc.