In the future, waiting a few days for an online delivery could become a thing of the past.
On Monday, Google began offering its same-day delivery service, Shopping Express, in Manhattan and parts of Los Angeles. That move came only days after Amazon announced it was offering same-day shipping in Dallas, Los Angeles and San Francisco, bringing the total number of cities where the service is offered up to 12.
The idea is simple: Order something online and get it delivered on that same day for a fee, $4.99 per item for Google Shopping Express and $9.98 for the first item (plus $0.99 for each additional item) for Amazon Local Express.
"Our goal has been to make a same-day delivery service that isn't a luxury," Jenna Owens, general manager of operations for Google Shopping Express, told NBC News. "This is how people are going to be shopping in the future, so we wanted to introduce it to them now."
To entice potential shoppers, Google is offering Google Shopping Express memberships for free, which means customers can pay nothing for same-day delivery for six months. Eventually, Google will charge for memberships, but the rates have not been decided yet.
Same-day delivery is not a new idea. Amazon began offering it in 2009, while Google publicly launched Shopping Express in San Francisco in 2012. EBay Now, also launched in 2012, will actually pay someone to go to a store, buy an item, and deliver it to a customer within one to two hours for $5 per order.
Could Google moving into New York and Los Angeles be a sign that same-day delivery is becoming more than just a niche service for early adopters?
Peter Sheldon, principal analyst at Forrester Research, does not think so.
"I'm kind of skeptical about these same-day delivery services," he told NBC News. " They perceive that there is territory to be gained here, so there is this kind of one-upmanship, but what we see is that consumers are skeptical about it."
Right now, he said, customers are willing to wait a couple of days to get a package if it means saving money.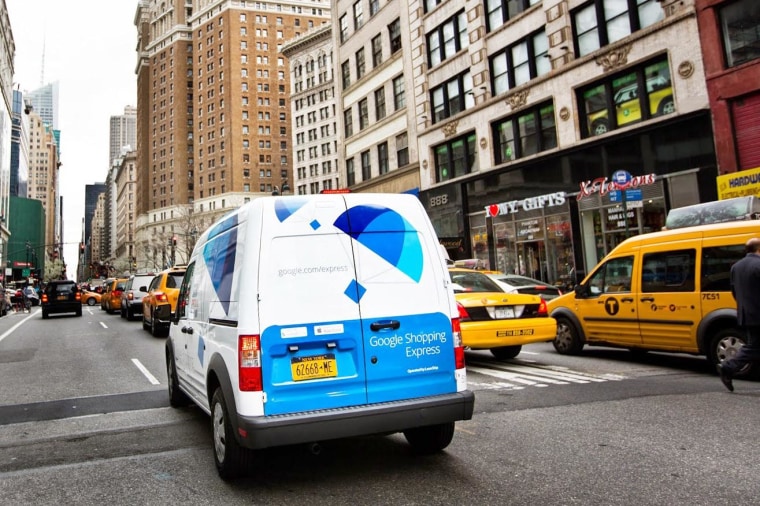 Unlike Amazon, Google doesn't compete with retailers, but instead works as a go-between for companies like Target, Costco and others. Third-party delivery agents -- trained in Google's "Courier University" program and driving Google-branded vehicles -- pick up multiple orders from retailers and then deliver them to customers around the city.
"We're creating an ecosystem where national and local retailers can become successful," Owens said.
Sheldon, however, argued that in the long-run, Target and other partners would rather have customers come directly to their websites, which could result in them making their stores into "mini-distribution centers" and offering same-day shipping of their own.
Getting people hooked on speedy shipping have added benefits for Amazon and Google. The former offers discounts on same-day delivery for Amazon Prime members, charging a $5.99 flat fee per order. That could entice more people to pay $99 per year for Prime, in turn getting people hooked on Prime Instant Video, the company's video-streaming service.
Amazon also announced a new partnership with Twitter on Monday. It lets people reply to any tweet containing an Amazon product link with the hashtag #AmazonCart, which automatically adds it to the customer's shopping cart.
As for Google, it's planning to expand to Brooklyn and Queens in New York and other Los Angeles ZIP codes in the "coming months" but are "not ready to announce anything further" about future expansion plans.
People in cities without Google or Amazon's same-day delivery services, said Sheldon, are not missing much.
"If I really want to get a product on the same day, for free, I can get in a car and go to a local store," he told NBC News. "If I'm in a city where a retailer doesn't have a store, chances are that same-day delivery isn't available to me anyway."