Some colleges and universities are offering the gift of sleep to bleary-eyed students who need to catch up on some Zzzzs after pulling an all-nighter. "Nap rooms" and "napping stations" have popped up on campuses across the country, providing students a respite from the stress and rigors of coursework (and, perhaps, partying).
The Art Center College of Design in Pasadena, California, has been offering students a space to rest or nap for three years — initially with a pop-up tent in the courtyard, then starting last year with a campus "Nap Room" during midterms and finals weeks.
"The response from throughout the community has been positive. A recent survey of students showed that 70 percent of respondents ranked the nap room as a high priority for their well-being," Art Center spokesperson Teri Bond told NBC News. (Perhaps the other 30 percent were asleep?)
Throughout the year, the Art Center offers other "stress-busting opportunities," including dog therapy, chair massages and yoga, Bond said.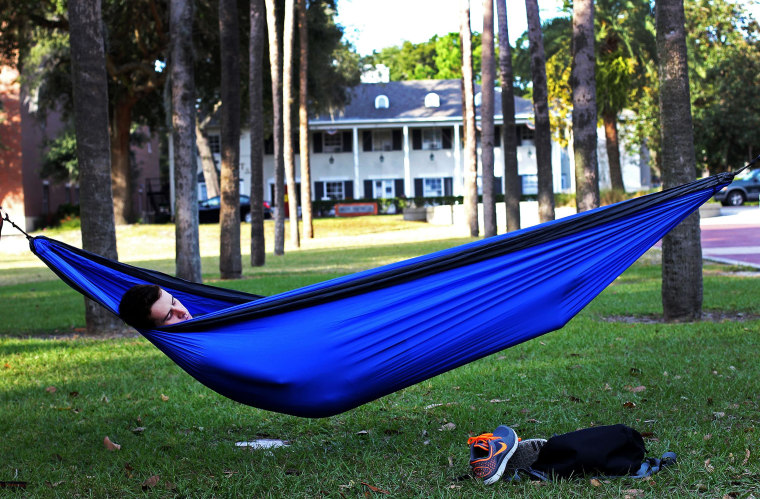 The University of Michigan's undergraduate library launched a pilot "napping station" earlier this year, and James Madison University opened a "Nap Nook" in the fall of 2013.
At JMU, students can reserve a bean bag for up to 40 minutes at the Nap Nook, located in the Festival Conference & Student Center. The Nook has gotten so popular that university officials will be adding more bean bags for the upcoming fall semester.
"We had 2,500-plus naps recorded at the center in its first year," said Caroline Cook, research director at JMU's Sleep and Actigraphy Lab. Cook launched the Nap Nook as a senior psychology major at JMU.
Elsewhere, Harvard has discussed a student petition to establish an on-campus nap room while other schools, Including the University of Texas at Austin, the University of California Davis, and Macalester College in St. Paul, Minnesota, have created Google-like "nap maps" that pinpoint the best locations on campus to catch a power nap.
Not all nap rooms get the nod of approval. The University of Colorado Boulder had a "Siesta Room" from 2009 to 2011 but discontinued it after lighter-than-expected student use. "Getting proper sleep is certainly an important part of good health and academic success," university spokesperson Malinda Miller-Huey said. "But we found that students preferred to take naps in their own bed nearby in their residence halls or off-campus housing."
MORE BACK TO SCHOOL
SOCIAL
— James Eng, NBC News