The developers of the Bloodhound SSC have taken the wraps off what they say will be the world's fastest land vehicle. The near-finished Bloodhound went on public display on Thursday at London's Canary Wharf.
Eight years in the making, the pencil-shaped supersonic car is billed as faster than a speeding bullet. It uses fighter jet and rocket motors to generate a thrust more than seven times the power output of all Formula 1 cars combined.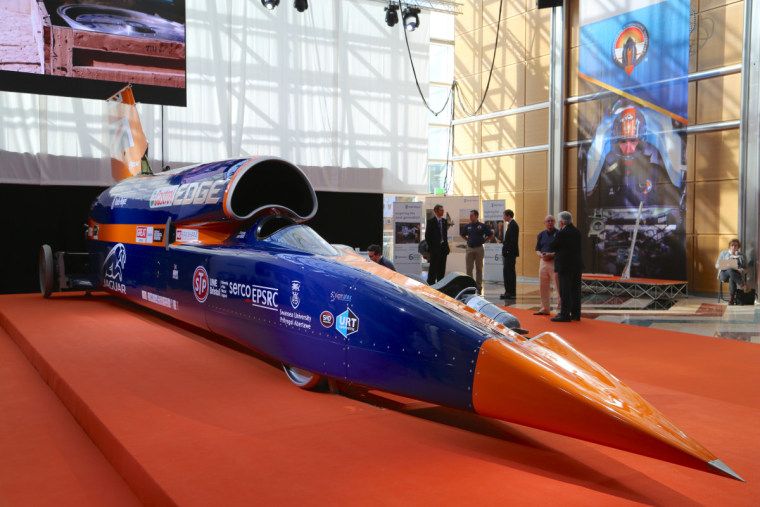 When it's finished, Bloodhound will undergo some low-speed testing in the U.K. to prep for its big test: an attempt in October 2016 to reach 800 mph and smash the current land speed recordof 763 mph. For that attempt, a special 12-mile track is being built in Hakskeen Pan, in the Northern Cape of South Africa. If all goes well, Bloodhound will try to rev it up to its ultimate goal of 1,000 mph the year after.
Bloodhound will be driven by Andy Green, a British Royal Air Force fighter pilot who set the existing land speed record in another British car, the Thrust SSC, in 1997 in Nevada's Black Rock Desert.
For safety, Bloodhound is equipped with three separate braking systems, seven fire extinguishers and 500 sensors.
Related: Japanese Maglev Bullet Train Breaks 12-Year Speed Record
Backers of the Bloodhound project say the primary aim is "to inspire the next generation of scientists and engineers by sharing the adventure with the widest possible audience."