It's hard enough for regular people on Earth to exercise every day. Imagine being an astronaut aboard the International Space Station, floating 220 miles above the Earth's surface with no access to tennis courts, Pilates classes or even a sidewalk to jog down.
Laura Doyle, 9, wants them to have a little fun. She imagined a world where astronauts pedal around the rings of Saturn or across the Martian surface with the Microsoft HoloLens hologram device that should reach the ISS in December. (A pair meant for the space station was destroyed in June when a SpaceX rocket exploded shortly after launch).
Laura and her father, Michael, launched their campaign Monday on physics and astronomy crowdfunding site Fiat Physica, where they are trying to raise $22,000.
It all started when Michael, a software developer, returned from the International SpaceApps Challenge Hackathon in April and wouldn't stop talking about NASA.
"I started getting a bit bored," Laura told NBC News. She instead wanted to talk about the presidential award for fitness she won.
"My dad said, 'That's great,' and kept talking about space," she said. "I decided it would be good to help astronauts make exercise fun, so I suggested it, and he thought it was a great idea."
With that, their project ISSIE (International Space Station Interesting Exercise) was born.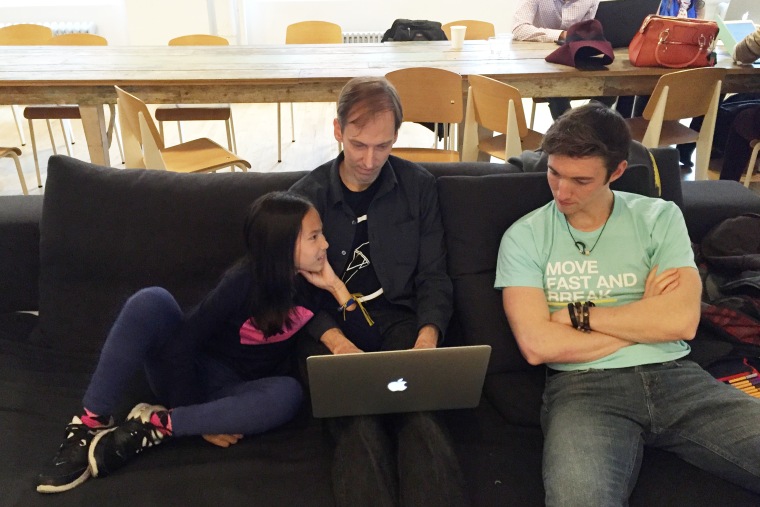 How to work out in space
Staying fit in orbit takes a lot of work. On average, astronauts spend around an hour a day on the exercise bike or treadmill, and an hour and a half doing resistance training.
Mark Guilliams has lost count of how many astronauts he has trained for NASA missions over the last 16 years. As lead strength and conditioning coach, his job is to keep people fit as they float in the weightlessness of space.
That is not an easy task. Without any exercise, astronauts can lose up to 5 percent of their muscle mass in a week and 1 percent of their bone density in a month.
Related: Are Smart Glasses Dead? Not on the Factory Floor
Those 2.5-hour workout sessions keep astronauts strong enough to do their jobs in space and able to recover quickly when they return to Earth. NASA doesn't have a problem with them skipping workouts.
"To become an astronaut, you have to be a pretty driven individual in the first place," Guilliams told NBC News.
But even brilliant fitness freaks can get bored of exercising on the same three machines, no matter how much NASA tries to mix up their routines.
"You don't have a gym at disposal," Guilliams said. "You can't go outside and throw a ball around."
Some astronauts find inventive ways to motivate themselves. In 2007, while aboard the ISS, Sunita Williams spiced up her exercise routine by training for the Boston Marathon. With a bib from the Boston Athletic Association taped to her treadmill, she finished the 26.2-mile race in four hours and 23 minutes, all while orbiting the Earth at around 17,500 miles per hour.
Not every astronaut, however, wants to run a marathon. For some of them, Guilliams said, technology could be great motivation — or at least add some fun to their squat workouts.
That's is where the Microsoft HoloLens comes in. The glasses provides an augmented reality experience. It's a lot like virtual reality, except the image doesn't completely block the user's vision, allowing them to see the real world around them as they play a game or watch a video at the same time.
A few companies have already brought HoloLens ideas to NASA. Guilliams thought virtual coaches, where astronauts have a personal trainer pushing them on from Earth, could be a good idea idea. Guilliams also mentioned providing astronauts with footage of familiar trails as a possible motivational tool, something that Michael Doyle also thinks would be smart.
"If you're an astronaut, and you're heading off to Mars, wouldn't it be great to jog around your neighborhood or cycle with virtual images of people you know?" Doyle said.
Getting off the ground
Before anyone starts using ISSIE on the space station, Michael and Laura have to raise some money.
At home, Michael has been dubbed CFO (Chief Fun Officer) by his family, but at work he manages a software development team. Laura is officially the "project lead." She is tasked with determining whether a game is fun or not, although she does have programming skills after learning Scratch two years ago.
They want some help in the form of a software engineer and game designer. Then, after six to eight months of work, they hope to have put something together that will impress NASA.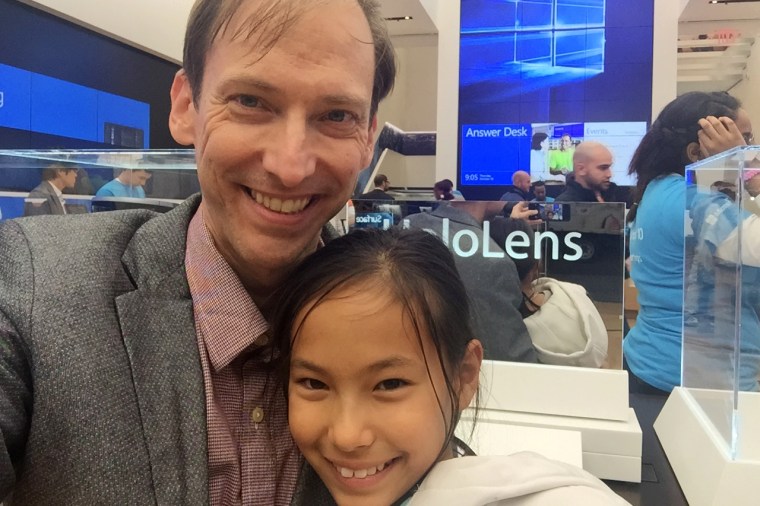 Right now, they're starting with games for the exercise bike. On the ISS, astronauts go for a ride with their feet on the pedals, their rear-ends floating (no need for bike seats in space), and their hands gripping handles built into the wall.
The plan is that astronauts will turn by moving their heads, and the games will change the resistance in the pedals depending on whether a player is trudging up a hill or racing down a crater on Mars.
Speaking of the Red Planet, maintaining fitness will be especially important if NASA wants to send humans beyond the moon. Right now, most astronauts — with the exception of Scott Kelly — spend about six months on the ISS and then return to Earth and a team of physical therapists.
That won't happen on Mars. Instead, they will find a barren planet ready to test their physical and mental limits as soon as they touch down.
"It's not going to look good for NASA to spend seven months getting to Mars, and when we get there, the astronauts can't do anything for a week or so," Guilliams said.
Laura told NBC News that she has no desire to go to Mars or the ISS in the future. But she loves computer programming and could see herself doing it for a living.
When asked over the phone whether she would be excited to see astronauts playing with ISSIE in space, she was silent.
"He can't see your face, Laura," Michael said after a few seconds. "She is making an excited face."