Amazon.com, seeking to bolster its efforts to deliver products via drone, says that states and local communities should not be allowed to regulate unmanned aerial systems authorized by federal aviation regulators. "Uniform federal rules must apply," Paul Misener, the e-commerce retailer's vice president for global public policy, said in written testimony released by a U.S. House of Representatives oversight committee ahead of a Wednesday hearing. "Given the interstate nature of UAS operations, states and localities must not be allowed to regulate UAS that the FAA has authorized, including with respect to airspace, altitude, purpose of operations, performance and operator qualifications." Misener was scheduled to appear Wednesday before the House Oversight and Government Reform Committee for a hearing on commercial drones.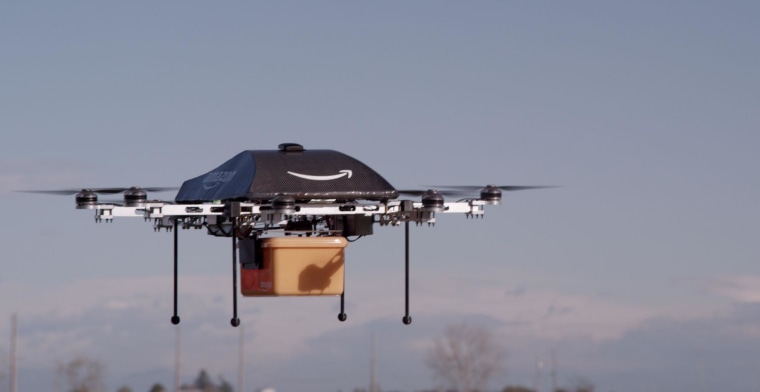 Amazon is working on a service called Prime Air that will deliver packages of up to 5 pounds to customers in 30 minutes or less using small drones, or "unmanned aerial systems." Misener said rules under consideration by the Federal Aviation Administration must allow for small delivery drones to fly with minimal human involvement, beyond the visual line of sight of a human operator. "Overly prescriptive restrictions are likely to have the unintended effect of stifling innovation and, over time, will fail to offer any corresponding safety benefit as sUAS technology evolves," he said.
Related: Amazon Blasts FAA for Slowness on Commercial Drone Regulations
In February, the FAA issued a proposed rule that would allow small drones to operate for commercial and other non-recreational purposes without first obtaining an airworthiness certificate. The drones would have to stay at speeds below 100 mph and below 500 feet in altitude. They would only be allowed to fly during daylight hours and the operator would have to be able to see the unmanned aircraft at all times. "The proposal would offer a flexible framework for the safe use of small unmanned aircraft, while accommodating future innovation in the industry," FAA Deputy Administrator Michael Whitaker said in his prepared testimony.