A new menagerie of animal-inspired robotics has been unveiled by the researchers at Festo. One flies like a butterfly, another works in groups like ants and the third grips objects like a chameleon's tongue.
The eMotion butterflies are perhaps the most impressive: Those tiny bodies comprise a battery, motors to actuate the wings, and all the electronics necessary to keep the artificial bug upright and on track. They can even fly in flocks, guided by indoor GPS and careful monitoring of their own motion.
Working in groups, though, is the forte of the BionicANT (top), which imitates those collaborative insects in form and function. The robots intelligently split up tasks like carrying heavy objects, all the while avoiding each other and returning to the edge of the enclosure when their batteries run low, placing their "antennae" against the charged rail to re-energize.
The FlexShapeGripper takes after the chameleon's tongue, which if you have ever watched in slow motion, acts like a giant sticky cup that surrounds and conforms to its target. Same for the gripper: A water-filled silicone cap can be extended or retracted to collect, hold or release many small objects, even flat ones like phones.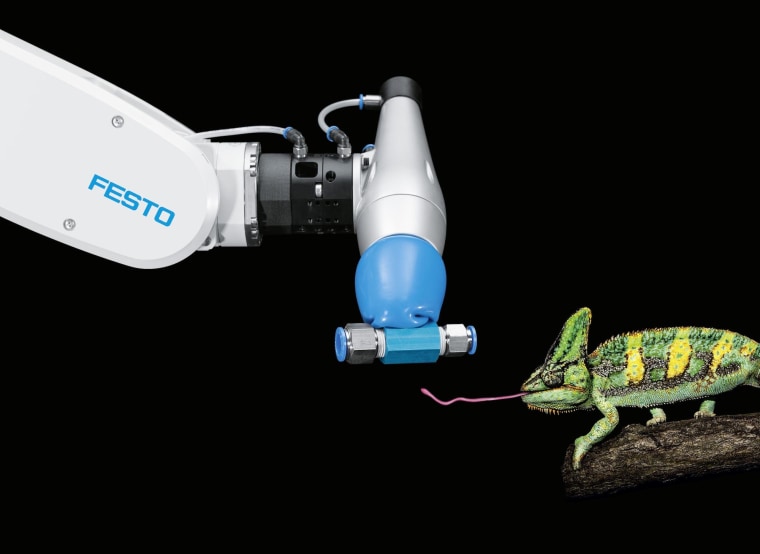 Festo creates all kinds of machinery and robots, but makes a specialty of these "biomimetic" devices. These three will be on display in April at the heavy industry trade show Hannover Messe.
IN-DEPTH
SOCIAL
-Devin Coldewey