LONDON -- A British astronaut will attempt to run an off-the-Earth version of the London Marathon in space, as part of his 173-day mission to the International Space Station. Tim Peake will run on a treadmill as he orbits Earth, at the same time that than 37,000 people run in the race on the ground in London.
To combat weightlessness, the 43-year-old Peake will wear a harness that tethers him to the treadmill as he runs. He will watch a video of the London course on a big screen in front of him. "The London Marathon is a worldwide event," Peake said. "Let's take it out of this world."
The London Marathon is on April 24.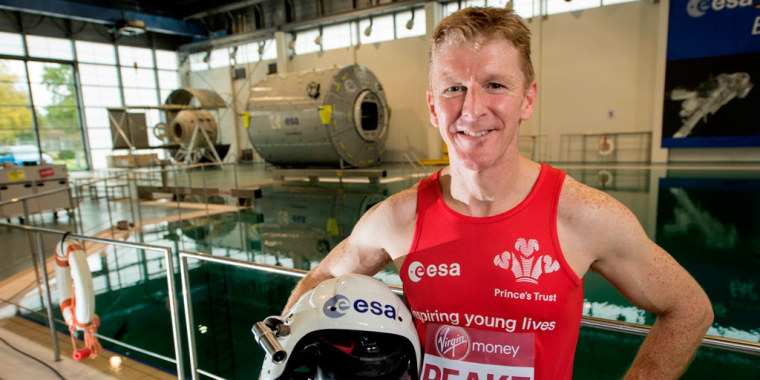 NASA astronaut Sunita Williams is the only other person to have run a marathon in space. She ran on a treadmill in 2007 at the same time as the Boston Marathon.
Peake ran the London Marathon (on the ground) in 1999 in 3 hours, 18 minutes, 50 seconds. He said he is not expecting to beat that time next year because his medical team will be monitoring his preparations and run carefully to ensure he is at optimum fitness for his return from space eight weeks later.
"The thing I'm most looking forward to is that I can still interact with everybody down on Earth. I'll be running it with the iPad and watching myself running through the streets of London whilst orbiting the Earth at 400km (250 miles)," Peake said.
Related: Got the Right Stuff? NASA Is Hiring New Astronauts
"I don't think I'll be setting any personal bests," said Peake, who is hoping to finish in less than four hours.
Peake is now in Baikonur, Kazakhstan, from where he will be launched into space along with Russian commander Yuri Malenchenko and NASA astronaut Tim Kopra on Dec. 15.