Six days a week, hundreds of people gather at Tokyo's Robot Restaurant to watch women wearing bikinis do mock battle with hardwired combatants in the shape of dinosaurs, giant pandas, and transformers. Welcome to the world of robot stagecraft, where at least some of the thespians carry their cues on circuit boards.
"The women dance, the robots dance — we can't explain it, it's a crazy show," Ayumu Kajita, translator for the restaurant's spokesperson Yumi Ito, told NBC News.
Since it opened in fall 2012, this robot cabaret has struck it big. Initially a magnet for middle-aged Japanese men, it earned a spot on the Tokyo tourist map after a smattering of celebrity appearances. Katy Perry, J.J. Abrams, Baz Luhrmann and Guillermo del Toro have all popped up in the audience, and Anthony Bourdain filmed a segment of his show at the restaurant. But it's the bots that are the main attraction.
"You don't go there for the food," as one Tokyo blogger put it. "You go there to watch shiny robots dance to Gangnam Style."
"The women dance, the robots dance — we can't explain it, it's a crazy show."
All the world's a stage, and robots are playing a bigger part in it, working alongside employees in factories and labs. So it may make sense that drones and droids are joining their human creators in some of mankind's oldest art forms, performing in front of audiences from the United States to the nightclubs of Japan. But there's scientific value to the acts, too, and stage-ready robots — including fire-breathing carnival acts and chatty humanoids who've entertained audiences from Abu Dhabi to Vietnam — are aiding researchers who want to build robots people find less, well, robotic.
A robot and a rabbi walk into a bar
Heather Knight, a Ph.D. student at Carnegie Mellon University, is determined to make robots do something plenty of people can't without a few drinks – make a room full of people laugh. She's the creator of Data, a wise-cracking comedian robot that feeds off information from its audience to decide which joke to tell next. And while Data's timing might be a little mechanical — Jerry Seinfeld and Ellen DeGeneres are safe for now — Knight is set on developing what she calls "more charismatic machines."
Named for the Star Trek character and packing a database pre-loaded with quips and one-liners, Data responds to cues like the volume of the audience's laughter to readjust when a joke flops. Data feeds "off the reality of what's happening to create a more real, more authentic interaction," Knight said.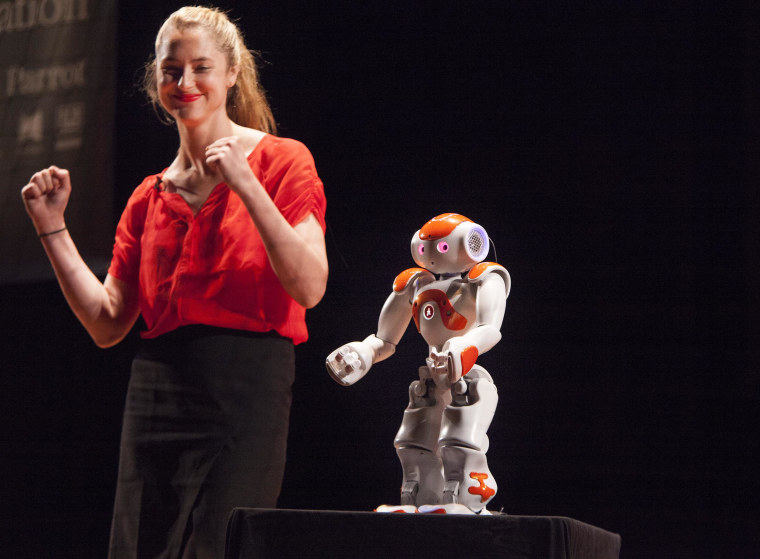 Data made his first public appearance at a TED Talk in 2011, and has his own Twitter feed with more than 1,000 followers. Knight said she's at work on other projects that will help robots understand non-verbal human communication — even such everyday signs such as when two people pass one another on the street and signal that they're too busy to stop and talk.
The stuff that drones are made of
The FAA is considering opening up U.S. skies to commercial drones by 2015, and Americans from the halls of Congress to one small town in Colorado where some residents want to snipe the aerial robots from the skies have made their views known. Among the less controversial uses of the flying contraptions may be as extras in stage productions — say in Elizabethan comedies, even.
Seven fluttering quadcopters played the role of fairies in a 2009 production of Shakespeare's "A Midsummer's Night Dream" at Texas A&M University. Adapting to the robotic thespians wasn't much of a challenge for the human actors and actresses, producers said, and researchers used the opportunity to study how humans respond to flying machines.
"It really did seem like the fairies, the robot fairies were characters in the production, and not just flying props."
"We were totally blown away by what we learned," said Robin Murphy, professor of robotics at Texas A&M, who published research from the project in recent months. The way people respond to robots may go all the way back to human's most primal instincts, she said, when people had to worry about being attacked by large land mammals, but not birds from the sky, meaning people are more comfortable around flying robots.
Cast members grew so comfortable around the robots in the 2009 production that Murphy had to start responding to the (benign) bots as "flying weed-whackers of death" to keep players and stage hands from getting too up close and personal.
"It really did seem like the fairies, the robot fairies were characters in the production, and not just flying props," Amy Guerin, assistant professor of theatre arts at Texas A&M told NBC News.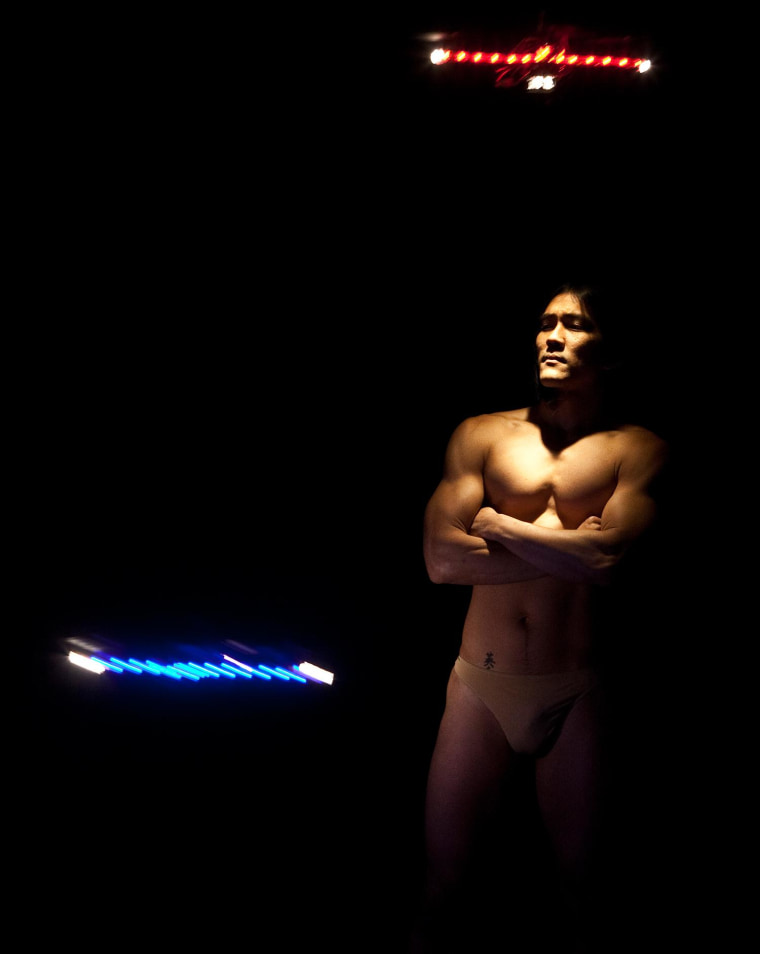 Tripping the light fantastic
If robots really want to make a name for themselves as performers, however, they'll have to be able to do more than just act, as any aspiring star knows. As it happens, they might also be able to dance. Two flying quadcopters took to the Joyce Theater in New York in 2011 for a 9-minute choreographed dance featuring a man and the two whirring co-performers.
Two graduate students from the Massachusetts Institute of Technology maneuvered the robots from the wings, making the them swoop and cavort on stage with the male dancer. The trick, as with any performance, is making the robots, which lit up in red and blue LEDs, seem like more than just gimmicks, said Itamar Kubovy, producer at modern dance company Pilobolus.
"You could really get them to have a character," Kubovy said.