The nuclear-powered limbs and implants that made crippled test pilot Col. Steve Austin a bionic superhero in the 1970s television series "The Six Million Dollar Man" would cost a lot more than that today — most likely five times the cost.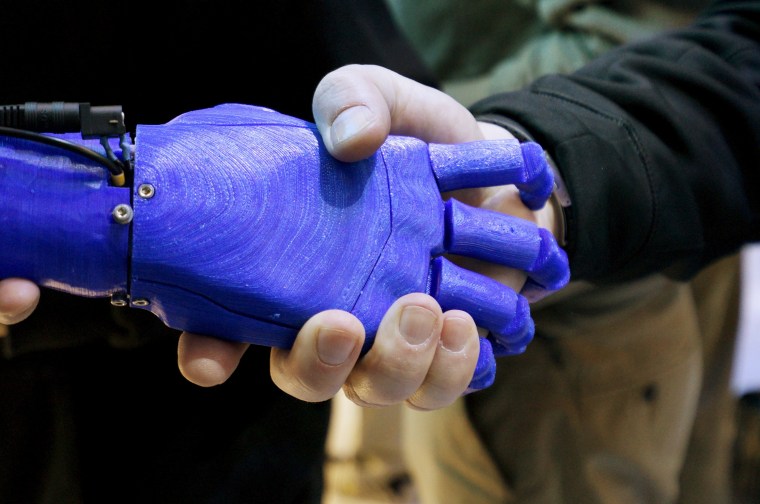 Based on the Bureau of Labor Statistic tools, the price jumps to just shy of $29 million. Anwar Shaikh, a professor of economics at The New School for Social Research, agreed. The parts alone would cost $12,000 or so, he said, even with the rapidly declining costs of technology due to manufacturing improvements over the past 40 years.
Shaikh added that when you factor in the necessary number of doctors and the dramatic rise in surgeons' annual salaries, the cost could spiral to as much as $33 million. And with the research and development costs required to develop Colonel Austin's superpowered limbs and eye, the cost soars far beyond that.
Aside from their exorbitant price tag, the bionics that made Col. Austin's arm as strong as a bulldozer and the legs that catapulted him 30 feet in the air still don't exist. While prosthetic arms with usable fingers have been available for some time, they largely aren't able to send tactile sensations to their users' brains.
But recent advances are providing new hope for the future. According to a study published in the current issue of Science magazine, adults may soon be able to gain a sense of "touch" in their prosthetics. In addition, through the use of 3-D printing and collaborations with Lucasfilm and Disney, younger amputees can now be fitted with prosthetics inspired by their favorite characters. And there's promise that the devices are becoming much more affordable.
Related: Artificial Skin Could Help Amputees Feel What They're Touching
Engineers at Stanford University say they have created a stretchable circuit that can sense pressure and transmit that information to mouse tissue in trials. By using pressure-sensitive foils and other barometers on a clear plastic "skin," they were able to convert pressure into a digital response the brain recognizes as comparable to that found in a human grip.
Researchers say they're still early in the research process, though, and there are still several hurdles to cross. It will be at least three to five years before there's a commercially available version of the product.
But U.S. military research agency DARPA is chasing the same goal, claiming they are a bit further ahead of Stanford in the process. In September, the organization announced that a 28-year-old, who has been paralyzed for more than a decade, was able to "feel" physical sensations via a prosthetic hand after a small micro-electrode array was implanted in his brain.
The hand (developed by the Applied Physics Laboratory at Johns Hopkins University) uses torque sensors that detect applied pressure and send electrical signals to the brain. Wires are run from the prosthetic to the motor cortex, the part of the brain that controls movement.
"We've completed the circuit," said DARPA program manager Justin Sanchez. "Prosthetic limbs that can be controlled by thoughts are showing great promise, but without feedback from signals traveling back to the brain, it can be difficult to achieve the level of control needed to perform precise movements. By wiring a sense of touch from a mechanical hand directly into the brain, this work shows the potential for seamless biotechnological restoration of near-natural function."
Related: Students Create Prosthetic Hands for 6-Year-Old Boy
Private corporations are also making notable, though different sorts of, advances in the field of bionics. Open Bionics, which won this year's James Dyson Award, an international design award for university students, is exploring the use of 3-D printing to create bionic hand replacements — a process that will reduce the cost of bionics for some patients from upward of $100,000 to only $3,000.
Based in Briston, U.K., Open Bionics 3-D-prints custom-fitted bionic hands. That process dramatically shortens the wait time for patients. Rather than taking a month or so to create the prosthetic, like traditional bionics manufacturers, Open Bionics can design, print, assemble and fit within a week.
For now, the company is focusing on robotic hands, and its techniques allow not only for flesh-colored replacements but also more customized options. And that could make bionics especially appealing for children who have lost limbs.
Disney has provided royalty-free licenses to Open Bionics from its Marvel, Frozen and Star Wars properties to make prosthetics for kids. (The company is part of the Disney Accelerator program.)
"[Kids] won't have to do boring physical therapy, they'll train to become heroes," reads the Open Bionics website about the announcement. "They're not just getting medical devices, they're getting bionic hands inspired by their favorite characters."
Sure, it's impressive that Col. Steve Austin could run more than 60 mph, but for today's children, Iron Man armor and having an Elsa-inspired snowflake hand could be a whole lot cooler.