The International Consumer Electronics Show, known universally as CES, will be bigger than ever this year, expanding its Las Vegas footprint to 2.4 million square feet to swallow up 150,000 attendees for a glimpse into the future.
But unlike in many prior years, there's no single large overriding theme.
"It's actually hard to get excited about CES this year because there's no focus," said James McQuivey, analyst at Forrester.
"When you think back about some of the more legendary CES years — they were the years of the tablet like 2011, or the years of the e-reader, which was 2010 — those are years where everyone knew there was one big thing happening and you had to go see them. This year, there is no equivalent of that," he said.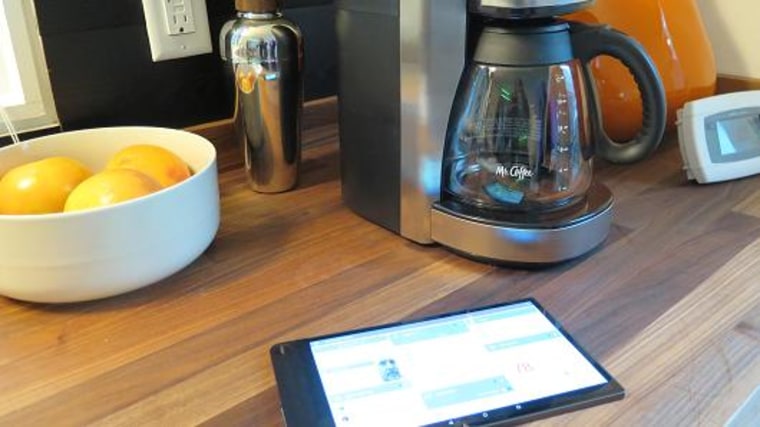 Nevertheless, there are still some distinct themes this year: Products that highlight the so-called Internet of Things (IoT), the connected home, autos and virtual reality will all have a big presence.
Intel — which is aiming to be a big player in IoT — will officially kick off the event with a keynote from CEO Brian Krzanich on Tuesday at 6:30 p.m. ET.
"Intel's innovations, which power tablets, wearables, PCs, smart cars, homes, appliances, cloud computing and so much more are serving as the foundation for the burgeoning Internet of Things," said Gary Shapiro, president and CEO of the Consumer Electronics Association, which sponsors the event.
The big challenge companies face in this space will be selling consumers on the idea of the digital home.
Each will try to differentiate its smart home offerings based on the seamless nature of the user experience and, increasingly, on security. Expect new partnerships to be announced with content creators, financial services companies and e-commerce players.
Morre from CNBC: There's a big problem with your 'smart' home
Appliance maker Bosch is also positioning itself aggressively in this category. The company is hosting a news conference on Tuesday at 11 a.m. ET and, along with real estate broker Coldwell Banker, co-sponsoring the inaugural Smart Home Marketplace. Other exhibitors within the marketplace include Honeywell, Lowes and Logitech.
Samsung is expected to unveil new products at a news conference on Tuesday, the official press day for the conference.
Also on Tuesday, Qualcomm CEO Steve Mollenkopf is expected to unveil new products across several categories including IoT, smart home, mobile, health care and automotive.
The automakers will also be out in force, with 7 out of the 10 biggest auto manufacturers at the show. The industry is taking over 25 percent more exhibit space than last year and executives are expected to unveilnew connected car technology and driverless vehicles.
In a keynote on Tuesday night, Volkswagen's Herbert Diess will unveil a new electric car and talk about the importance of electric mobility for the industry. On Wednesday, General Motors CEO Mary Barra will take the stage to share more on the company's next-generation pure electric vehicle, the Bolt EV, first announced at the Chicago auto show.
Kia Motors will unveil its autonomous driving program and discuss the company's progress and innovation around the connected car experience, according to a press release.
Mobileye's Amnon Shashua, the company's co-founder, chairman and CTO, will reveal technology it's developing for fully autonomous driving, according to a press release. Mobileye's products are integrated into a slew of vehicles from automakers including BMW, Ford and General Motors.
Wearables will once again be center stage, with one big differences over prior years: Apple has entered the market.
"While Apple's Watch has had choppy success out of the gates it has helped spearhead a major paradigm shift in the acceptance/adoption of wearables technology along with a number of other players (e.g., Samsung, Microsoft, Fitbit, Jawbone, etc.) in the space," writes FBR analyst Daniel H. Ives.
More from CNBC: 2016 will be the year wearables disappear, says VC
2016 is being called the year in which wearables "disappear," becoming more fashionable and less clunky. To that end, expect partnership announcements between tech companies and fashion brands looking to break out in 2016. One example: MasterCard. The company which will showcase the ways in which it is embedding payments into consumer products, enabling purchases with the tap of a ring or flip of the wrist, building on an announcement made back in October.
One category analysts agree will present some excitement is augmented and virtual reality.
"The big buzz heading into CES 2016 is around 'rolling out the red carpet' for virtual reality products/headsets/software," writes Ives.
Analysts expect the battle over VR to kick into high gear as new platforms hit the market in 2016. Facebook's Oculus Rift, HTC Vive and Sony PlayStation VR are getting ready to release their platforms in the first half of the year, and the success, or failure, of those products could alter the landscape for years to come.
McQuivey likens the VR market today to the personal computing market in the 1990s. Everyone understands that the technology will be powerful and significant, but most households still cannot afford the real deal. That's likely to remain the case through 2016, he said.
"That doesn't mean you can't go buy Google Cardboard and put your phone in front of your eyes but that will actually make you sick. The really high-quality VR like Oculus, the really high-quality mixed reality like HoloLens, those things are immediately understandable from a consumer perspective ... it's just that we're not going to see very many of them during 2016," said McQuivey.
When VR gets to the point where it works flawlessly and is affordable, it will be "a life changer," he said.
More from CNBC: Hoverboards banned in a very unlikely place