Fans cheered as robots walked, drove and occasionally bit the dust over the weekend at the DARPA Robotics Challenge Finals in Southern California, as teams from around the world competed for $3.5 million in prize money.
One day, these robots could save lives in areas hit by natural disasters and nuclear meltdowns. At the Fairplex in Pomona, near Los Angeles, they looked more like slow, metal athletes competing in a mechanical Olympiad.
"Ladies and gentlemen, start your robots!" Gill Pratt, program manager for the DARPA Robotics Challenge, said on Friday to kick off the two-day event.
Families filled the stands, a play-by-play announcer broke down the action, and nearby crowds wandered in and out of tents filled with whirring machines.
The main drama took place at four fake industrial sites. They were decked out like movie sets, with dingy windows, "High Voltage" signs and even a pipe that would periodically belch out steam. Robots had one hour to complete eight tasks, which included driving a car, turning a valve, walking over debris, and ascending a set of stairs.The robots were controlled by teams of humans sitting in a nearby hangar called "The Garage." But once the driving challenge was over and the robots opened the door to the fake industrial areas, the signal degraded to simulate disaster conditions, and the robots were forced to complete at least part of the tasks on their own.
Some of the humanoid robots — like the ATLAS machine from Boston Dynamics used by six teams — were more than six feet all and looked like something out of "Terminator." THOR (Tactical Hazardous Operations Robot) was about a foot shorter and looked much friendlier.
"All of my robots, if you look carefully, you can sort of see R2-D2 and C-3PO in them," said Dennis Hong, who led Team THOR.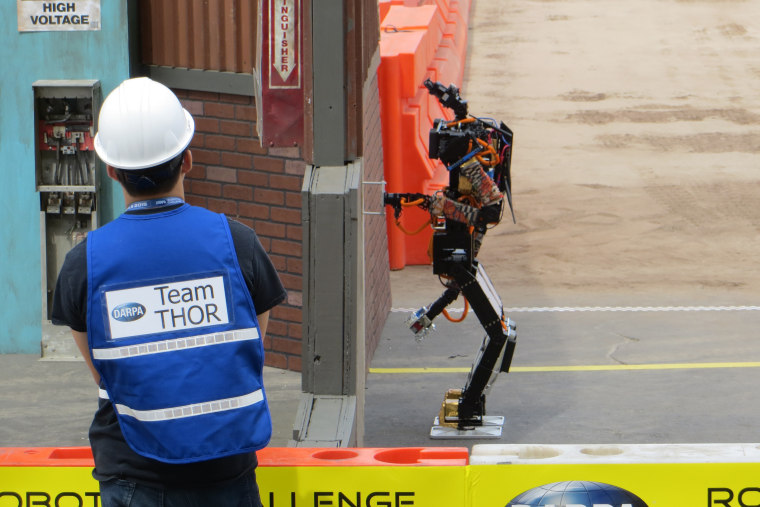 THOR is no stranger to attention. When Hong appeared on "MasterChef" as a contestant, THOR's torso served as his sous chef, chopping up carrots and measuring rice. Hong fell in love with robots as a 7-year-old when he watched "Star Wars" in 1977 for the first time at Mann's Chinese Theatre in Hollywood.
Now, he serves as director of RoMeLa (Robotics & Mechanisms Laboratory) at UCLA. THOR looked like a crowd-pleaser. But was it good enough to win the $2 million first prize?
Robot face-off in California
The competition started off slow, with four teams opting out of the driving part of the challenge, only to stall as they attempted to walk or roll down the sandy roadway. Then things started to heat up.
When second-place winner Running Man, a modified ATLAS robot from Team IHMC Robotics, reached the final stairwell, spectators were standing and cheering. The robot climbed a single stair, paused, and then attempted to lift its other leg — only to lose its balance, tip backwards and smash into the ground as the crowd let out a loud cry. (During the event, robots falling caused nearly as much excitement as robots scoring points).
When THOR stopped in front of the steam valve challenge, Hong screamed from the stands, "Turn! Turn! Turn! You can do it!" THOR extended its arm and turned the valve the required 360 degrees. It wasn't so lucky during the next challenge, when it crashed into the drills it was supposed to pick up.
In the end, the DARPA Robotics Challenge Finals demonstrated that looking human isn't always the answer. Three of the top five finishers didn't walk upright on two legs.
In fourth place was RoboSimian, a four-legged machine with no obvious front, back, top or bottom. It kind of looked like an alien, which makes sense considering it was developed by NASA's Jet Propulsion Laboratory with some technology originally meant for exploring other planets.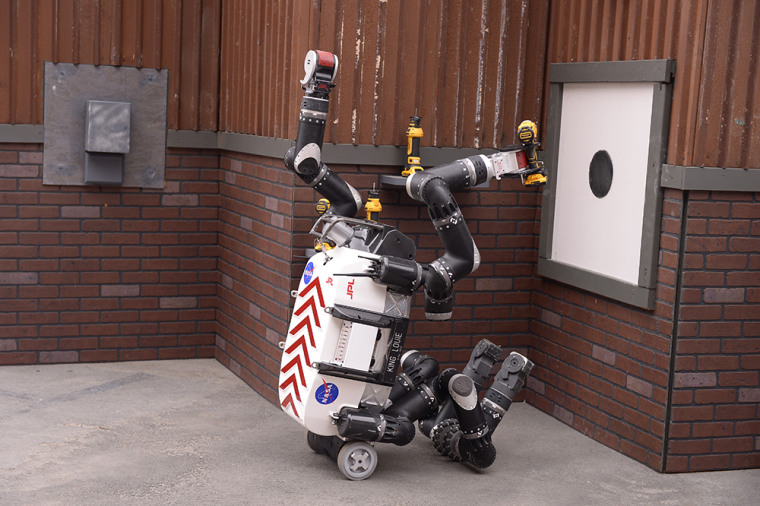 Team NimbRo Rescue from the University of Bonn in Germany took fourth place with its four-wheeled creation. In third place, winning $500,000, was CHIMP from Carnegie Mellon's Team Tartan Rescue. True to its name, this robot had chimpanzee-like arms paired with tank-like treads on its "legs."
"Walking requires a robot to balance," Tony Stentz, team leader for Tartan Rescue, told NBC News. "That is actually a difficult thing to do autonomously and it's even harder to do when walking on uneven terrain."
While humanoid robots gingerly stepped over obstacles, CHIMP simply lowered like a Transformer onto its tread-equipped arms and rolled over them like a tank.
Team KAIST from South Korea won first place and $2 million with its DRC-Hubo robot, which could both walk and roll on wheels located near its knees.
Rise of the machines
Several teams stressed to NBC News that while they wanted to win, the spirit of the competition was friendly and collaborative.
Brett Kennedy, team leader for RoboSimian, thought the DARPA Robotics Challenge could be the catalyst that drives robots out of labs and into the field.
"I call it 'Robot Woodstock,'" Kennedy told NBC News. "In 20 years people are going to say, 'Where were you when this happened?'"
The event might have also inspired a few future roboticists. Malia Avery, 9, was walking around the Fairplex with her dad.
The third-grader — who said that she hoped to one day become a scientist — noted the disconnect between Hollywood vision of robots and what she saw with her own eyes.
"In the movies, sometimes they go wild," Avery told NBC News. "In real life, they aren't destructive, and they can help people and stuff like that."
Hong also thinks that robots will help people. Despite finishing in 13th place, he said that the event was a good experience, and joked that Team THOR would redeem itself at the RoboCup soccer competition in July.
"I'm not just saying this — nobody is really doing this for the $2 million," he told NBC News. "We really are trying to develop new technology through this competition, and if this technology can save even one life in the future, it's worth it."