Google, Microsoft and Apple have been competing for years in the very lucrative education technology market. For the first time, Google has taken a huge lead over its rivals.
Chromebooks now make up more than half of all devices in U.S. classrooms, up from less than 1 percent in 2012, according to a new report from Futuresource Consulting. To analysts, this comes as a big surprise.
"While it was clear that Chromebooks had made progress in education, this news is, frankly, shocking," said Forrester analyst J.P. Gownder. "Chromebooks made incredibly quick inroads in just a couple of years, leaping over Microsoft and Apple with seeming ease."
Combine Chromebooks with devices running on Android, and Google's share of the edtech market is even more impressive. As of the third quarter of this year it had 53 percent of the market for K-12 devices bought by schools and school districts.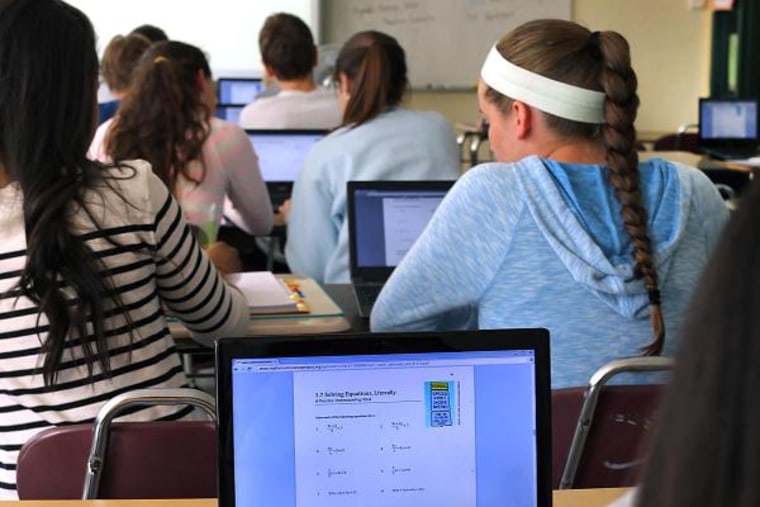 Google's rapid gains come at the expense of its biggest rivals. Over the past three years, Apple's market share been slashed by more than half, from 52 to 24 percent and Microsoft's market share has slipped from 43 to 24 percent. Even Google seems a little surprised.
More from CNBC: SoFi CEO: Funding will boost 'aggressive' ambitions
"It's been amazing to us to see that growth happen just in that short amount of time," said Rajen Sheth, director of product management for Android and Chrome in business and education. "If you look at the overall market for devices in education, it's actually expanded a lot and Chromebooks have actually taken a lot of the expansion."
Also known as the "father of Google Apps," Sheth leads a team that has delivered impressive results. So far this year, Google's Chromebooks make up 4.4 million of the 8.9 million devices sold to schools and school districts K-12. Put another way, every school day 30,000 new Chromebooks are activated in schools.
Google's gains come as the edtech market emerges as an important growth prospect for the tech giants, as school districts bring big budgets online, and PC and tablet sales in other industries flat-line."It's one of the few bright spots in the market. That's why we are seeing this battle in education, they all know how important the education segment is, it's critical," said Futuresource analyst Mike Fisher. "It's basically a head-on fight for the entry level part of the market that is procuring huge volumes."
Google's major advantage when it comes to wooing cash-strapped school districts — which are expected to purchase more than 11 million devices next year in the U.S. alone — is Chromebook's extremely competitive price.
More than 50 million students are using Google's Apps for Education to share and collaborate on documents, submit homework, and research projects. Loaded with Google Play for Education software, Chromebooks range from $199 for the CTL J2 Chromebook, to $249.99 for Toshiba's Chromebook 2, plus a $30 management fee. These devices come with teacher-approved apps and books, and let administrators share content to individuals, entire classes or entire schools in just a few clicks.
"Chromebooks have the perfect value proposition for education: They're easy to manage, secure, can easily switch between users, and are cost-effective. Plus, a great deal of educational content and software has been optimized for web-based delivery," said Gownder.
More from CNBC: Why Tim Cook expects tablet takeover in some homes
The software enables teachers to offer individualized learning plans, tailored to students' needs. The days of educators teaching the same thing to a class of 30 kids are long gone, said Sheth.
"A lot of us, when we went to school, we were in the kind of classroom where you had 30 students in the classroom. The teacher would have to explain the same thing to 30 students. If you didn't get the concept, they would just move onto the next. That was the way you had to teach," said Sheth. "We're looking at a very different way to learn."
Sheth pointed to the Oakland Unified School District, which has deployed 10,000 Chromebooks as part of its Urban Promise Academy. "What they've been able to do is actually bring in students of varied skill levels and be able to teach them individually," said Sheth. "They set up what's called a blended classroom, so they would have the teacher with only about seven students, but then seven other students would be learning from Khan Academy, seven others would be doing a group project and seven students would be assessing their skills to try to figure out where they are at that point in time."
Related: EFF Accuses Google of Tracking Students' Web Activity Without Permission
(Google's educational software was also the subject of a bit of controversy this week, when the Electronic Freedom Foundation filed a complaint with the Federal Trade Commission over Google's alleged use of student data. Google said it complies with all applicable laws, as well as a student privacy pledge it signed earlier this year.)
Google's competitors in this space haven't ceded the turf, however.
As school districts get ready for the 2016 buying season, which starts in February, Microsoft is mounting a counterattack. The software giant, along with its hardware partners, will release a slew of new Windows-powered devices priced below $300. It has also partnered with Lightspeed Systems, a cloud-based device management and software company, to enable teachers to deliver curriculum content, manage devices and share student screens.
A key battleground in 2016 will be 2-in-1 devices, products that can be used as both a tablet and a notebook. These devices are seen as ideal classroom tools, but have traditionally been too expensive to gain widespread adoption. This coming year, the average price for 2-in-1 devices will drop from an average of $500 to a more school-friendly $300-$500. As a result, those products will capture 11 percent of the US market, Futuresource predicted. It's a product category that Microsoft has typically led.
Google is also trying to improve its 2-in-1 products, offering Android apps on Chromebooks as well as more devices with touch screens. "The recent announcement from Google regarding the blending of features across Chrome OS and Android suggests that touch capability is likely to become a more prevalent part of the Chrome ecosystem," said Fisher.
For years, Apple had a huge lead in the education market, but the company now faces a number of headwinds, including the Los Angeles School District iPad controversy, and a reputation for expensive products. Just as important is the fact that iPads do not have keyboards, a feature that is mandated by the two groups that set the standards for online assessment: Partnership for Assessment of Readiness for College and Careers and the Smarter Balanced Assessment Consortium.
Related: Facebook 101: Priscilla Chan to Head New Palo Alto Private School
So Apple is taking a different approach— win over teachers. The Cupertino-based company is developing an app to provide teachers with real-time student data analytics, which many expect will be rolled out in the spring in partnership with IBM, according to Fisher. (Neither Apple nor IBM would comment.)
"That is something they are working on and is very, very interesting and could be a unique selling proposition in the future," said Fisher. "If they can prove effective data analytics that school leaders can utilize for reviewing student progress then that could be a very compelling unique selling point."
Still, Apple retains a strong foothold in education and has a history of delivering products that students like and overhauling industries from behind.
"Apple certainly made its money on education — both K-12 and collegiate — back in the 1980s. The Apple II and, later, the Mac found success in those markets in part to strong capabilities in what was then termed 'desktop publishing,' creating documents and graphics," said Gownder. Also, while Chromebooks are significant in kindergarten through 12th grade, Apple's products do particularly well at the collegiate level, where more powerful computing is needed, he said.
It's worth noting that globally, the edtech market looks a lot different. In the third quarter of this year, Microsoft's Windows and its partners dominated, securing 47 percent of sales. Google's Chrome and Android-powered devices and Apple's Mac OS and iOS products trailed behind, with 40 percent and 13 percent of sales respectively.