Joseph F. Engelberger, an engineer credited with creating the world's first industrial robot, has died. He was 90.
Englberger, widely known as the "Father of Robotics, died peacefully on Monday at his home in Newtown, Connecticut, the Robotic Industries Association announced.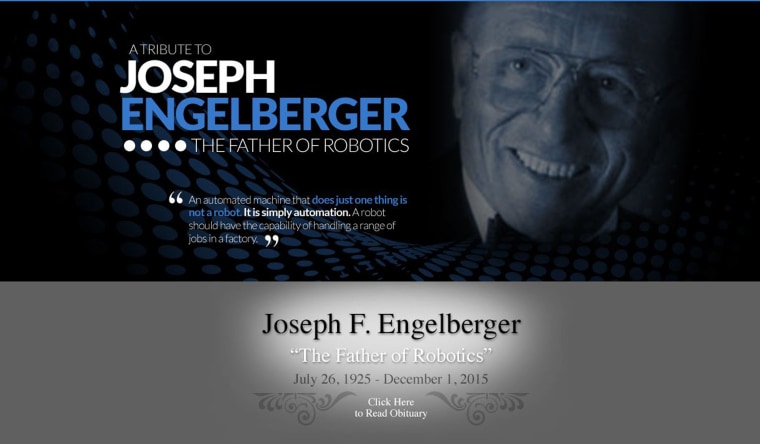 Engelberger co-founded Unimation Inc., the world's first robotics company, in 1956. Engelberger worked closely with inventor George Devol, whom he met at a cocktail party, to develop the first industrial robot in the U.S. Called "Unimate," the mechanical arm was installed in a General Motors plant in 1961, and became a prototype for robots now widely used on in manufacturing facilities around the world.
"Because of Joe, robotics became a global industry," Jeff Burnstein, president of the Robotic Industries Association, said in a statement. "He was years ahead of his time, envisioning robots based on insects and birds decades ago — developments that we're finally seeing today. His question, 'Do you think a robot could do that?' inspired researchers to answer 'yes' and develop the amazing robotics applications found worldwide today."
After the sale of Unimation to Westinghouse in 1982, Engelberger shifted his focus to the use of robotics in health care and human services. The robotics association named its annual award the Joseph F. Engelberger Award in recognition of his achievements.