The time has finally come to say goodbye to the Philae lander, the first in history to land on a comet in transit — though with a rough touchdown that ultimately caused an early demise.
"Unfortunately, the probability of Philae re-establishing contact with our team at the DLR Lander Control Center is almost zero, and we will no longer be sending any commands," said Philae project manager Stephan Ulamec in a German Aerospace Center news release on Friday.
Philae was launched from the Rosetta probe in 2014 to land on the comet 67P/Churyumov-Gerasimenko, but a malfunction led to the craft bouncing across the landscape. It settled at last in a location poorly suited for charging its solar cells.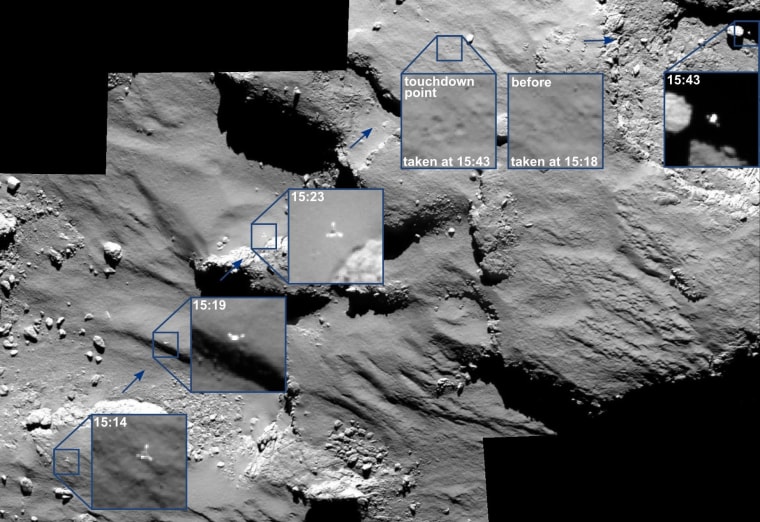 Related: Philae Lander's Data Reveal Surprising Details About Comet
During the 57 hours it operated on battery power, Philae performed valuable science and sent back unprecedented data — but it entered a hibernation state at that point, from which it only woke for one brief period in July 2015.
In January, the team announced that the end of that month would be the last time the lander might wake. Afterward, it would be too cold and dark to get enough power going. A last-ditch effort to shake the dust off the lander's panels does not appear to have succeeded, and the team has acknowledged that Philae is now beyond their reach.
Related: Alien Life on a Comet? Microbe Musings About Philae Spark Skepticism
Though disappointed, the team is upbeat about the fact that they made history.
"The Philae mission was one-of-a-kind — it was not only the first time that a lander was ever placed on a comet's surface, but we also received fascinating data," said German Aerospace Center chairman Pascale Ehrenfreund. "Rosetta and Philae have shown how aerospace research can expand humankind's horizon and make the public a part of what we do."