Google has confirmed that a prototype solar-powered drone intended to one day provide Internet access from way up in the sky crashed earlier this month during a test flight in New Mexico. The unmanned Solara 50 built by Titan Aerospace, the company Google bought last year, crashed on May 1 shortly after takeoff at a test field east of Albuquerque. The incident was first reported by Bloomberg and confirmed Friday by Google.
"Titan has been working to develop and test a new kind of high-altitude, solar-powered aircraft that could one day provide Internet access from the stratosphere. Part of building a new technology is overcoming hurdles along the way," a Google spokesperson said in a statement to NBC News. "Although our prototype plane went down during a recent test, we remain optimistic about the potential of solar-powered planes to help deliver connectivity."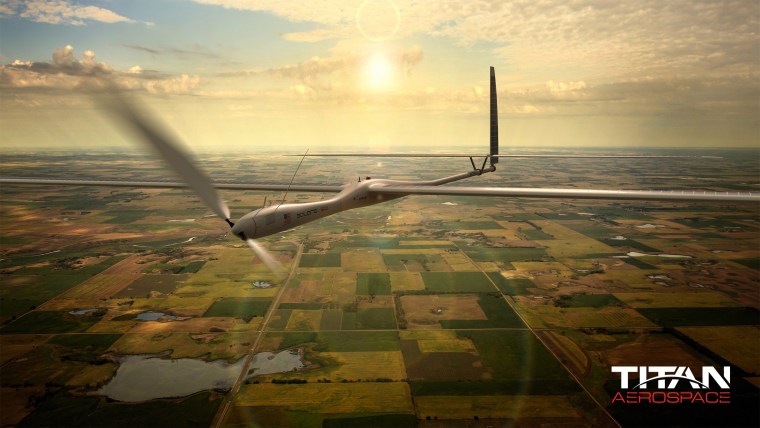 The aircraft, with a wingspan bigger than a Boeing 737 but weighing less than a passenger car, was said to be at an altitude of 2,000 feet or so when it failed and fell to the ground. There were no injuries and no property damage. Google's eventual goal is to have the solar-powered lightweight drones hover in the stratosphere, or about 65,000 feet in the air, to beam Internet access down to people down below.
Related: Why Google Wants a Titan in the Drone Business
The drone project is in its infancy and is one of two initiatives Google is working on to bring Internet access to remote areas of the world. The other is Project Loon, which involves the use of high-altitude balloons. Facebook, which was reported to be interested in acquiring Titan Aerospace before Google's bid, is also working on drones, as well as satellites and lasers, to deliver the Internet to the masses.