When we see another person in pain, we tend to empathize and offer consolation. But would we react the same way to a robot? Likely so, according to a study by Japanese researchers that found our brain's empathetic reaction toward humanoid robots in perceived pain is similar to that toward humans in the same situation.
With robots becoming more commonplace in our lives — they can already check you into your hotel room, greet you while shopping or mix you a drink — researchers from Toyohashi University of Technology and Kyoto University wanted to better understand how humans might socially interact with them.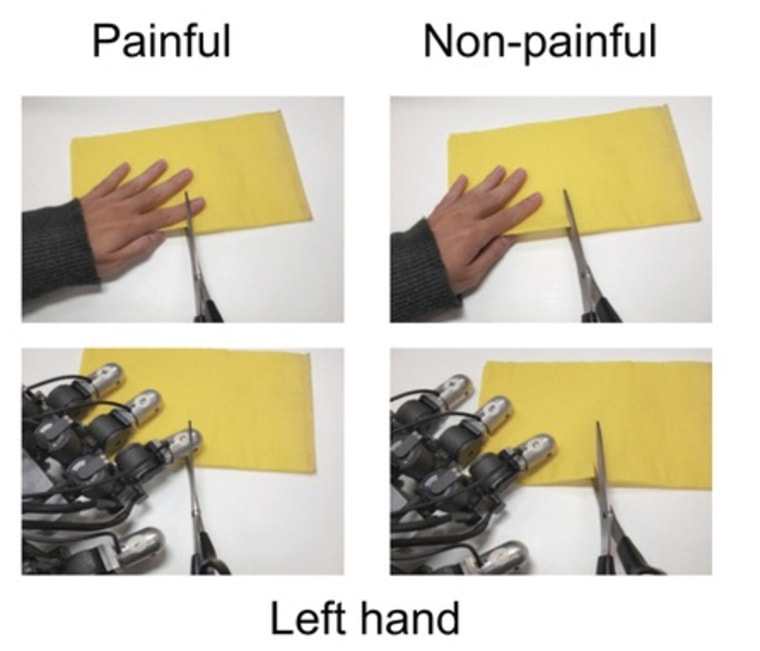 The researchers hooked up 15 healthy adults to electroencephalography (EEG) monitors and then showed them dozens of color pictures of either a human or robotic hand in painful and non-painful situations. Among the assorted images were ones of a finger looking like it was about to be cut with a knife.
The researchers found that the pattern of the brain's empathic neural signals triggered by the sight of robots in perceived pain was similar to that toward humans in pain (though the beginning phase of the so-called "top-down" process of empathy was weaker toward robots.)
"Thus, humans can attribute humanity to robots and feel their pain," the study said.
The researchers noted that the robotic hand depicted in the photos looked human-like, and that may have been a factor in the results.
Related: Chinese Robot Sets World Record With Continuous 83-Mile Walk
"Because the basic shape of the robot hand in the present study was the same as that of the human hand, the human participants may have been able to empathize with the robot hand. It is thus necessary to test whether a robot hand in very different shape (e.g., a robot hand without fingers) can elicit similar empathic responses in a future study," the researchers said.
In other words, it could be that the more human-like a robot seems (remember the public outcry over the destruction of Hitchbot the hitchhiking robot?), the more likely we'll have feelings for it.
Related: Campaign Launched Against 'Harmful' Sex Robots
The study was published Tuesday in the journal Scientific Reports.