Two university groups have been selected to help upgrade NASA robots that could one day explore deep space and perhaps even Mars.
Teams at the Massachusetts Institute of Technology and Northeastern University were awarded prototypes of NASA's R5 humanoid robot for advanced research and development work. NASA originally designed the R5, a bipedal robot also known as Valkyrie, to aid in disaster relief. But the agency also envisioned that the R5 could some day be used in space missions, either performing tasks before humans arrive or working alongside the human crew.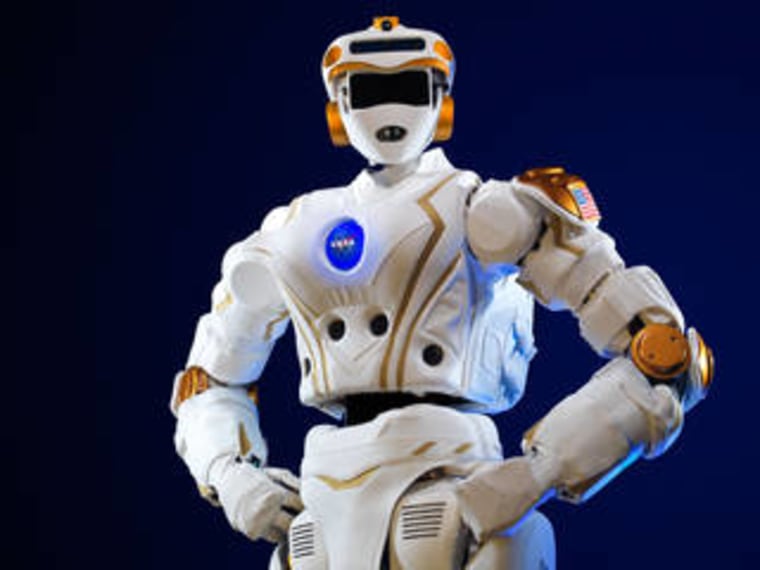 NASA has a grand plan to send humans to an asteroid by 2025 and to Mars in the 2030s.
Related: NASA Unveils Three-Part Plan to Reach Mars by 2030s
"Highly autonomous, reliable robotic systems will be required for a variety of missions and functions to prepare and support human Mars missions," Steve Jurczyk, associate administrator for the Space Technology Mission Directorate at NASA headquarters in Washington, told NBC News via email.
"First, robots will prospect for resources on the Martian surface including water for drinking and to produce fuel, and for materials that could be used to produce structures and potentially other systems utilizing technologies such as 3-D printing," Jurczyk added. "Robots could be used to assemble and maintain the systems required to produce supplies and support crew prior to or between crewed missions. They will also assist astronauts in scouting and other more routine or potentially dangerous operations on the surface."
Related: DARPA Challenge: Machines Face Off for Fans at 'Robot Woodstock'
A NASA spokesperson said the agency will negotiate a cooperative agreement with each of the two selected universities. NASA will also train students and faculty at the NASA lab where the robots were built. Then, it will ship the robots, likely in January.
The two university groups will receive up to $250,000 a year for two years from NASA to fund their R5 robot R&D. The groups were selected from among several teams that participated in DARPA's Robotics Challenge.