Elon Musk and Mark Zuckerberg have something else in common beyond the nine zeroes in their net worths: Both have the ambition to leverage space as the next frontier in providing internet service.
While building a space-based internet is not a new idea, it's one that has taken off once again largely due to new technology and lower launch costs.
"Now with even faster computers and cheaper satellites, there is a whole lot of interest in creating a bunch of new systems to do this," James Muncy, co-founder of the Space Frontier Foundation told NBC News.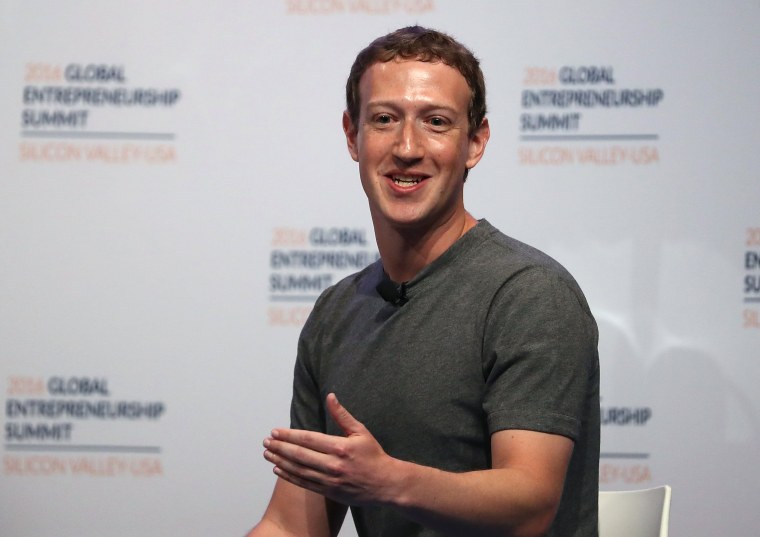 On Thursday, an Amos 6 satellite that Facebook had leased access on was destroyed in a launch pad explosion at Cape Canaveral, along with the SpaceX rocket that was set to carry it into orbit.
Facebook's leased space on the satellite was set to serve parts of sub-Saharan Africa and was one key piece in Zuckerberg's plan to connect the world. The other, Facebook's internet beaming drone, Aquila, is designed to fly in the stratosphere, at the edge of space.
The Amos 6 satellite would have gone into a geosynchronous orbit, putting it at about 22,000 miles away from Earth and acting as a router, allowing local entrepreneurs to sell Wi-FI to the public.
Musk, an entrepreneur known for pushing the envelope with big ideas, wants a network of thousands of low cost satellites put into low Earth orbit.
He said last year the plan "would be like 'rebuilding the internet in space.'"
Teledesic, a company that counted Bill Gates and a Saudi prince as backers, had a similar plan in the mid-1990s that never came to fruition.
While the network wouldn't immediately replace all hard-wired communications, they would better handle communication across long distances, Musk said. With satellites in low Earth orbit, it would take milliseconds to send a message across a long distance, versus having to route that message through a satellite in geosynchronous orbit 22,000 miles above Earth.
Jim Cantrell, CEO at Vector Space Systems and a founding member of SpaceX, told NBC News, "the reality is outside of populated areas critical infrastructure doesn't really exist."
Cantrell sees a space-based internet as an opportunity for businesses that are driven by clicks, such as Facebook, to reach new markets.
"There is an economic and idealistic goal associated with this but if it doesn't pay for itself nobody is going to do it," he said.
Virgin Galactic and Qualcomm announced last year they were teaming up with satellite company OneWeb to plan a similar satellite system to foster high-speed worldwide connectivity.
Read More: SpaceX Rocket Explosion Destroys Facebook Internet Satellite
For Zuckerberg, who has made connecting the world his personal mission, the loss of Facebook's first satellite on Thursday was devastating.
The CEO, who has been visiting government leaders, entrepreneurs and developers on the African continent this week, couldn't hide his disappointment in a Facebook post.
"As I'm here in Africa, I'm deeply disappointed to hear that SpaceX's launch failure destroyed our satellite that would have provided connectivity to so many entrepreneurs and everyone else across the continent," Zuckerberg wrote.
"Fortunately, we have developed other technologies like Aquila [Facebook's internet drone] that will connect people as well," he continued. "We remain committed to our mission of connecting everyone, and we will keep working until everyone has the opportunities this satellite would have provided."