The scores are in. After a weekend of lifting hoses, clearing rubble and slicing through walls, a contest between sixteen rescue robots in training has a winner: a humanoid built by a Japanese team and owned by Google. 
At the DARPA Robotics Challenge Trials held in Florida this weekend, Team SCHAFT's humanoid, S-One, won top scores in four of eight tasks that the robots performed at the Homestead Miami Speedway over Friday and Saturday. DARPA announced the results at sundown on Saturday.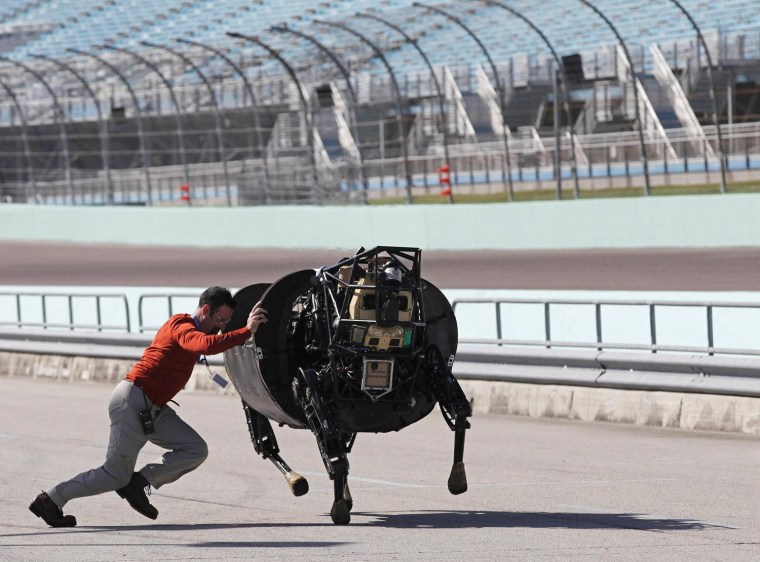 DARPA's goal in holding the 2-year-long contest is to catalyze development of robots that can be dispatched to disaster zones when sending humans could be dangerous. 
IHMC Robotics, a motley crew of roboticists with PhDs, grad students and high schoolers, placed second. Other top scorers included Tartan Rescue, from CMU, in third place, who built their own humanoid and the software that ran it, and Team MIT DRC, fourth, who wrote their own software to run on the Atlas humanoid built by Boston Dynamics. 
The eight top-scorers will advance to the next round of the challenge, and funded by DARPA, will compete in the finals in December 2014. Others teams are welcome to participate — on their own dime. 
Well in advance of the trials this weekend, Team SCHAFT posted videos of their humanoid successfully completing tasks very similar to those they encountered this weekend, convincing the competition that they were the team to beat. 
"To date, the SCHAFT team has clearly shown the greatest level of accomplishment," Brett Kennedy, team lead of NASA JPL's RoboSimian, which placed fifth overall, wrote to NBC News before the contest kicked off. 
"This has been an incredible event that has exceeded my expectations multiple, multiple times," Gill Pratt, DARPA program manager for the contest, said after the trials ended, IEEE Spectrum reports.