The Swiss-built Solar Impulse 2 airplane landed in the Indian holy city of Varanasi on Wednesday night for a quick "pit stop" in its solar-powered journey around the world.
The 685-mile (1,100-kilometer) trip from Ahmedabad in western India took about 13.5 hours, with Solar Impulse co-founder Andre Borschberg in the pilot's seat for the entire time. After an overnight break, Borschberg's partner in the $150 million project, adventurer/psychiatrist Bertrand Piccard, will take his place and head for Mandalay in Myanmar.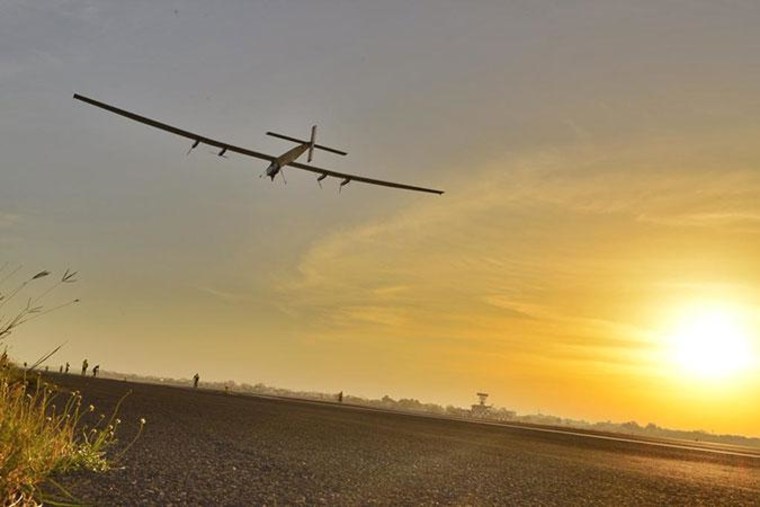 Takeoff is set for before sunrise Thursday in Varanasi, or roughly 8 p.m. ET Wednesday.
The aim of the months-long odyssey is to give a global spotlight to solar power, lightweight composite materials and other "green" technologies. Solar Impulse 2 can fly day and night — thanks to the more than 17,000 solar cells on its wings, fuselage and tail, as well as the 1,300 pounds of lithium-polymer batteries on board. Its wingspan is wider than a Boeing 747's, but it weighs about as much as a family car.
The plane is a successor to a prototype that made a fuel-free flight across America in 2013.
This year's odyssey began on March 8 in Abu Dhabi, with stopovers in Oman, Ahmedabad — and now Varanasi, which is revered as the city of the Hindu god Shiva. After Mandalay, the craft is due to fly to China, then across the Pacific to Hawaii and the U.S., then across the Atlantic to Europe or North Africa.
Solar Impulse's flight plan calls for the team to close the 22,000-mile (35,000-kilometer) circle in Abu Dhabi four or five months from now.