After a flight that was longer and tougher than expected, the Solar Impulse 2 airplane touched down in China to finish the fifth leg of its unprecedented round-the-world odyssey.
Pilot/adventurer Bertrand Piccard, founder and chairman of the $150 million Solar Impulse effort, landed in Chongqing early Tuesday local time (1:35 p.m. ET, or 17:35 GMT Monday), more than 20 hours after the solar-powered plane took off from Mandalay in Myanmar.
The average speed for the 854-mile (1,375-kilometer) trip was just a little more than 40 mph — but the winds were so strong that at times the lightweight plane was actually blown backwards, according to the Solar Impulse team.
"This was not an easy landing for Bertrand Piccard," Solar Impulse commentator Conor Lennon said.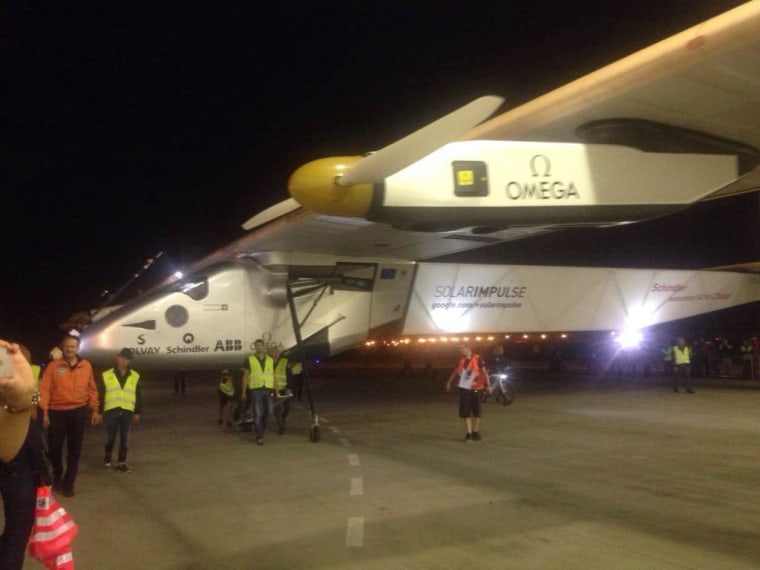 In a post-landing tweet, Piccard said he and his fellow pilot Andre Borschberg were in China "to show that we can achieve miracles with clean technologies."
The electricity to power Solar Impulse's four motors comes exclusively from more than 17,000 solar cells mounted on its fuselage, wings and tail. Thanks to ultralight materials, the plane weighs only about as much as a typical family car (2.5 tons, including batteries) but has a wingspan wider than a Boeing 747 (236 feet, or 72 meters).
The Swiss-built plane began its 22,000-mile (35,000-kilometer) round-the-world attempt on March 8 in Abu Dhabi and made stops in Oman; in Ahmedabad and Varanasi in India; and in Mandalay. The team spent 10 days in Mandalay waiting for good weather.
When weather permits, Solar Impulse 2 is due to fly to Nanjing and then attempt a nonstop five-day, five-night Pacific Ocean crossing. "That will be the moment of truth," Borschberg told reporters. Future stops are to include Hawaii, the mainland U.S. and southern Europe or north Africa, with the odyssey-ending trip to Abu Dhabi expected within four months or so.
IN-DEPTH
SOCIAL
— Alan Boyle