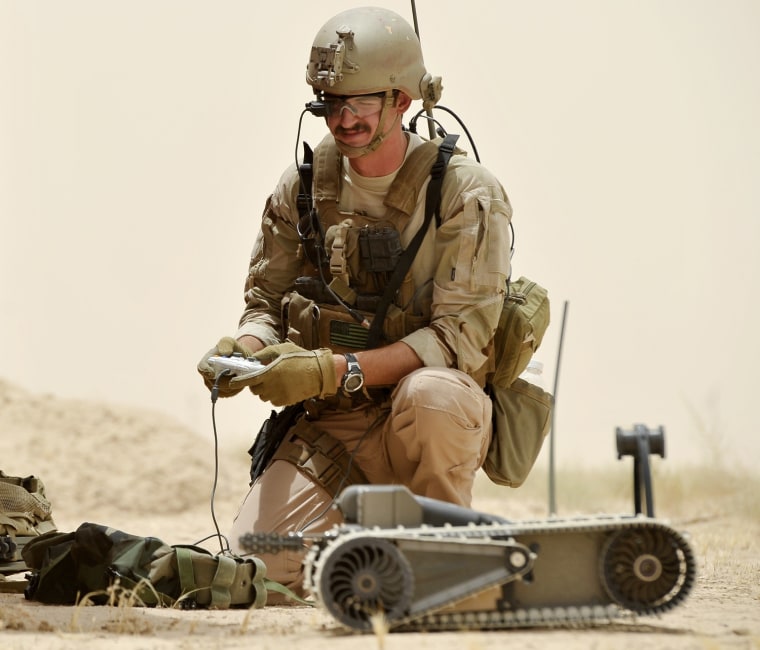 Operating in close proximity to improvised terrorist explosives is the kind of thing that forces friendships. But how would you feel if your partner was a robot? 
"We named ours Elly … And I talked to her," said Brady, a 28-year-old Army sergeant. "They're kind of part of the family, almost, you know?"

"You took care of that thing as well you did your team members," said Wade, 42, a staff sergeant in the National Guard. 
And when that robot takes a hit? "Here's a robot that's given its life to save you, so it's a little melancholy," said Jed, 41, a Navy senior chief petty officer. "That tool just saved your life."
As the men and women of the military rely on machines to help them out in dangerous tasks, and see them take the fall in their place, they're also developing real relationships with the robots, researchers say. Chunks of metal can't love them back, but that doesn't stop operators from naming their robot companions after pets, celebrities, even current wives and girlfriends, and treating them like family.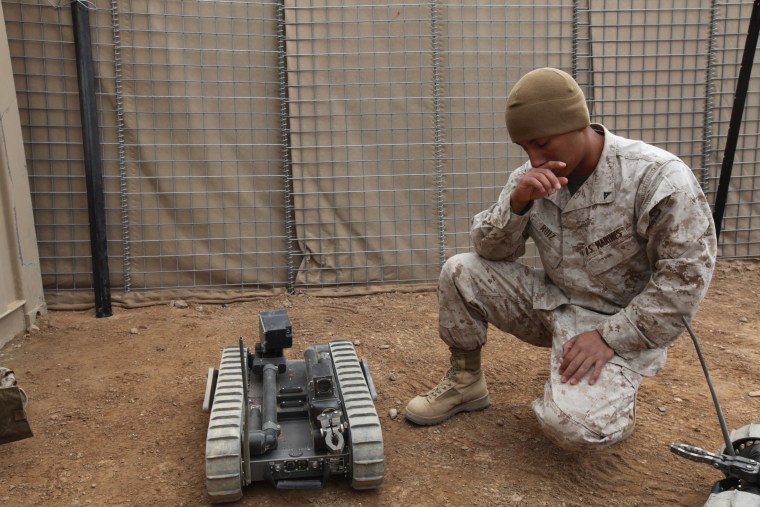 When Brady described the work with his robot, Elly, to researcher Julie Carpenter, who's been studying human-computer interaction at the University of Washington, he referred to 'her' as a living creature. "I'd be coaxing her, 'C'mon honey,'" he said. According to another operator, robots were "her" to most unmarried male operators. If they were men and married, the robots were male. 
Wade told Carpenter he named his robot "Fido" "cuz it was just like a dog." He didn't paint a label on his machine, "but it was always Fido. I'd say 'Fido,' and every team member knew." He told Carpenter that a teammate called Edison named his robot "Ed" — after himself.  

In total, Carpenter interviewed 23 members of military explosive ordnance detection squads who routinely partnered with robots. (Their names have been changed in the study to protect their identities.) When she quizzed them about the nature of their relationships, she got some pragmatic answers — better a robot lost than a life — but several emotional ones too. 
"They would feel anger, frustration and then a sense of loss," Carpenter told NBC News. "If their robots were disabled or blown up, they almost always went through this pattern." 
In response to a news article about Carpenter's work posted on Reddit, one commenter named Master Sterling chimed in to describe a funeral his colleagues gave a lost four-wheeled MARCbot: "[t]hey awarded him a Purple Heart, BSM, and they did a full burial detail with 21 gun salute at Taji," Sterling, who posts anonymously, wrote. "Some people got upset about it but those little bastards can develop a personality, and they save so many lives."

It was stories like this one — about robot death rites and awards made in part in jest — that led Michael Kolb, now a lieutenant colonel in the Army, to research human-robot relationships. In 2011, he surveyed 746 men and women in the military about their relationships with robots, and published the results as part of his PhD dissertation in 2012.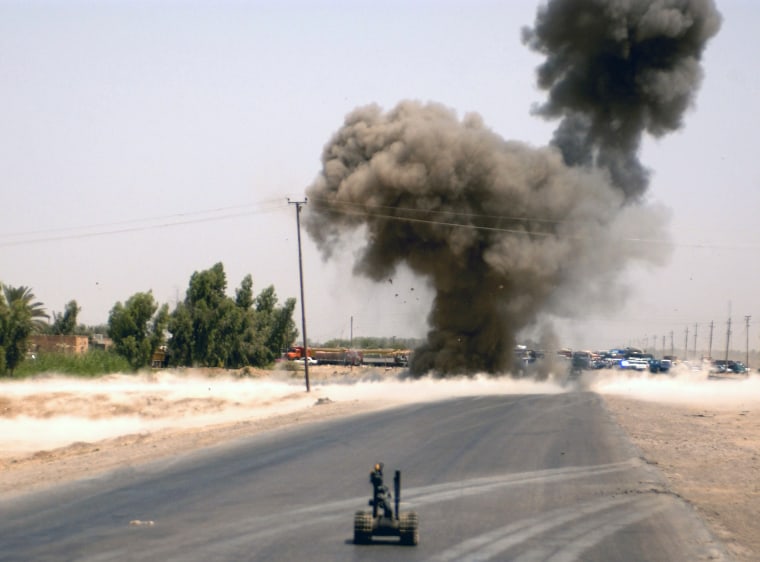 People still saw their robots as tools and saw the benefit in sacrificing a robot if it meant saving the life of a human soldier. "I baited them," he said he said of his survey, and asked: Which would you rather lose — the least popular member of your team or a robot? Responders picked the robot. 
Even so, he too picked up indications of growing attachment. "Eighty percent of them described themselves as loving or liking to work with robots."
Kolb's survey also threw up some curious trends. Ground robots like QinetiQ's TALON or MAARS were more loved than aerial drones, whether they were the larger, smarter Gray Eagles or smaller, less autonomous Shadows. If a drone crashed at a location far away, the operator would simply see its camera blink out. But if a ground robot blew up, their operators were likely to witness their destruction firsthand. Being able to see their robot strengthened the connection with them, Kolb said. 
Combat stress strengthened the bonds too. "It almost doubled the chance of them naming them," Kolb said. Soldiers also would give mock "awards" to their bots, said Kolb, like Reddit user Master Sterling observed. They'd glue a homemade badge on the robot, Kolb said. 
Both Kolb and Carpenter notice that soldiers' relationships are complicated. Sometimes they're "horsing around" with fake medals, and other times they're more soberly giving them mock funerals — but they're treating their machines a lot like they treat people, even though they look like a box with little tank treads.
Robots are getting smarter and more autonomous in all areas including the military, but in combat, Kolb expects that they'll also get more human-like so they can use human tools and tackle the same terrain as their human operators. And that's likely to alter the soldier's perception of the robot warriors even more. As far as Kolb can tell, "I think you're going to see a stronger bonding," he said. 
Nidhi Subbaraman writes about technology and science. You can follow her on Facebook, Twitter and Google+.