Jetpacks may be cool, but they're not exactly practical. This flying machine called "Snowstorm," created by engineering students at the National University of Singapore, isn't as flashy — but it's a whole lot safer.
"Snowstorm shows that a personal flying machine is a very real possibility, primarily as a means to fulfill our dreams of flying within a recreational setting," said Joerg Weigl, one of the project's supervisors, in an NUS press release.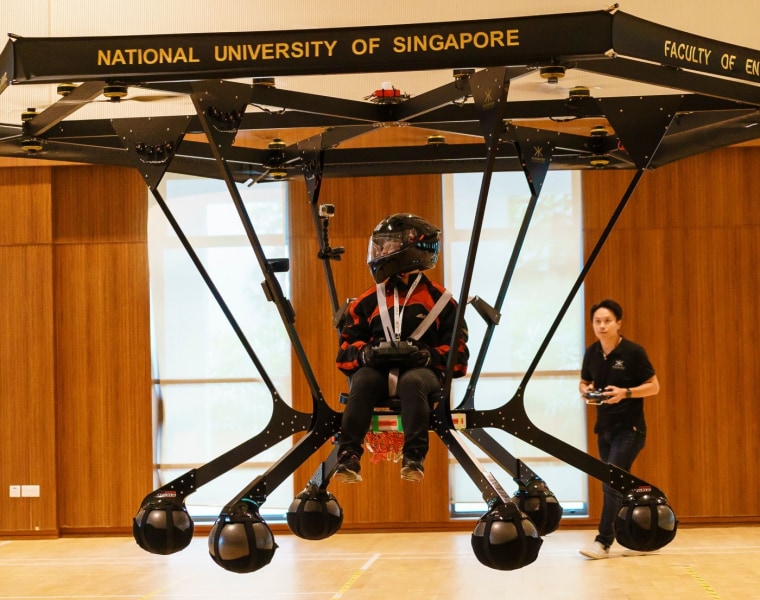 Snowstorm can carry a single person for about 5 minutes. The team spent two semesters designing and building the craft and creating control software than can stabilize or land it. The lightweight frame protects the rotors from interference. Batteries are mounted on the seat where the pilot (or passenger, if someone else is controlling the machine) is strapped in. Landings are softened by inflatable balls on Snowstorm's feet.
Related: Watch Two Men in Jetpacks Fly Alongside a Jumbo Jet Over Dubai
"At every stage of our design, we constantly had to balance and consider trade-offs between the types of materials, their characteristics and weight," said Shawn Sim, one of the students who built the machine. "In some instances, we even 3D-printed parts, such as our landing gear mount, just so we can have a customized and optimal fit."
The team hopes to continue development of Snowstorm with the aim of having it available for use by anyone who wants to experience human flight, if only for a few minutes.