Gun buyers are about to get a lot more bang for their bitcoin.
The digital currency that's generated controversy with the hunt for its mysterious founder, gotten the attention of the Winklevoss twins, and been seized by the FBI will soon have a new use -– buying the super-powered guns of the future.
Tracking Point, the Austin-based maker of rifles so smart they can make anyone look like Annie Oakley, announced on Thursday that gun buyers could be able to begin purchasing their firearms with Linux-powered scopes by using bitcoins. Another company, Central Texas Gun works, began accepting bitcoins in January, and the practice has since caught the attention of gun control activists.
"We were seeing a lot of inquiries about it. We couldn't ignore it," Oren Schauble, director of marketing for TrackingPoint, told NBC News.
TrackingPoint rifles start at $9,950. The steep price tag and high-tech features — including the ability to live-stream whatever is viewable in the scope on a phone or tablet — would seem to make gun-lovers in the thriving Austin tech scene a natural demographic.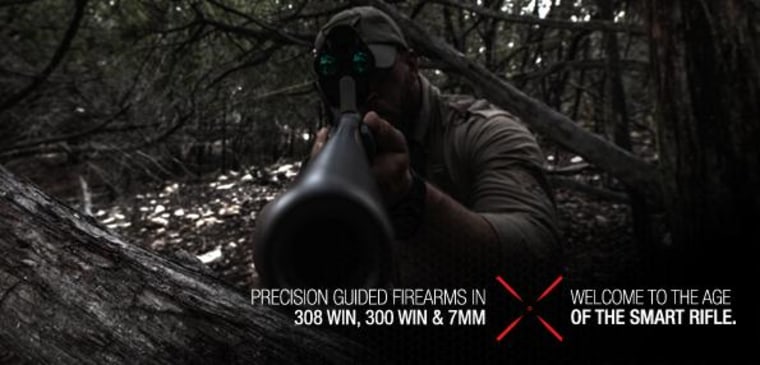 "A big part of our consumer base is tech-oriented, entrepreneurial guys," Schauble said.
That is to say, exactly the kind of people who even have bitcoins. Since the anonymous digital currency arrived on the scene in 2009, it's been praised by venture capitalists, derided by those who see it as a silly fad, and been tangled up in criminal investigations in which investigators looked at how it could be used to anonymously purchase illegal items. Bitcoin's founder – who had been anonymous since the beginning and has long been presumed to be a reclusive individual or group of coders – was allegedly unmasked by a Newsweek cover story in in early March.
Not everyone was convinced, however, and the man identified by the magazine has repeatedly denied any involvement in the creation of bitcoin.
Tracking Point says it ran up against some of the controversy surrounding bitcoin when it first began to explore using the currency to sell guns. Many of the larger payment processors declined to lend their services to a firearms dealer, Schauble said. So they got in touch with Central Texas Gun Works.
Michael Cargill, who opened Central Texas Gun Works three years ago, tried several companies before finally settling on Coinvoice, a bitcoin processing service.
Cargill said he also tried to use BitPay, a similar service, but was dropped because of what he called BitPay's "no-firearms policy."
BitPay declined to comment specifically on its dealings with Central Texas Gun Works.The company said through a spokesperson that "some highly regulated industries require additional vetting" and that "the time to work through all the compliance and regulatory guidelines can be lengthy."
Now, Central Texas Gun Works allows people to pay for firearms and concealed handgun license classes with bitcoins. The store has a CoinVault ATM that people can use to buy and sell bitcoins that drew inpeople in Austin for South by Southwest, the annual tech and arts gathering, Cargill said.
While bitcoin purchases are anonymous, Cargill and Schauble, who are both federally licensed firearms dealers, say they conduct background checks as they would with any other gun purchase.
The method of payment doesn't make any difference regarding whether or not a background check should be conducted, said Brian Malte, senior policy director at the Brady Campaign to Control Gun Violence. Federally licensed dealers have to conduct a background check on every sale. They also have to keep paper records that law enforcement can use if a gun is connected to a crime.
"From a background check perspective, it would not really matter if you paid with a credit card or bitcoin or you were giving them chickens, because the law says that any sale or transfer means you have to go through a background check," he told NBC News.
Texas, however, doesn't require background checks for private sales and transfers. That means if a private citizen sells a gun after posting on Facebook or firearms sale site ARMSLIST, the law does not require them to do a background check — something that the Brady Campaign would like to see changed.
"We are concerned about states where you can sell guns anonymously online without a background check," Malte said. "How people pay isn't the problem. The fact that there is no federal law to require background checks for all gun sales is really the problem."