Sure, your parents warned you never to pick up hitchhikers, but can you really resist giving a ride to a cute, fun-loving robot?
HitchBOT, a talking robot about the size of a 6-year-old child, plans to hitchhike across Canada this summer, all by its lonesome self. It will start its coast-to-coast journey on July 27 from the side of the road near The Institute for Applied Creativity at Nova Scotia College of Art and Design in Halifax. Counting solely on the kindness of human strangers one ride at a time, HitchBOT hopes to reach the Open Space Gallery in Victoria, British Columbia, 3,870 miles (6,228 kilometers) away.
Sign up for Technology news delivered to your inbox
It's a project — part collaborative art, part scientific research — dreamed up by David Smith, an assistant professor in the Department of Communication Studies and Multimedia at McMaster University; and Frauke Zeller, an assistant professor in the School of Professional Communication at Ryerson University.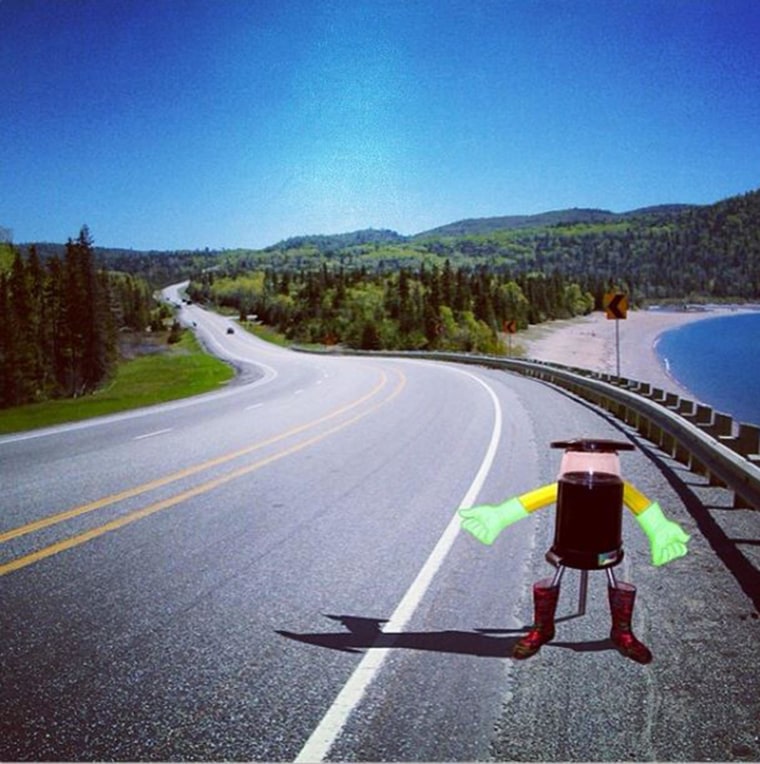 "We want to take the question that is normally asked — if we can and should trust robots — the other way around and ask: Can robots trust human beings?" Smith told NBC News via email.
"We believe that through this artwork we can learn a lot also in terms of social robotics, how we approach robots (in the wild, i.e., in non-restricted, non-observed environments), and whether we interact with them and if yes, how."
HitchBOT is a simple-looking bot on the outside. It's being assembled from what Smith characterizes as parts scooped up from a yard sale, including a beer cooler bucket, copper tubing, foam pool noodles, garden gloves, a tripod, rubber boots and a cake saver. The bot's torso and hat will be wrapped in flexible solar panels, and it can also be charged up with a cigarette lighter or house current (if it winds up at a party). About Its only moving part will be a motorized hitchhiking right arm controlled by a motion-detection signal.
On the inside, HitchBOT will have high-tech circuitry, 3G/GPS connectivity and vision and speech capabilities, allowing it to chat up strangers (it's got a Wikipedia knowledge base).
"Simply put, I am a free-spirited robot who wants to explore Canada and meet new friends along the way," HitchBOT explains on its website.
The bot is equipped with a camera, so it can record interactions with the folks it gets a ride from and transmit those images back home.
"HitchBOT can ask people if they have a story they would like to share with others and this would be posted as video to HitchBOT.me. We will moderate posts to avoid inappropriate content," Smith said.
And like most humans, HitchBOT is hoping not to have to thumb a ride after dark.
"In the event that HitchBOT is roadside overnight it will entertain itself by tweeting and taking photos until dawn or the next ride," Smith said. "HitchBOT provides speech and signed instructions for safe placement on the gravel shoulder, or if no safe place can be found to place HitchBOT it will suggest that drivers leave it at a roadside coffee shop."
You can follow HitchBOT's travels on its website and on Twitter and Instagram.