Police in Tempe, Arizona, released video on Wednesday that captures the moments before a self-driving Uber SUV struck and killed a woman in what's believed to be the first fatality of a pedestrian involving the fledgling autonomous technology.
And while federal and local police investigators have not concluded their probes into Sunday's collision, the footage from both inside and outside the vehicle is likely to reopen debate about the safety of self-driving systems.
Detective Liliana Duran, a police spokeswoman, said in a statement that the clip from an exterior camera showing the front of the vehicle "does not include the collision itself due to the graphic nature of the impact." From the edited video, however, it does not appear that the gray 2017 Volvo XC90 SUV slowed down before hitting the victim, identified as Elaine Herzberg, 49.
Herzberg, wearing dark clothing and pushing a bicycle across the street outside the crosswalk, is barely visible when she comes into the camera's view near the intersection of Curry Road and Mill Avenue in Tempe.
Images from the dashboard camera inside the vehicle also raised questions, as the human operator, Rafaela Vasquez, 44, appears to be glancing downward until looking back up in surprise in the split second before impact. Police said the car was in autonomous mode at the time of the crash.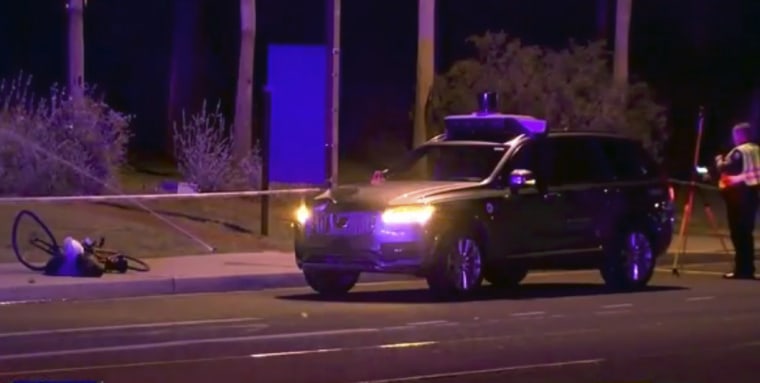 Hours after the crash, Uber announced the suspension of all tests of its autonomous vehicles in Pittsburgh, Phoenix, San Francisco and Toronto.
Self-driving vehicles have complex radar systems designed to react to objects in the road with more accuracy than humans.
CORRECTION (March 21, 2018, 9:14 p.m. ET): An earlier version of this article misstated the first name of the human operator of the self-driving car. She is Rafaela Vasquez, not Rafael.