Before Oculus Rift, virtual reality headsets seemed like a relic from cheesy '90s movies about the Internet.
Yes, the idea of surfing the Web like Keanu Reeves in "Johnny Mnemonic" seemed appealing, but gadgets like Nintendo's Virtual Boy did not exactly live up to Hollywood's promise. Now, with Oculus Rift and Sony's newly announced Project Morpheus prototype for the PlayStation 4, it looks like the technology could become mainstream.
"People have always been excited about virtual reality," Neil Schneider, executive director of the Immersive Technology Alliance, told NBC News. "The desire to do that is nothing new. What is new is that people have come up with a method to do it affordably."
Virtual reality headsets use displays set over the eyes to create the impression of being inside of a 3-D, computer-generated environment.
When the Oculus Rift premiered at the Electronic Entertainment Expo (E3) in 2012, comparable virtual reality setups cost tens of thousands of dollars, Schneider said. The first Oculus Rift sold on crowdsource-funding site Kickstarter for $300.
(Some media drama broke out when Oculus VR declined to be in the Immersive Technology Alliance, even though the Oculus founders had been involved with the group's previous incarnation, The Stereoscopic 3D Gaming Alliance, founded in 2009.)
Immersive experience
The potential for virtual reality extends far beyond gaming. In the medical field, it has been used to provide a risk-free space for students to practice surgical procedures. Clinics have been using it to treat soldiers with PTSD. HBO used the technology to promote its fantasy show "Game of Thrones" with a virtual glimpse of Westeros.
Eventually, sports fans could find themselves on the 50-yard line, watching football games happen around them thanks to advanced new cameras from Next3D.
The most obvious application for virtual reality, however, is video games. Oculus Rift was initially promoted on Kickstarter as an incredibly immersive way to play first-person shooters like "Doom 3" and "Hawken."
On Tuesday, Sony revealed Project Morpheus, a virtual reality headset with 90 degrees of vision and 1080p resolution. When widely released, it could help distinguish the PlayStation 4 from Microsoft's Xbox One, which comes with the motion-sensing Kinect.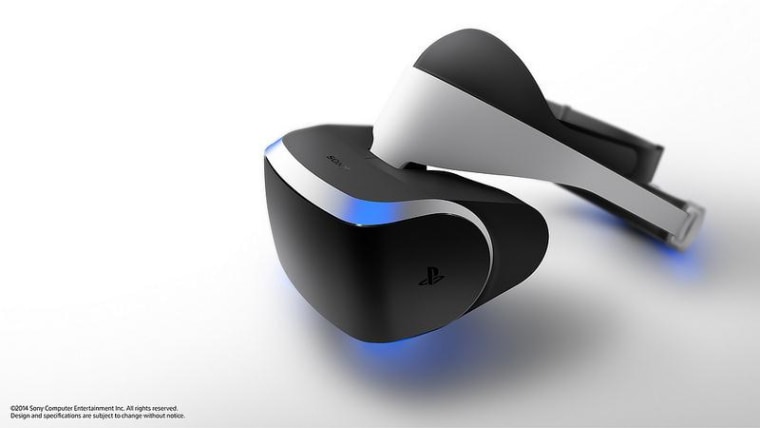 "Until the headset was announced, it was only a jump in resolution and processing power," Schneider said about the evolution from the PlayStation 3 to the PlayStation 4. "Now we're talking about a jump in how people experience games. This is a big deal."
Microsoft's got game
Sony might want to rush production of Project Morpheus, which isn't supposed to hit the market until next year, because Microsoft is working on its own virtual reality headset for the Xbox One, unnamed sources told the Wall Street Journal.
Fans of the tech that started the trend are also getting good news. Oculus VR unveiled a new Rift headset on Wednesday that features higher resolution (960 x 1080p per eye, compared to the previous version's 640 x 800p), less motion blur and positional head-tracking — meaning it can tell if you are moving your head up, down, forward or backward, instead of just rotating it.
The new Oculus Rift, which comes as part of a software development kit, will be released sometime in July for $350.
None of these virtual reality headsets are officially "commercially available," although anybody can buy a prototype and do anything from play video games to recreate the apartment from "Seinfeld" with it.
Eventually, the industry will move from virtual reality to augmented reality, Schneider said. That means they will be able to interact with both 3-D creations and objects in real life through things like virtual reality "caves" and castAR glasses equipped with projectors that bounce images off inexpensive retro-reflective tape.
"Imagine wallpapering a room and having your own personal Star Trek holodeck," Scheneider said. "We're not just limited to headset devices."