Barely four months after its surprise debut, the California-based automotive start-up Faraday Future this week broke ground on what's to be a $1 billion assembly plant rising from the desert just miles from the Las Vegas Strip.
If all goes according to plan, the factory will eventually employ about 4,500 workers.
"Our aim is to complete a program that would normally take four years and do it in half the time, while still doing it right," said global manufacturing chief Dag Reckhorn.
Read More: Tesla Who? Faraday Reveals Futuristic Electric Car
But even as company officials and state dignitaries dug up the first shovels of dirt, exactly what Faraday will build at the plant hasn't been revealed. In fact, Faraday has filled in only a few blanks about even the most basic details of what the company is up to.
Based in the same suburban Los Angeles office building where Nissan was once headquartered before moving its U.S. operations to Nashville, Faraday Future operated in complete secrecy for several years. Its existence only became known when, late in 2015, it approached the Nevada state government asking for a package of incentives to build a new factory.
Then, earlier in January, it staged a splashy news conference at the annual Consumer Electronics Show in Las Vegas, showing off the ultra-sleek FF Zero1 concept vehicle. But the battery-powered two-seater was nothing but a fantasy. Something like it might eventually go into production, but not right away.
As to what the company is actually planning to build, well, the company has only released a shadowy teaser image that's as murky as Faraday Future's actual business structure. What's known is that the primary investor is a Chinese billionaire by the name of Jia Yueting. Often referred to as "China's Steve Jobs," a reference to the late Apple co-founder, Jia runs a variety of high-tech businesses ranging from internet marketing to consumer electronics manufacturing.
His empire also includes a Chinese-based auto unit, LeEco, run by Ding Lei, Faraday Future's acting chairman and one of the speakers at the company's factory groundbreaking. During brief comments in broken English, Ding promised that Faraday intends to bring to market what he described as "disruptive innovation[s]." But what that means is far from clear.
Read More: Tesla, Faraday, Elio: Start-Up Automakers Aim to Carve Out a Niche
During its January news conference at CES, Faraday officials made it clear that the company's vehicles will be battery-powered. And it appears they'd like them to have autonomous driving capabilities, but it's far from clear that will happen when the first model rolls off the assembly line in 2018. It appears Faraday also will work with Jia's Chinese empire to fit the new vehicles with the latest in high-tech infotainment technology.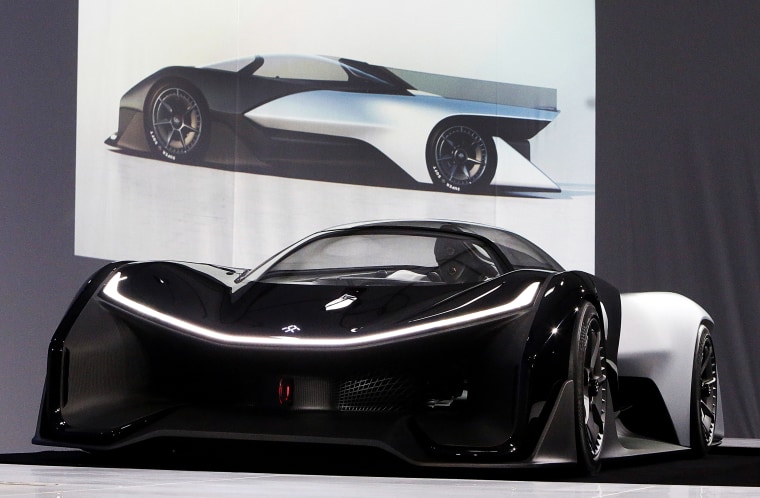 A close inspection of the teaser image Faraday released earlier this year reveals two prototype vehicles that have the bubble-shaped silhouette often seen in futuristic sci-fi films. Several industry observers have suggested that's very likely what the first Faraday model really will look like, underscoring the disruptive potential of electric propulsion.
In most conventional automobiles, the gas or diesel engine occupies a large space in front of the passenger compartment. But that isn't necessary in an electric vehicle. As rival Tesla has shown, much of the drivetrain can be mounted in or below the floor of the vehicle. That layout could permit Faraday to build a relatively small vehicle with a surprisingly larger interior.
"We plan to bring the future forward," Reckhorn said during his presentation at the groundbreaking ceremony.
As to the factory, Nevada has pledged $335 million in support — including $215 million in tax breaks and another $120 million in infrastructure improvements. In turn, Faraday is putting up a $75 million bond to back various road, rail and water projects for the 900-acre site.
Located about 15 miles from the neon-lit Strip, Faraday is hoping to turn the factory into a tourist attraction as well as a production site. Reckhorn said he hopes that visitors will then be inspired to buy one of Faraday's vehicles.
How many it will be able to produce is another question. The $1 billion pricetag on the new plant is in line with what conventional automakers have been spending on all-new assembly plants in recent years, facilities that produce upwards of 200,000 vehicles annually. The Faraday factory is likely to include not only a conventional assembly line, but also operations dedicated to producing some key parts and components, industry observers suggest.
Read More: It's 'Obvious' Apple Working on Electric Car, Tesla Chief Elon Musk Says
Otherwise, it would be hard to explain the need for 4,500 employees. These days, traditional car plants producing 250,000 to 300,000 vehicles a year can get by on a workforce less than half that size.
For its part, Tesla is currently building its Model S and Model X battery cars at a plant in Fremont, California that used to be operated as a General Motors-Toyota joint venture. Production is expected to near 90,000 this year, then rise to as much as 400,000 later this decade with the addition of the more mainstream Model 3 unveiled late last month.
Could Faraday be looking at similar numbers? The company isn't saying. Nor is it revealing where it hopes to sell its future product lines. Tesla hopes to steadily expand exports from its California factory, however, with markets already including Europe and China. Perhaps key investor Jia hopes to bring some of Faraday's battery-cars back to China, as well?
That's another of numerous questions that may not be answered until closer to when Faraday launched production in 2018.