Earlier this month, the CEO of an Italian 3D-printing startup learned that a hospital near the center of the coronavirus outbreak in Italy was running short on a small but crucial component: the valves that connect respirators to oxygen masks.
The company that makes the valves couldn't keep up with the demand, and doctors were in search of a solution.
"When we heard about the shortage, we got in touch with the hospital immediately. We printed some prototypes. The hospital tested them and told us they worked," the CEO, Cristian Fracassi, told Reuters. "So we printed 100 valves, and I delivered them personally."
Similar efforts have popped up around the world. In Liverpool, New York, Isaac Budmen and Stephanie Keefe were printing more than 300 face shields for workers at a coronavirus test site in Syracuse this week, according to The Post-Standard of Syracuse. Budmen and Keefe, who run a business, Budmen Industries, selling custom 3D printers out of their home, turned to a fleet of 16 3D printers in their basement.
Full coverage of the coronavirus outbreak
With medical supplies strained by the coronavirus outbreak, health care professionals and technologists are coming together online to crowdsource repairs and supplies of critical hospital equipment.
Doctors, hospital technicians and 3D-printing specialists are also using Google Docs, WhatsApp groups and online databases to trade tips for building, fixing and modifying machines like ventilators to help treat the rising number of patients with COVID-19, the disease caused by the coronavirus.
The efforts come as supply shortages loom in one of the biggest challenges for health care systems around the world.
"We have millions of health care workers around this country who are prepared to do battle against this virus, but I am concerned there are a couple of areas of supplies they need to fight that virus as effectively as possible," Dr. Peter Slavin, president of Massachusetts General Hospital in Boston, told NBC News' Chuck Todd on March 15, noting that protective equipment, including surgical masks and eye protection, was in particularly short supply.
"We wouldn't want to send soldiers to war without helmets and armor," he said. "We don't want to do the same with our health care workers."
The American Hospital Association says COVID-19 could require the hospitalization of 4.8 million patients, 960,000 of whom would need ventilators. As the demand for the equipment surges, making timely repairs will be critical to saving lives.
New York Mayor Bill de Blasio warned Friday that the city could run out of basic medical supplies in as little as two weeks.
3D printing, a relatively new and niche technology that can create everything from houses to tiny and complex structures from raw materials, has remained mostly on the fringes of the manufacturing and health care sectors.
But the coronavirus has suddenly made it a crucial resource. On Thursday, Slavin called on people with 3D printers to help make protective masks for hospital staff.
"I would hope companies across the country ... would start making masks later this afternoon," he told NBC Boston.
Download the NBC News app for full coverage and alerts about the coronavirus outbreak
One company, Copper3D, developed a 3D-printed mask inspired by the N95 mask that is designed to filter out airborne particles that could carry the virus. The company released the plans for the mask, called "NanoHack," free online. A 3D-printing company in the Czech Republic, Prusa Research, has presented its prototype for a 3D-printed face shield to the Health Ministry for verification, according to a company blog post.
Several other initiatives have focused on repairing or building ventilators.
Residents at Mass General are planning a virtual open "moonshot" competition, CoVent-19, hosted online, to develop a rapidly deployable mechanical ventilator within 90 days.
They are inviting engineers, designers and technologists to collaborate with medical experts and technical ventilation specialists to build a device that allows a single existing hospital ventilator to treat multiple patients at the same time or a new type of low-cost ventilator that could be manufactured and distributed quickly.
"We are looking for a solution to rapidly expand our capacity but also not create a whole bunch of ventilators in the world that we won't need after the pandemic," said Dr. Sarah Low, who was among the hospital's anesthesia residents to develop the competition after elective surgical procedures were canceled and they were sent home.
Low said the easiest solution in terms of winning approval from the Food and Drug Administration would likely be a device that could be attached to an existing ventilator and could control the pressure, volume and oxygen being delivered to multiple patients.
The team has assembled an international panel of experts to shape the development of the ventilator and will officially launch the competition, inviting anyone to participate, in the coming week.
"It's a worldwide hackathon," she said. "The best ideas come from outside your field. The answer will come from somebody who doesn't normally think about ventilation."
The U.K.-based nonprofit Newspeak House has created the Coronavirus Tech Handbook, an online guide for responding to the pandemic.
"This is about how to use simple tech that people are familiar with in a sophisticated and nuanced way," said Edward Saperia, founder of Newspeak House, noting that the handbook is a Google Document and that collaborators are organizing via WhatsApp.
The guide includes a section on more than a dozen open-source projects to build an emergency ventilator using inexpensive hardware. Saperia also set up a WhatsApp group in which specialists discuss modifying, repairing or building ventilators. In screenshots of the group chat reviewed by NBC News, a doctor in India described how he modified a single ventilator to treat two patients.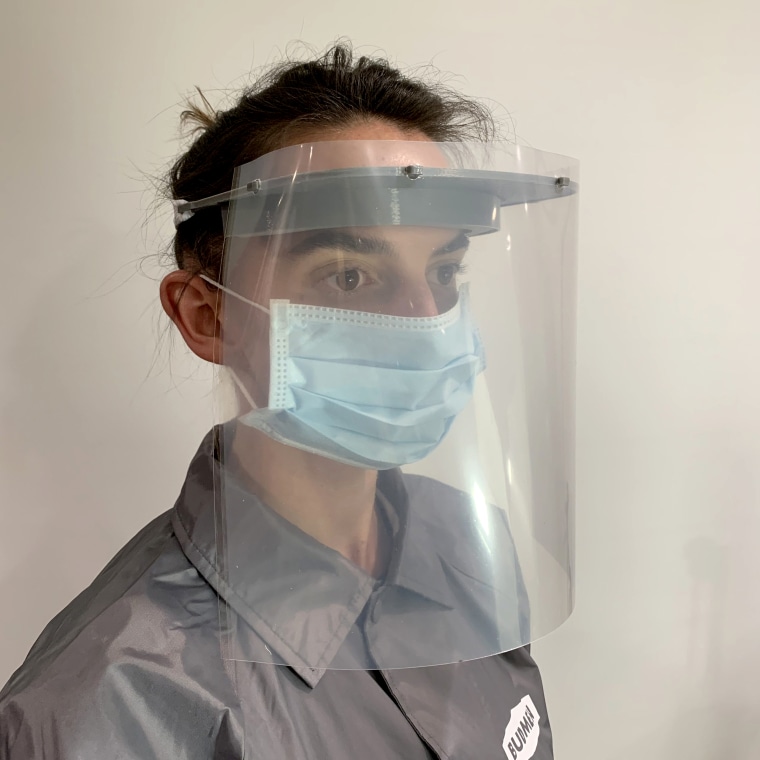 The efforts — and their wider embrace by the medical establishment — underscore the urgency of the needs of medical professionals.
Kevin Cyr, a clinical student at the Stanford University School of Medicine who researches 3D printing for medical devices, said there are still challenges to crowdsourced solutions.
"The concerns are quality and the ability to manufacture at scale, with sterilization and the safeguards that are necessary for medical equipment," Cyr said. "And that's really been the topic that I've seen from the medical field and the FDA that they're still grappling with, which is trying to ensure the quality at a localized manufacturing facility.
"This case in Italy is a good example of doctors' identifying a concrete need that they can take to an innovator and could find a solution around," Cyr said.
Other efforts have focused on making sure information on how to fix medical devices is readily available. The gadget repair company iFixit is building a digital library of dozens of service manuals for ventilators and anesthesia machines that can be used as backup ventilators to ensure that the machines can be repaired as quickly as possible.
Kyle Wiens, CEO of iFixit, said medical professionals face a challenge in part because of just how many different pieces of medical equipment are in use.
"The variety of equipment out there is huge," he said, which means it's rare to find technicians who have experience in repairing all types of ventilators.
Wiens said that by creating a central repository of repair manuals, he hopes to enable a bigger pool of independent technicians to repair medical equipment so hospitals don't have to wait for the manufacturers to send their own technicians.
iFixit is also considering providing designs to allow people to 3D-print key components for ventilators, such as valves, if there is demand for them from U.S. hospitals, he said.
"We are on the phone regularly with our local hospitals and doctors, and if any issues come up, we will try to develop solutions," he said.
Correction (March 23, 11:57 a.m. ET): An earlier version of this article misstated the masks that 3DCopper produced. They are reusable masks inspired by N95 masks, not N95 masks.