A great majority of Americans go online every day, and 21 percent use the Internet "almost constantly," according to a survey by Pew Research Center. Of the 87 percent of survey respondents who reported going online at all, the most common option chosen was that they go on "several times a day," with only 6 percent reporting not going online at least daily.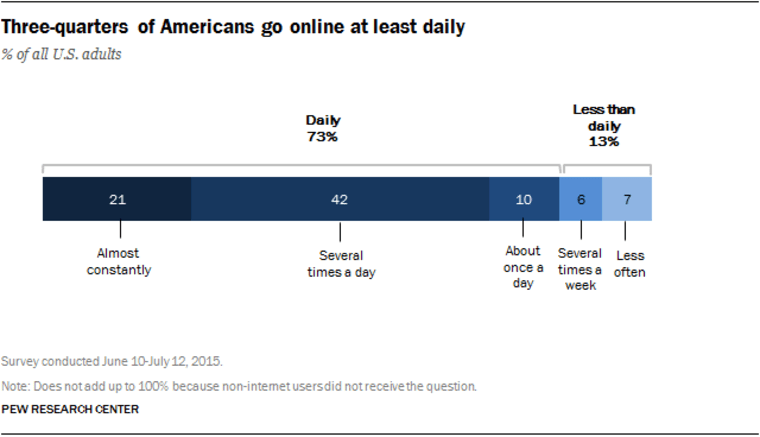 Related: Millennials Love Kik, Snapchat and Other Messaging Apps: Pew
Young people were more likely to say they went online "almost constantly" — 36 percent of people aged 18-29, and 28 percent of the 30-49 group. Any older than that and the numbers drop off considerably.
Those with more education and those with more income also reported going online more frequently, and black respondents jumped on the Internet slightly more often than their white or Hispanic counterparts.
Related: Obama Pledges to Bring Broadband Internet to Poor Households
Of course, when equipped with a smartphone or tablet, the numbers rise as well: 87 percent of mobile device owners go online daily, compared with just 65 percent of those without.
Pew's survey was conducted by phone with 2,001 Americans aged 18 and older, in June and July of this year.