Could you use a break from the constant stream of tweets, texts, status updates and photos of someone's lunch? You're probably not the only one, and you're in luck: Sundown Friday to sundown Saturday is the "National Day of Unplugging," and people around the country are joining the effort to get themselves offline, even if it's just for 24 hours.
But this isn't some big Luddite party. "It's about making sure people are in control of their tech, instead of it controlling them," said one of the day's organizers, Tanya Schevitz.
Participants are encouraged to pledge they'll avoid their phones, laptops and other tech for the day. Many have already submitted pictures of themselves holding up signs saying what they'll be doing instead: reading, visiting family, going to the park.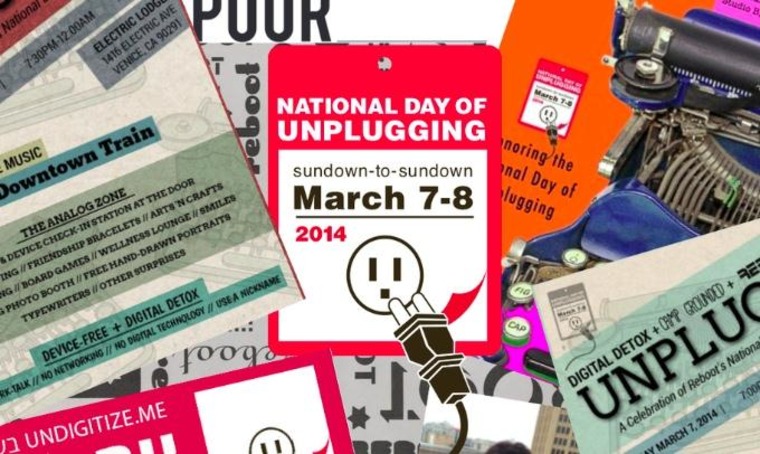 Schevitz says organizers expect tens of thousands of people to go offline for the fifth annual unplugging day. There are activities being organized, as well, like analog-themed parties stocked with typewriters and board games, phone-free play groups for kids, and unplugged concerts. An entire city in Iowa — Greenfield — is promoting the idea to its citizens.
The organization behind the day, Reboot, is a Jewish one, and the event was created with the Jewish tradition of the Sabbath in mind — but Schevitz was quick to point out it's just the inspiration. "There's no religious component," she said. "Everybody needs a day of rest."
If you're reading this, it's probably too late for you to take the whole day off, but going for 24 hours is just a suggestion. A dinner out with friends but no phones, spending a couple hours with a book, and just resisting the urge to check your phone for a few minutes are equally good places to start.