After many emotional hours of sifting through tweets by witnesses, victims, and observers of the shooting in Aurora, Colorado, we were stunned to find that — thanks to some combination of ignorance, tastelessness, and sheer stupidity — an online clothing retailer made light of the situation in an attempt to promote its product.
"#Aurora is trending, clearly about our Kim K inspired #Aurora dress," declared a tweet from the account belonging to Celeb Boutique, ending with an emoticon wink and a link to a product page.
The tweet was posted at 10:35 a.m. ET, long after Twitter was flooded with information about the devastating incident which left 59 people injured and 12 dead. It's difficult to believe that whoever runs the Twitter account of the Argentina-based retailer somehow missed hearing about the tragic news while he or she noticed that the #Aurora hashtag was trending.
But at 2:53 p.m. ET, the insensitive tweet disappeared and was replaced by an apology ... followed by a retweet about what "a fabulous Friday" it is ... followed by a claim that the retailer was indeed somehow unaware of the Colorado shooting for hours.
Several more tweets were posted on the Celeb Boutique account shortly after that, apologizing again and again for the initial tweet and explaining that the retailer's public relations team is not based in the United States. 
The folks responsible for the Twitter account were "totally unaware of the situation and simply thought [Aurora] was another trending topic," one of the tweets adds. "We have removed the very insensitive tweet and will of course take more care in future to look into what we say in our tweets."
Unfortunately this isn't the first time we've seen such insensitive promptional tweets after a public tragedy. When deadly riots were occuring in Egypt, American fashion designer Kenneth Cole tweeted that the uproar in Cairo must be occuring because people "heard [that Kenneth Cole's] new spring collection is now available online." The Internet, as a whole, did not react much more kindly to that tweet than to Celeb Boutique's.
Though for some, the retailer's apologies weren't good enough. The Internet vigilantes who act under the name "Anonymous" threatened to take down the Celeb Boutique site when the more recent incident occurred.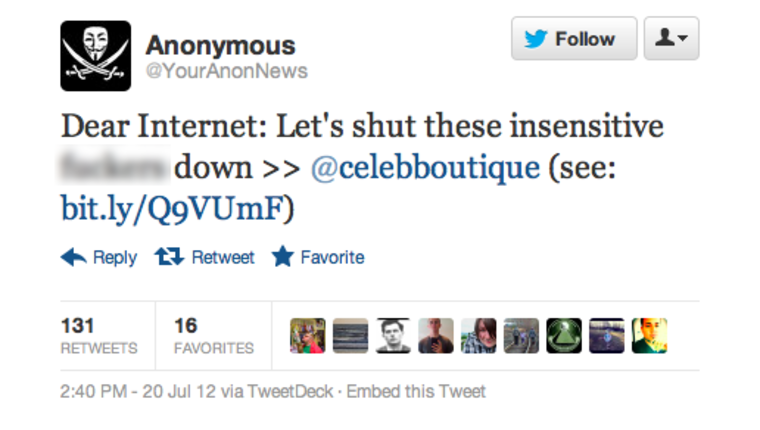 The crass promotional tweets aside, other social media hiccups surround events such as Friday's shooting as well. The @NRA_Rifleman Twitter account — which describes itself as "an official journal of the National Rifle Association — for example, started the day by tweeting "Good morning, shooters. Happy Friday. Weekend plans?"


The tweet, along with the entire @NRA_Rifleman Twitter account, has been deleted at this point. NRA spokesperson Andrew Arulanandam told CNN's John Sutter that a "single individual, unaware of events in Colorado, tweeted a comment that is being completely taken out of context."
We have reached out to the NRA and Celeb Boutique for further statements about their Twitter faux pas, and will update if we hear back.
Related stories:
Want more tech news or interesting links? You'll get plenty of both if you keep up with Rosa Golijan, the writer of this post, by following her on Twitter, subscribing to her Facebook posts, or circling her on Google+.