Fake photos and videos featuring the likenesses of TikTok's biggest female stars are circulating on Twitter, with some tweets amassing tens of thousands of views despite the platform's rules against nonconsensual nudity. 
An NBC News review Tuesday of Twitter search results for Addison Rae Easterling, Charli D'Amelio and Bella Poarch — the three most-followed women on TikTok — found multiple examples of sexually explicit and sexually suggestive deepfakes posted in a 24-hour period. Other searches turned up tweets with deepfakes that had been posted weeks ago and remained up despite Twitter's policies banning them. A deepfake is an advanced form of manipulated media in which a person's face or head is digitally inserted onto the body of another person. 
Female TikTok stars have become prominent deepfake targets. Most deepfakes on the internet are pornographic in nature and depict celebrity women in sexual situations, a synthethic media detection firm called Sensity said in a 2019 report. The amount of pornography and deepfakes in the search results for the three female TikTok stars was striking compared to even mainstream actresses who are popular deepfake targets, like Emma Watson.
One particularly viral tweet posted May 31 — a short clip in which the face of Easterling was inserted onto the body of a woman on a bed — had been viewed more than 21 million times as of Tuesday, according to Twitter's public view count. In comparison, Twitter owner Elon Musk's pinned tweet had 26 million views as of publication. Top replies to the tweet with the deepfake of Easterling linked to a longer, sexually explicit version of that video.
The person behind that Twitter account told NBC News they deleted the tweet after receiving backlash. The account frequently posts sexually suggestive tweets containing authentic videos of female celebrities that get similar attention.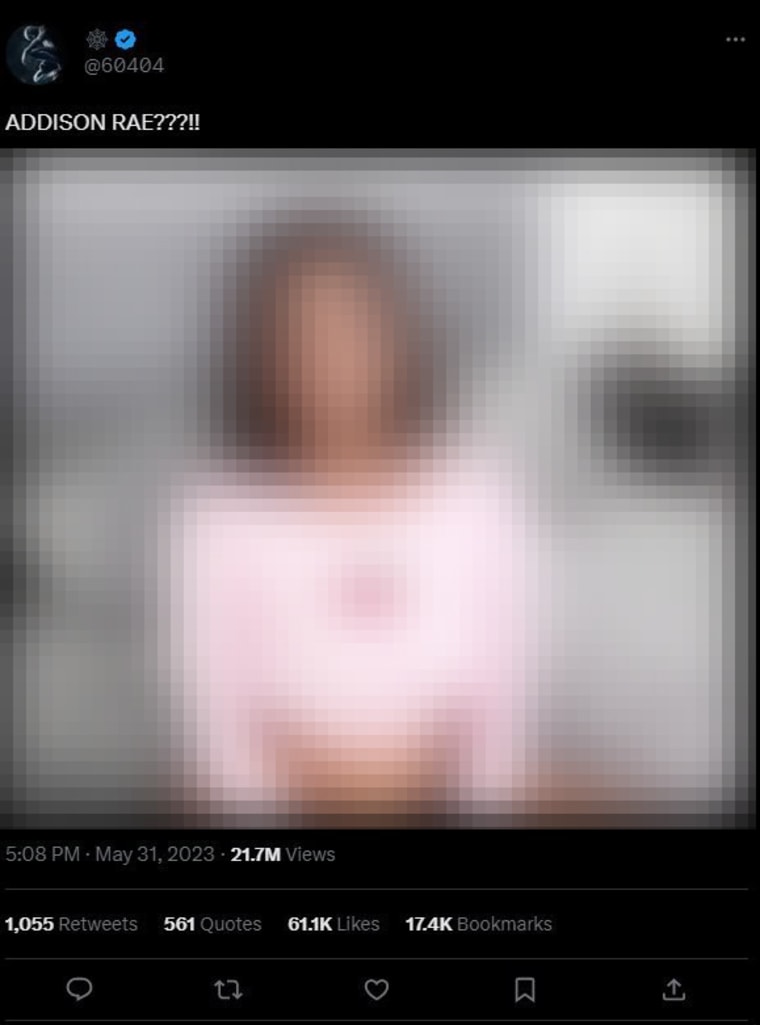 Twitter did not respond to an emailed request for comment, which included links to nine accounts posting pornographic deepfakes. Twitter later suspended six of those accounts. Some of the links, including a sexually explicit deepfake video with Poarch's likeness and multiple pornographic deepfake images of D'Amelio and her family, are still up.
Representatives for Easterling, D'Amelio and Poarch did not respond to a request for comment.
Deepfakes are not a new occurrence on Twitter, and the company has taken action against them in the past. In November 2021, Twitter suspended an account that tweeted a sexually explicit deepfake video of Easterling. 
But in recent months, celebrity deepfakes have skyrocketed online, even as deepfake victims have spoken out and some countries and U.S. states have passed laws banning the creation of sexually explicit nonconsensual deepfakes.
At the same time, Twitter's moderation efforts have come under scrutiny under Musk's leadership. The New York Times reported that fleeing advertisers were "spooked" by rising hate speech and pornography on Twitter. 
Twitter has two rules that apply to deepfakes. The platform explicitly bans "images or videos that superimpose or otherwise digitally manipulate an individual's face onto another person's nude body" under its nonconsensual nudity policy. The policy states that Twitter may need to hear from the individual targeted by a deepfake or their representative before taking action. Twitter's synthetic and manipulated media policy also applies to deepfakes and depends on the manner, context and implications of the media. 
How Twitter enforces its rules has become the subject of growing scrutiny after Musk cut thousands of employees, including some on its trust and safety teams. Ella Irwin, the company's most recent head of trust and safety, resigned last week. Musk and Irwin have not commented publicly on nonconsensual deepfakes. In response to NBC News' request for comment, Twitter's press email sent its new automatic response, a poop emoji.
Using Twitter's search function, queries for the names of Rae, D'Amelio and Poarch turned up a wide variety of content, from fan accounts posting authentic, nonexplicit pictures and videos of them, to hardcore pornography and deepfakes. Some accounts appeared to be posting the same deepfakes repeatedly in an effort to direct people to other platforms such as Discord or Telegram, where deepfake material is often openly exchanged.
In a statement to NBC News, Discord said its Community Guidelines "clearly prohibit the promotion or sharing of non-consensual intimate materials." 
"Our Safety team takes action when we become aware of this content, including banning users, shutting down servers, and when appropriate, engaging with the proper authorities," the statement also said. Discord suspended the server that NBC News found was linked in tweets containing nonconsensual deepfakes of Easterling.
Some Twitter accounts that shared deepfakes appeared to be operating out in the open. One account that shared images of D'Amelio had accrued more than 16,000 followers. Some tweets from that account containing deepfakes had been online for weeks.
Legislation targeting nonconsensual sexually explicit deepfakes has been passed in some U.S. states, in the U.K. and in Australia, but many victims have struggled to find recourse when images can be uploaded anonymously from anywhere. Celebrities and influencers who have been popular deepfake targets, including actress Scarlett Johansson, have spoken about how little recourse exists for victims.
"Nothing can stop someone from cutting and pasting my image or anyone else's onto a different body and making it look as eerily realistic as desired," Johansson told The Washington Post in 2018. However, she noted, people didn't usually believe the videos of her were real, and lesser-known victims could face losing their job or other reputational damage.