A broad coalition of public officials, activists and content producers vowed to hit Control-Alt-Delete on the Federal Communications Commission's vote Thursday to end "net neutrality" rules that are intended to make sure all internet traffic is treated equally.
The FCC's party-line 3-2 vote after a lengthy and fractious public comment period had long been expected, and when it came Thursday, defenders of the Obama-era rules were already swinging into action.
New York Attorney General Eric Schneiderman immediately said he would lead a multistate lawsuit to roll back the vote. Washington state Attorney General Bob Ferguson said he would also sue.
"Allowing internet service providers to discriminate based on content undermines a free and open internet," Ferguson said in a statement.
Schneiderman was already investigating as many as 2 million fake public comments that he says were submitted to the FCC during the public comment process. By going ahead with the vote, he said in a statement, the agency had made "a mockery of government integrity" and was rewarding "the very perpetrators who scammed the system to advance their own agenda."
"As a small business owner, it's definitely a concern, because they can throttle or discriminate against certain content. They say they won't, but they absolutely have the tools to do it."
Net neutrality rules treat the internet like a utility, ensuring that internet service providers, or ISPs, can't charge different rates based on how much an entity is willing to pay. Theoretically, elimination of the rules paves the way for ISPs to create fast lanes and slow lanes and to block or throttle certain websites.
Paul Conti, an assistant professor of communications at the College of Saint Rose in Albany, New York, framed the dispute this way:
On one hand, "people are worried that the companies with lots of money would be able to stop companies with little money from getting started," Conti told NBC affiliate WNYT. On the other hand, he said, the internet is choked with spam and illegal downloads, "and why shouldn't the internet carriers be able to stop that?"
The major ISPs, including Comcast, the nation's biggest service provider, have promised not to favor specific customers. (Comcast is part of Comcast NBCUniversal, the owner of NBC News.)
David L. Cohen, Comcast's senior executive vice president, said Thursday that ISPs wanted the rules rescinded not so they could prioritize traffic from preferred content providers but because regulation of the internet had become politicized. He said the industry had been "trapped in a cycle of regulatory pingpong" at the "whim of the party in power."
"We should stop the litigation and legislative threats by the party not in control of the FCC," Cohen said, calling for bipartisan legislation to protect both the internet and consumers.
Chrissy Harbin, vice president of external affairs for Americans for Prosperity, an activist group funded by the conservative powerhouses Charles and David Koch, said the FCC's vote would "rid the internet of government meddling [and] will foster an online environment that spurs new advancement, competition and consumer choice."
Few others involved in the debate were buying that.
Burt Lum, owner of Hawaii Open Data, a nonprofit advocacy group in Honolulu, pointed out that big ISPs like Comcast and Verizon are also among the biggest online content providers.
"They'll have a lot of content, so they'll enable their content to go on the faster pipe," Lum told NBC affiliate KHNL.
Carla White, director of Gratitude Labs, an app design company in Sioux Falls, South Dakota, said she didn't see how the FCC's vote would be "beneficial to the general public."
"All my classes are online. All my team is online. Everything I do is based on streaming data over the internet," White told NBC affiliate KDLT. "As a small-business owner, it's definitely a concern, because they can throttle or discriminate against certain content. They say they won't, but they absolutely have the tools to do it."
Jonathan Schwantes, senior policy counsel for Consumers Union, the public policy and advocacy arm of Consumer Reports, called the vote "a big loss for consumers" that would "inevitably take the battle over net neutrality back to the courtroom and Congress."
"Without these rules, your internet provider can charge a toll for any website it chooses," Schwantes said. "The biggest companies can most likely afford these new costs, but smaller companies could be left out in the cold, and that fundamentally changes the level playing field of the internet as we've known it."
Amanda Seales, who plays Tiffany DuBois on the HBO series "Insecure," said the internet is supposed to allow people "to have that space to speak."
"The problem is that when we start putting dollar signs on that, we are now limiting people from having the opportunity to not only give information, but also to receive information," she said at a rally Thursday outside FCC headquarters in Washington.
Meanwhile, the mayors of more than 50 U.S. cities said in a letter opposing the FCC's decision that their cities counted on the free access to the internet to drive economic growth and provide government services.
"Critical to our communities' reliance on the internet is the confidence that our use of the internet is not subject to the whims, discretion or economic incentives of gatekeeper service providers to control or manipulate the experience of internet users," they wrote.
"The biggest companies can most likely afford these new costs, but smaller companies could be left out in the cold, and that fundamentally changes the level playing field of the internet as we've known it."
Signers included the mayors of some of the nation's biggest cities — including Bill de Blasio of New York, Eric Garcetti of Los Angeles, Rahm Emanuel of Chicago and Marty Walsh of Boston — along with Sam Liccardo of San Jose, California, in Silicon Valley, and Jenny Durkan of Seattle, home to Amazon.com.
Amazon and many of the biggest Silicon Valley giants rallied support to preserve the net neutrality rules, arguing that without them, ISPs could become the gatekeepers of information and at consumers' expense.
Among those who spoke out against repeal were Apple co-founder Steve Wozniak; Vint Cerf, a member of the U.N. Broadband Commission for Digital Development who is widely described as one of the "fathers of the internet"; Tim Berners-Lee, director of the World Wide Web Consortium and the man credited with having invented the web; Brewster Kahle, founder of the internet Archive; and Whitfield Diffie and Martin Hellman, both now at Stanford University, who created the system of public key cryptography and security in 1975.
Calling themselves "pioneers of the internet," they and 16 other leading technology figures warned in a letter to the Senate Commerce Subcommittee on Communications, Technology, Innovation and the internet that repeal would allow ISPs to begin "blocking content, websites and applications, slowing or speeding up services or classes of service, and charging online services for access or fast lanes to internet access providers' customers."
But FCC Chairman Ajit Pai, a former Verizon executive who led the drive to repeal the rules, told NBC News that those fears were ungrounded.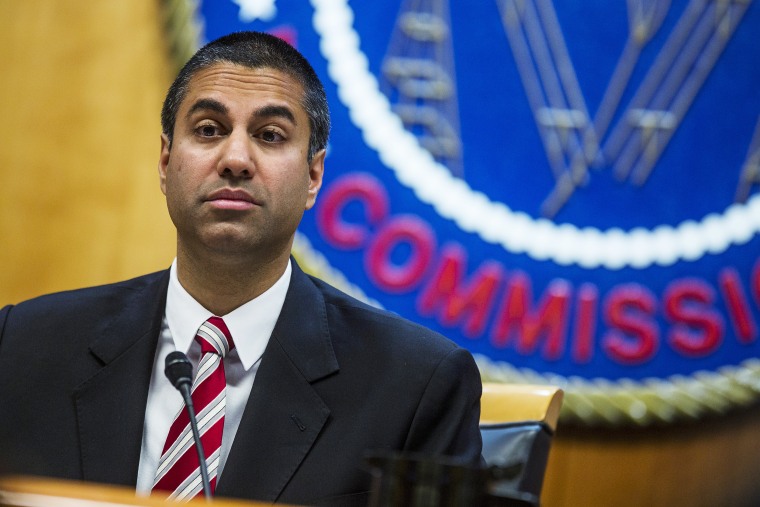 "Before 2015, we had a free and open internet in which very small companies became global giants — Facebook, Amazon, Netflix, Google," Pai said Thursday. "At the dawn of the commercial internet, none of those companies had ever been conceived. Now they're globally known powerhouses."
"Similarly, going forward, the greatest threat to companies like that is that we don't have enough infrastructure across the country," Pai said, arguing that a free market was the better choice to regulate ISPs' conduct.
In cases of bad conduct, he said, the FCC remains the "cop on the beat."
"We require very robust transparency of internet service providers," he said. "We also empower the Federal Trade Commission to take action against any competitive conduct from any company that might try to instigate that."
Alex Johnson reported from Los Angeles. Jo Ling Kent reported from Washington.