The battle rages on between Netflix and the country's biggest Internet service providers.
Netflix CEO Reed Hastings said in a blog post Thursday that the company will pay more ISPs to ensure a good customer experience — but he slammed those providers for "extracting a toll because they can."
It's the latest in a fight over whether Netflix and other data-heavy services should have to shoulder part of the cost of getting that content to customers.
Through some ISPs, Hastings wrote, "Netflix performance has been constrained, subjecting consumers who pay a lot of money for high-speed Internet to high buffering rates, long wait times and poor video quality."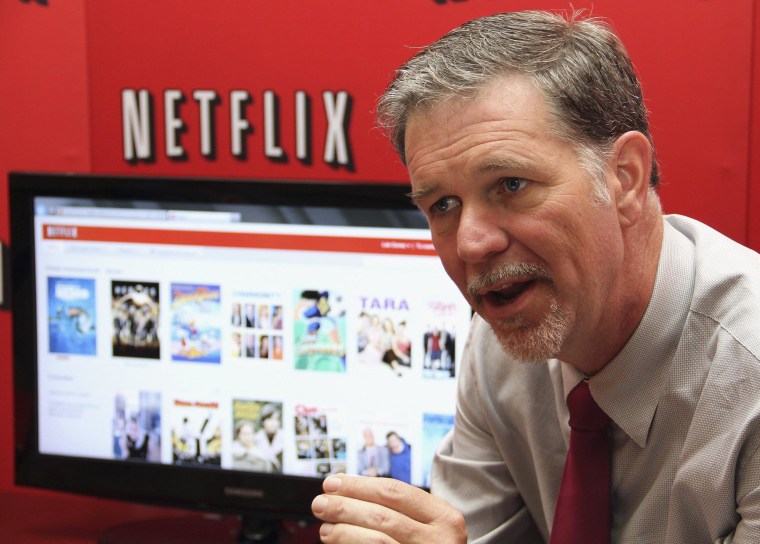 At the core of the issue is "Net neutrality," or the idea that ISPs like AT&T and Comcast should treat all Internet traffic equally, and not favor or punish certain content.
"Without strong net neutrality, big ISPs can demand potentially escalating fees for the interconnection required to deliver high quality service," Hastings wrote.
Telecom companies won a battle in the net neutrality war in January, when a U.S. appeals court invalidated federal rules that banned carriers from favoring traffic from certain sources. Those rules were meant to stop carriers from selling faster connections to customers who pay more — not to settle debates between companies like Netflix and ISPs — but Netflix has still felt the implications of the ruling.
In February, Netflix inked a deal to pay Comcast more for a speedy connection.
Comcast is the parent company of NBCUniversal, which owns NBC News.
"Providers like Netflix have always paid for their interconnection to the Internet and have always had ample options to ensure that their customers receive an optimal performance through all ISPs at a fair price," Comcast said in a statement emailed to NBC News.
Netflix will pay other ISPs for the same deal, Hastings said. But he's not happy about it, and he called for stronger net neutrality rules.
AT&T called Hastings' comments "arrogant."
"As we all know, there is no free lunch, and there's also no cost-free delivery of streaming movies. Someone has to pay that cost," Jim Cicconi, AT&T's senior executive vice president for external and legislative affairs, wrote in a company blog post.