Quora, the question-and-answer social network where user credentials matter most, finally got around to rolling out Verified Profiles. President Barack Obama was first to get the big blue check of authenticity on Monday, as he answered two questions on the site about the Affordable Care Act. (Like his "Between Two Ferns" appearance, only less uncomfortable.)
It's been a long time coming for the social network where user credentials matter most. Quora's Internet-cred is that of the Q&A site for smart questions that can't wait for a Reddit AMA to get answers. It's not unusual for questions asked on Quora to be answered by astronauts, Harvard professors and top tech CEOs including Jimmy Wales and Mark Zuckerberg. So you want some assurance it's not just some guy making stuff up.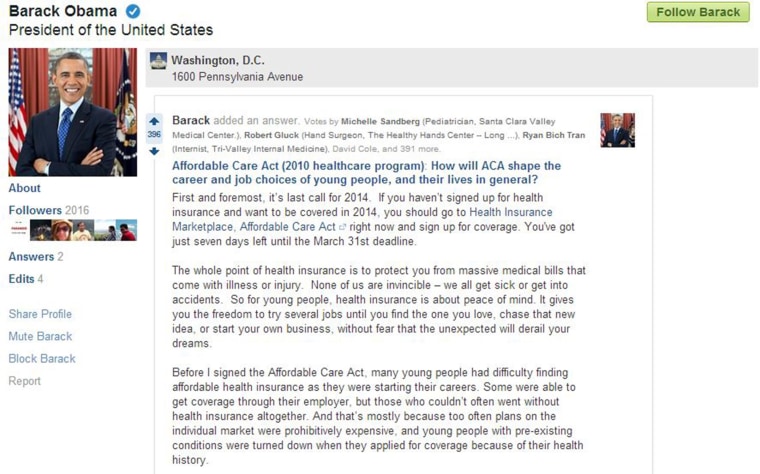 Longtime Quora obsessives might be a little disappointed to see that after the president, the first wave of "real people" to get verified begins with Ashton Kutcher (aka Hollywood's Steve Jobs).
You've also got Ian Somerhalder, that guy from "The Vampire Diaries,'" and director Francis Lawrence, whose movie "The Hunger Games: Catching Fire" is now available on DVD and Blu-ray. There's also singer Michael Buble, Netflix CEO Reed Hastings, entrepreneur Mark Cuban of ABC's "Shark Tank," former NFL great Tiki Barber and some actors with stuff to promote.
Facebook COO Sheryl Sandberg can obviously answer questions about "leaning in" and not using the word "bossy." Craigslist founder Craig Newmark is actually pretty interesting, and also advocates for squirrels. Also Quora-verified: actor and author Stephen Fry, who is just about as smart as it gets.
Who's missing? Anyone from CERN, NASA, NOAA or even DARPA — people whose answers mean something. Why? Being smart doesn't always mean being popular, so if verifying celebs with something to shill can help Quora achieve some breakout traffic, that's one question answered.