Senate Minority Leader Church Schumer called on President Donald Trump on Sunday to veto a bill that would roll back online privacy protections by allowing ISPs to collect and sell customers' data without consent.
Schumer, D-N.Y., said the joint resolution, which was sent to the president's desk after passing the Republican controlled Senate and House last week, was an attempt by internet service providers to "use consumers' personal data for personal gain."
The senator called the bill "a test" of whether Trump would side with consumers or big business.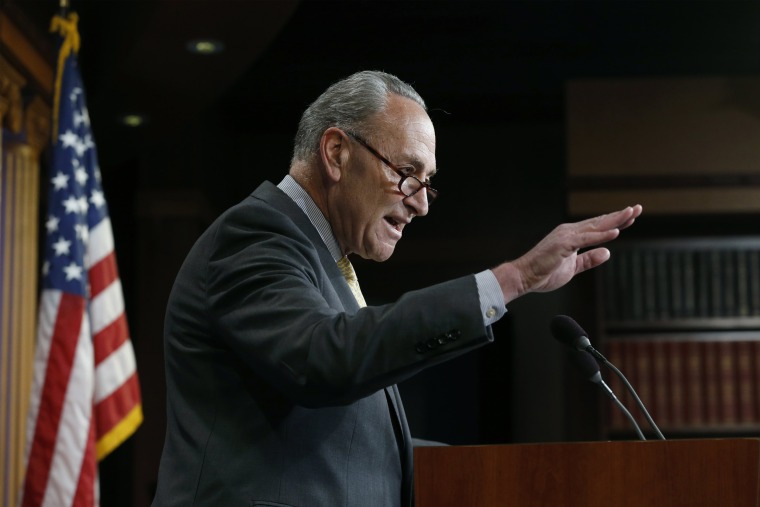 "He campaigned on behalf of the average person, well this is a test — will he side with the average person?" Schumer said of Trump, adding, "I hope so."
Related: House Votes in Favor of Letting ISPs Sell Your Browsing History
The bill would block the Federal Communications Commission from enforcing rules it approved in October under President Barack Obama. The measure also bars the FCC from issuing similar protections in the future.
The privacy rules weren't scheduled to go into effect until December.
The resolution narrowly passed through both houses of Congress last week, largely on partisan lines with Democrats opposing the measure.
Schumer said Sunday that he and 45 other Senate Democrats signed a letter urging Trump to veto the measure earlier this week.
Trump has another nine days to decide on the resolution, but the White House has said he "strongly supports" the repeal.
The rules passed by the Democratic majority on the FCC would require ISPs to ask consumers explicitly to "opt-in" to letting their information be used and shared.
Related: How Can You Keep Your Internet Searches Private?
After the House passed the resolution last week, the Internet & Television Association commended the action to repeal "the FCC's misguided rules" in a statement.
And CTIA, formerly the Cellular Telecommunications and Internet Association, an advocacy group for the industry, commended the measure's sponsor in the House for "seeking a common-sense and harmonized approach to protecting Americans' privacy."
But advocates for internet privacy have said repealing the protections was at the expense of consumers.
Schumer said on Sunday that if Trump signed the resolution it "would allow broadband providers to become unchecked, virtual peeping Toms."
Kate Tummarello, a policy analyst at the San Francisco based Electronic Frontier Foundation, said after the House vote that the "commonsense rules" Congress voted to repeal were designed "to protect your data" and keep ISPs from doing a "host of creepy things."
(NBC News is a division of NBCUniversal, which is owned by Comcast Corp., the nation's largest cable provider.)