On the last night of her life last December, 16-year-old Desiree Robinson was driven by her "pimp" to the home of a 32-year-old man looking to engage in sex with a minor.
The Chicago man had seen Robinson's picture listed on the classified advertising website Backpage.com under the title, "New Girl in Town Looking to Have Fun."
Adult men were soliciting her for sex specifically on Backpage before she died, Robinson's mother, Yvonne Ambrose, testified Tuesday on Capitol Hill.
"She had been beaten, raped, strangled, and if that wasn't bad enough, he slit her throat, all because she said 'no,' she didn't want to do this again," Ambrose said through tears to members of the Senate Committee on Commerce, Science, and Transportation.
"She screamed for help, and no one was around to help her. Desiree's death shouldn't have happened. The sex trafficking of minors should not be happening."
Ambrose shared the story of her daughter's murder in support of proposed federal legislation known as the Stop Enabling Sex Traffickers Act of 2017, or SESTA, which has put Washington lawmakers at odds with Silicon Valley over how to adequately fight sex trafficking.
SESTA, a bipartisan legislative proposal co-sponsored by nearly 30 senators, seeks to clarify and amend part of the Communications Decency Act, or CDA, which was written in 1996 and intended to shield internet websites from civil and state criminal liability for content created by others.
Sen. Rob Portman, R-Ohio, introduced the legislation to close a legal blind spot in the CDA's Section 230 that has allowed Backpage, and sites like it, to avoid both civil and criminal liability for trafficking that is advertised by third-party users through the page.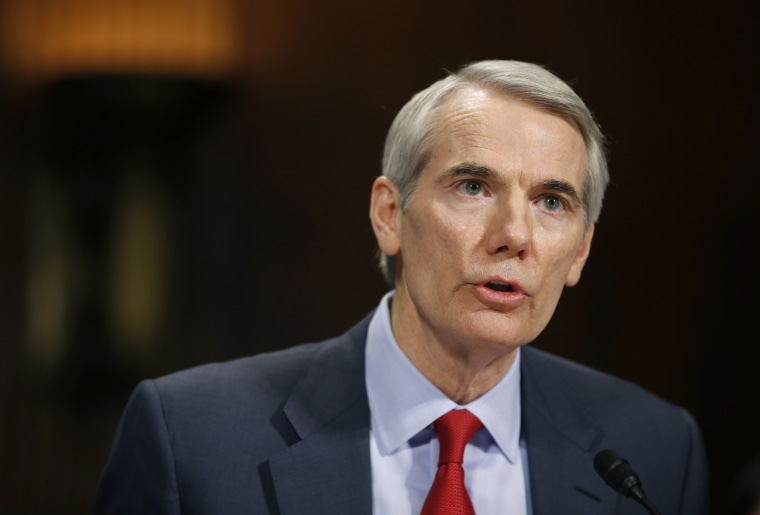 Fifty attorneys general have co-signed a letter in favor of the legislation, and some tech and media outlets have thrown support behind it, too.
In 2017, 9,700 cases of suspected child sex trafficking were reported to the National Center for Missing & Exploited Children's cyber tip line. Of those cases, 81 percent involved a child who was suspected of being trafficked online. Seventy-three percent of those reports involved Backpage.
Related: Human Trafficking or Human Smuggling? Why the Two Crimes Aren't Interchangeable
The site knowingly facilitates online sex trafficking, according to the Senate Homeland Security and Governmental Affairs Permanent Subcommittee on Investigations.
During Tuesday's hearing, California Attorney General Xavier Becerra explained the battle victims currently face when trying to pursue justice against sites that allowed for their trafficking.
"I would ask each and every one of you to come to Sacramento with me where we are right now in prosecution of Backpage. We filed 36 counts against Backpage, 11 of them for pimping — the sex trafficking part — and 25 more based on money laundering and conspiracy," Bercerra said.
But because of the "broad coverage shield against prosecution" permitted through Section 230 of the CDA, even those who are allegedly in support of trafficking are protected, he added.
"Based on that, the judge dropped every single [trafficking] count against Backpage," Becerra said.
Even opponents of SESTA applauded the proposed legislation's intent during the hearing, but cautioned the committee that the act's vague language as written could be damaging to legitimate websites proactively working to eradicate sex trafficking online.
Eric Goldman, a professor of Santa Clara University School of Law, testified that he was troubled by phrasing in the legislation that deemed the standard of negligence to be whether or not a site had knowledge of trafficking taking place on its site.
"Desiree's death shouldn't have happened. The sex trafficking of minors should not be happening."
He said that the ambiguous definition of "knowing" could incriminate sites that were aware of a potential for trafficking to occur despite the site's best efforts to combat the crime.
"We could create such a standard, but we want to be extremely explicit about when that knowledge occurs because otherwise there will be lots of discussion and debate over, 'Well, you knew it based on having taken this step or that step or inferentially you should have known,'" Goldman said.
Abigail Slater, general counsel for the Internet Association, which represents digital giants such as Facebook, Twitter and Google, agreed with Goldman, testifying that the text was a more "troubling" and "difficult" standard to manage than existing sex trafficking laws.
As the hearing came to a close, senators and experts both agreed to continue working to perfect the legislation so children such as Robinson and parents such as Ambrose would have a clear-cut path to justice.
"Parents are not supposed to bury their children," Ambrose said. "I pray that Desiree's life can make a difference so no one has to endure this pain again."